Automated immigration clearance lanes now open to wheelchair users, families at Changi Airport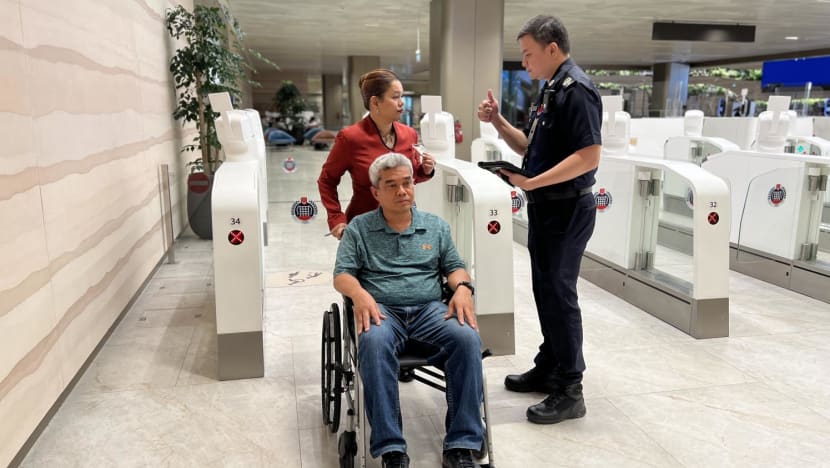 SINGAPORE: Wheelchair users and families of up to four people can now use automated lanes for immigration clearance at selected passenger halls in Changi Airport.
This makes Singapore the first country in the world to introduce an automated lane for multiple travellers to perform self-immigration clearance as a group, said the Immigration and Checkpoints Authority (ICA) in a news release on Friday (Dec 16).
Previously, travellers in wheelchairs as well as family groups — such as parents with young children — have to clear immigration through the manual counters.
The new automated lanes, called the Special Assistance Lanes, will allow them to clear immigration on their own with their primary biometric identifiers such as iris and facial scans.
The new lanes are now available at Changi Airport Terminal 1 departure hall as well as the Terminal 2 arrival and departure halls. ICA will progressively install the lanes at the remaining Changi Airport terminals and the passenger halls at land and sea checkpoints.
Only Singapore residents — citizens, permanent residents and long-term pass holders — can use these lanes for now. 
Eligible foreign visitors will be able to use them from March 2023. The eligibility criteria can be found on ICA's website.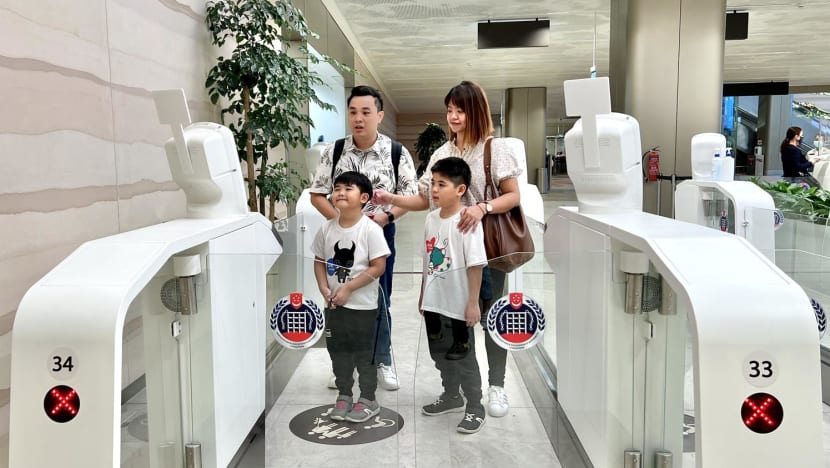 ICA said that in constructing the Special Assistance Lane, it worked with the Home Team Science and Technology Agency (HTX) and Changi Airport Group to conduct design-thinking workshops and virtual reality simulations.
Physical sessions were also conducted with people of reduced mobility to identify potential challenges that such travellers may face when using the lanes. This included the width of the lane as well as the placement and angles of the passport and biometric scanners.
Trials were then conducted with HTX to determine where to place cameras and biometric scanners in the lanes, in order to accurately detect the number of travellers, as well as ensure that the biometrics of each traveller can be clearly captured.
ICA said it will continue to refine the lanes and user experience based on travellers' feedback.
It added that as more travellers clear immigration through automated lanes, ICA officers can be redeployed to take on enhanced job roles and focus more on border security functions such as profiling, assessment, and investigation work.
This move comes as part of ICA's push to make automated immigration clearance the norm.