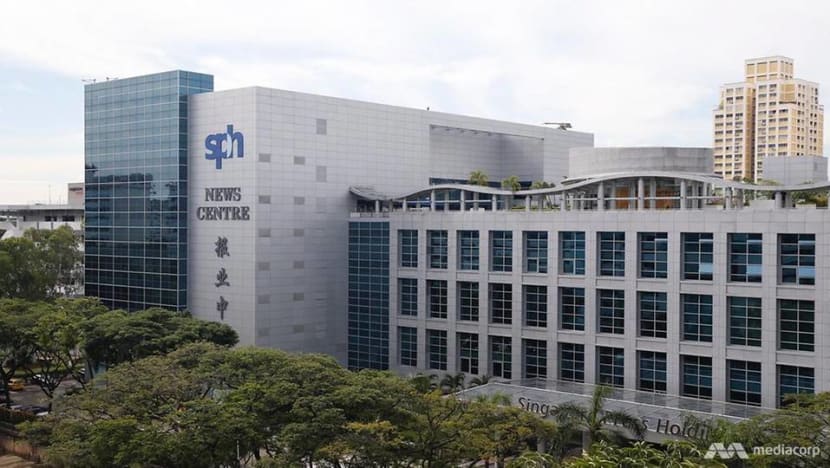 SINGAPORE: Shareholders of Singapore Press Holdings (SPH) have voted in favour of the proposed restructuring of the company, paving the way for its media arm to be transferred to a not-for-profit entity.
At a virtual extraordinary general meeting on Friday (Sep 10), about 97.5 per cent of the more than 300 shareholders voted in favour of the move, SPH said in a media release.
The majority also voted yes to the conversion of management shares to ordinary shares and the adoption of a new constitution.
The restructuring, announced on May 6, comes as the company faces falling advertising revenue.
Under the exercise, SPH's entire media-related business will be transferred to a newly incorporated wholly-owned subsidiary, SPH Media Holdings. SPH Media will eventually be transferred to a newly formed public company limited by guarantee (CLG), chaired by former minister Khaw Boon Wan.
The restructuring entails transferring all relevant subsidiaries and employees, the News Centre and Print Centre and their respective leaseholds, as well as related intellectual property and information technology assets.
This is expected to be completed in December.
After hiving off the media business, SPH will no longer be subject to the provisions of the Newspaper Printing and Presses Act.
"The lifting of the restrictions of the Newspaper Printing and Presses Act provides SPH with greater financial flexibility to tailor its capital and shareholding structure to unlock and maximise value for all shareholders," said the company. 
SPH previously said it will provide the initial resources and funding to capitalise SPH Media with a cash injection of S$80 million, S$30 million of SPH shares and SPH REIT units.
SPH chairman Lee Boon Yang said SPH Media "now has a solid foundation to create a new future for journalism in Singapore".
"When this restructuring is completed, I am confident that they will succeed in their mission to provide the best possible media service and content to their audience at home and abroad," he said.
Mr Khaw added that he welcomes the shareholders' decision as the current business model is not sustainable. 
"Delisting the media business is however only a first step, but a critical one. As a CLG, we will do our utmost to carry out the mission of providing quality journalism for Singaporeans," he said in a statement.
"There is much to do by the CLG to further secure SPH Media's future. But there will still be a transition period before the listed SPH hands over control to the CLG. I hope that the transition will not be too long, so that we can start our work soon."
In August, Singapore conglomerate Keppel offered to acquire and privatise SPH, excluding the media business, via a scheme of arrangement that is subject to approval by SPH shareholders "in due course".