Sri Lanka President Gotabaya Rajapaksa arrives in Singapore after fleeing country amid crisis
The Sri Lanka president was allowed in on a private visit and did not ask for asylum, says Singapore's Ministry of Foreign Affairs.
SINGAPORE: Sri Lanka President Gotabaya Rajapaksa arrived in Singapore on Thursday (Jul 14) from the Maldives after fleeing his country the day before.
Singapore's Ministry of Foreign Affairs (MFA) confirmed in a media statement shortly after 8pm that Mr Rajapaksa had entered Singapore on a "private visit".
"He has not asked for asylum and neither has he been granted any asylum. Singapore generally does not grant requests for asylum," said an MFA spokesperson.
In a statement, the Singapore Police Force reiterated that Mr Rajapaksa "is here on a private visit".
"He is on a social visit pass," the police said. 
"Police ask that the public, Singaporeans, residents, work pass holders and social visitors alike, abide by our local laws.
"Action will be taken against anyone participating in a public assembly that is illegal."
Sri Lankans can travel to Singapore without a visa for trips shorter than 30 days.
When CNA arrived at Changi Airport Terminal 3 at 5.45pm, there was a small number of Sri Lankan nationals waiting outside the arrival gates.
The crowd, which included naturalised Singapore citizens, grew to about 20 as the arrival time of flight SV788 - the Saudia flight Mr Rajapaksa was reportedly on - drew closer.
According to the flight schedule board at the airport, the flight landed at 7.17pm. It had been scheduled to arrive at 6.48pm but was delayed several times.
According to passengers from flight SV788 CNA spoke to, they were dropped off at Terminal 2 and then ushered onto a Skytrain towards Terminal 3.
Saudia, the national carrier of Saudi Arabia, normally operates out of Terminal 3.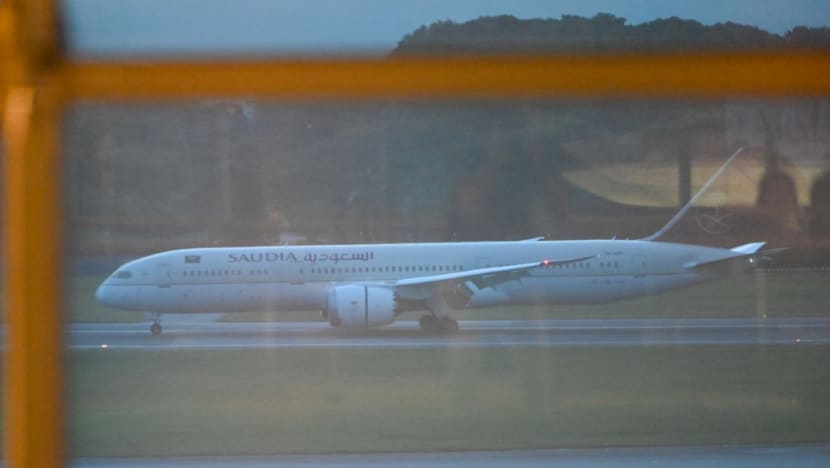 Sri Lanka nationals CNA spoke to expressed frustration over Mr Rajapaksa's no-show at the arrival gates.
Some had rushed down from work hoping to catch a glimpse of Mr Rajapaksa and waited for nearly two hours for the flight to arrive.
One man told CNA that he had gone to the airport at about 6.45am as reports had initially suggested Mr Rajapaksa would arrive in the morning.
When reports later in the day said Mr Rajapaksa was not on that flight, the man left the airport and returned at about 6.30pm.
"He cannot do anything in Singapore, so I want to see where he can hide," said the 32-year-old, who declined to be named.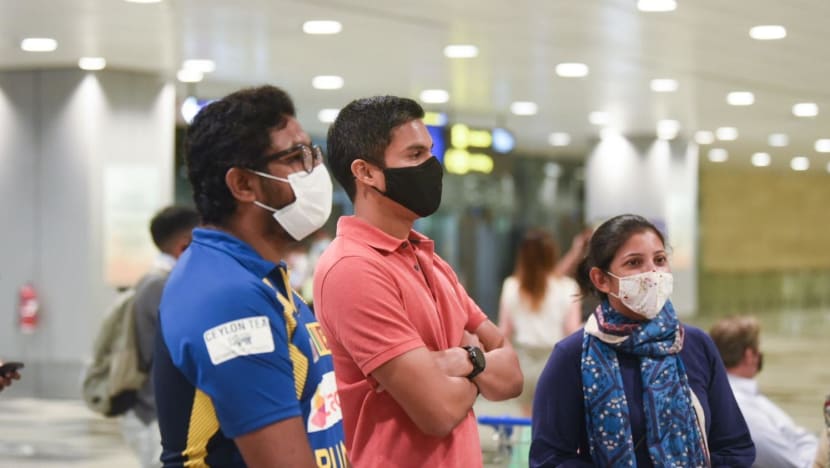 Despite their frustrations, some said they were not surprised the president did not show up.
"He's deceitful and he has always been deceitful. It's nothing new for us. And this time, he's deceived us again by not appearing," said one 37-year-old engineer, who also declined to be named.
His friend, who only wanted to be known as Max, said they had come from work and had been waiting for nearly two hours.
"He ran away from the country … ran away from the problems, problems he created," said Max.
Another 35-year-old Sri Lanka national, who did not give his name, said he wanted to show the president that he cannot run away from what he has created in the past two years in the country.
Media reports had said earlier he was scheduled to land in Singapore on Thursday morning on a Singapore Airlines flight, but one Sri Lanka media outlet, citing sources from the Maldives, reported later that Mr Rajapaksa and his wife did not get on that flight due to "security concerns". 
PROTESTS IN SRI LANKA
Mass protests have gripped Sri Lanka, currently in the middle of its worst economic crisis in decades. Mr Rajapaksa is accused of mismanaging the economy to a point where the country has run out of foreign exchange to finance the most essential imports, leading to severe hardship for its 22 million people.
Sri Lanka defaulted on its US$51 billion foreign debt in April and is in talks with the International Monetary Fund for a possible bailout.
The country has also nearly exhausted its petrol supplies, and the government has ordered the closure of non-essential offices and schools.
Thousands of anti-government protesters stormed Sri Lankan Prime Minister Ranil Wickremesinghe's office on Wednesday, hours after he was named acting president. They want Mr Wickremesinghe to resign as they see him as an ally of Mr Rajapaksa.
Police and troops failed to hold back the protesters despite firing tear gas and water cannon. The country had earlier declared a state of emergency following months of protests.
Over the weekend, Mr Rajapaksa promised to resign on Wednesday to clear the way for a "peaceful transition of power".
The 73-year-old had fled his official residence in Colombo before protesters overran it.
Thousands of people also set fire to Mr Wickremesinghe's private home over the weekend.
As president, Mr Rajapaksa enjoys immunity from arrest in Sri Lanka. There has been no formal announcement that he has stepped down.
Over the weekend, Mr Wickremesinghe also announced his willingness to resign if a consensus is reached on forming a unity government.
Additional reporting by Vanessa Lim and Gaya Chandramohan.