Victim injured by man with sword in Buangkok among 6 people given police awards for helping to restrain suspect
SINGAPORE: A victim who was allegedly injured by a man with a sword in Buangkok was among six people who received Public Spiritedness Awards from the police on Tuesday (Mar 15) for helping to restrain the suspect.
The six people - Mr Kumarapeli Arachchige Amila Chinthana, Mr Lim Jun Yi, Mr Muhammad Nur Rabbani Mohammad Zaini, Mr Lim Jiajing, Mr Muhammad Naufal Ahmadsubronto and Ms Kervyn Koh - were each awarded a plaque at Ang Mo Kio Police Division's headquarters on Tuesday afternoon.
The suspect, 37-year-old Singaporean Fadhil Yusop, was arrested on Monday after the police received multiple calls at about 1.56pm about a man swinging a sword in the middle of Buangkok Crescent and stopping oncoming traffic.
He will be charged on Wednesday with voluntarily causing hurt by dangerous weapons or means, said the police in a news release on Monday night.
In a video sent to CNA on Monday, the man was seen walking in the middle of the road and hitting cars with a sword as they go past him.
He crossed over to the pavement and swung his sword at Mr Chinthana, before he slipped and fell. Four people quickly pinned him on the ground and a fifth person was seen kicking the sword away. 
Mr Chinthana, 35, said his first thought was of his wife, who is seven months pregnant. He thought about how the man might harm other vulnerable people in the area, he told journalists on Tuesday.
"If let's say another old person is standing there, or if it's children, or a pregnant woman, I thought about ... if it happens to my family. When it comes to my mind I won't think twice, because I'm thinking about other people's safety," said Mr Chinthana, who also has a three-year-old son.
"I never thought he will come and attack me," he said, adding that everything happened very quickly and that he did not feel scared.
Mr Chinthana tried to hold on to Fadhil's body and legs as they struggled on the floor. Others soon joined him in pinning the suspect on the ground.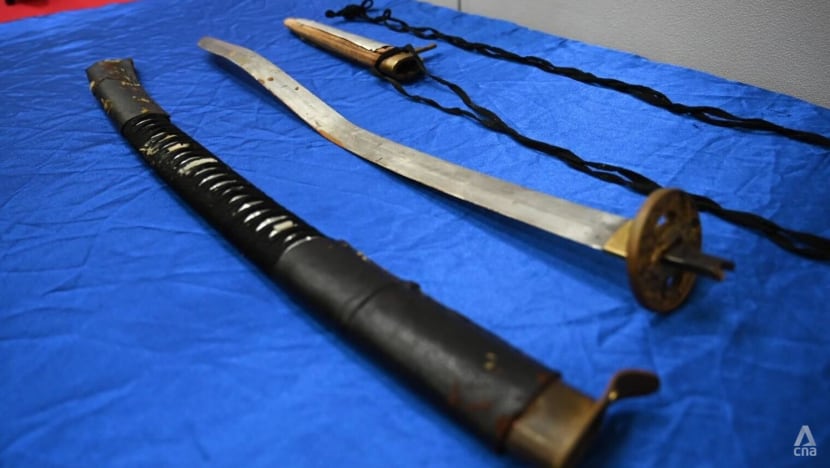 Mr Lim Jun Yi, a 20-year-old Temasek Polytechnic student, was waiting by the traffic light when he saw the man swinging a sword at Mr Chinthana. He jumped in to help restrain the man.
"The only thing that came to mind is that I want to help, I want to make sure that he (Mr Chinthana) doesn't get injured any further," he said.
"As much as there was a risk involved, I didn't really care about it, I didn't really give much thought about it. The only thing I knew is that I wanted to make sure that he (Mr Chinthana) is safe and make sure that the guy doesn't hurt anyone else."
He added that such incidents are "very rare" in Singapore.
Singapore Civil Defence Force officer Mr Naufal, 29, rushed forward and joined Mr Lim Jun Yi and Mr Chinthana in pinning Fadhil.
Three other people - Ms Koh, Mr Rabbani and Mr Lim Jiajing - who work at the nearby Angsana Home @ Pelangi Village were on their way to lunch. They saw the incident and ran to help.
The man was "very aggressive" and struggled for a "very long time", and it took the group a few minutes to find a position to hold him down, said Mr Rabbani.
"His behaviour was definitely something that, if he was not stopped, he would've caused more injuries or more damage," he said.
When asked why they decided to rush forward to help, Mr Rabbani added: "It's my own personal belief that everyone deserves to live in a safe environment. For example, these two gentlemen, they are someone's son, someone's husband, someone's brother."
Preliminary investigations revealed that Fadhil had allegedly eaten "some unknown pills" before leaving his home with the sword, the police said on Monday night.
The man had a "brief altercation" with members of the public at the lift lobby of the HDB block where he lived, and then jaywalked across the road and allegedly used the sword to hit five passing cars and Mr Chinthana.
Mr Chinthana said he suffered two slash wounds on his shoulder and another on his left forearm, while Mr Lim Jun Yi had abrasions on his knee.
Mr Chinthana added that he has received hundreds of calls and messages since the incident, and he thanked those who contacted him. 
Commander of Ang Mo Kio Police Division, Assistant Commissioner of Police Zed Teo, said the six people's actions prevented the suspect from "causing more harm to the public".
"The police would like to commend them for their courage and public spiritedness. We have presented them with the Public Spiritedness Award in recognition of their brave actions," he added.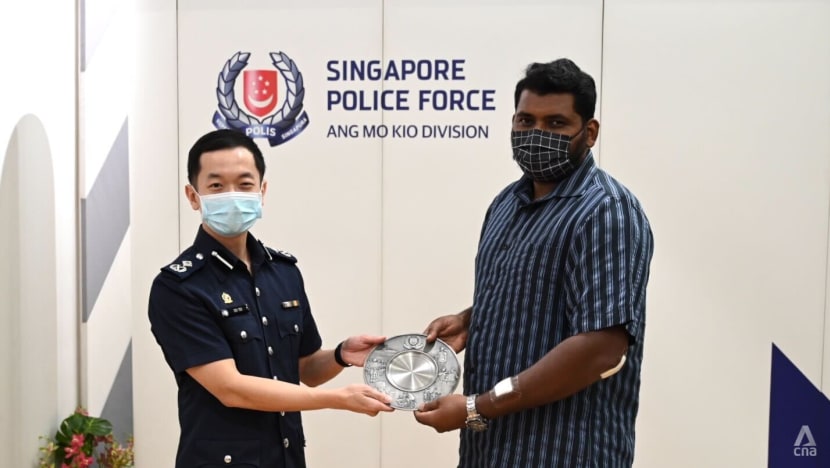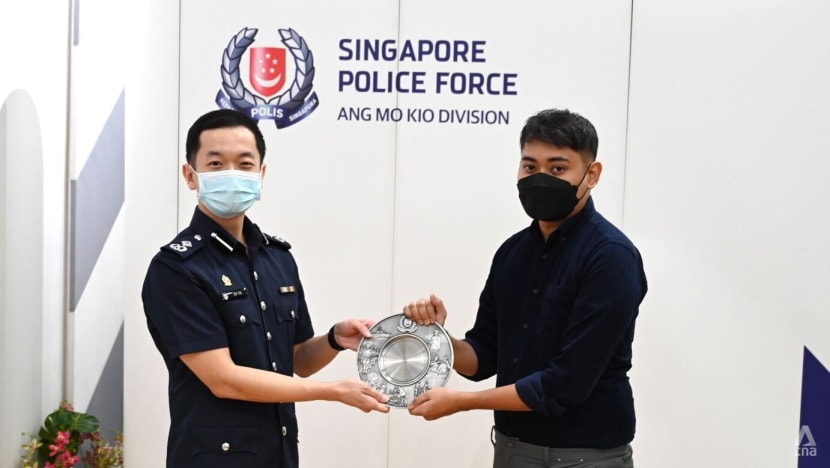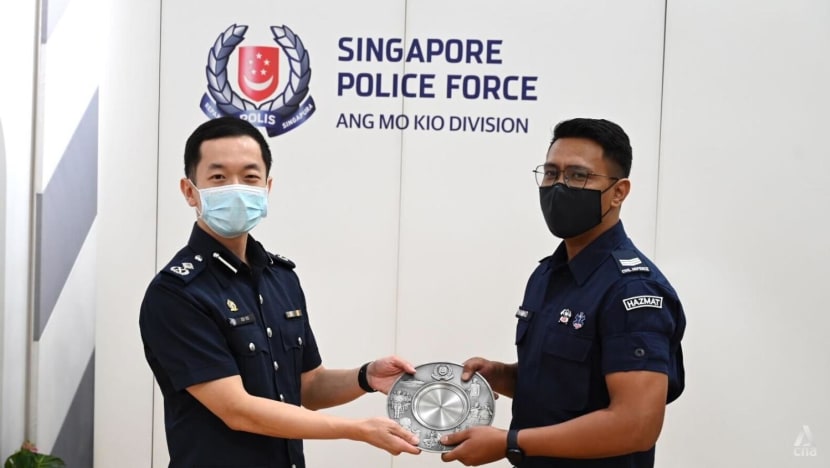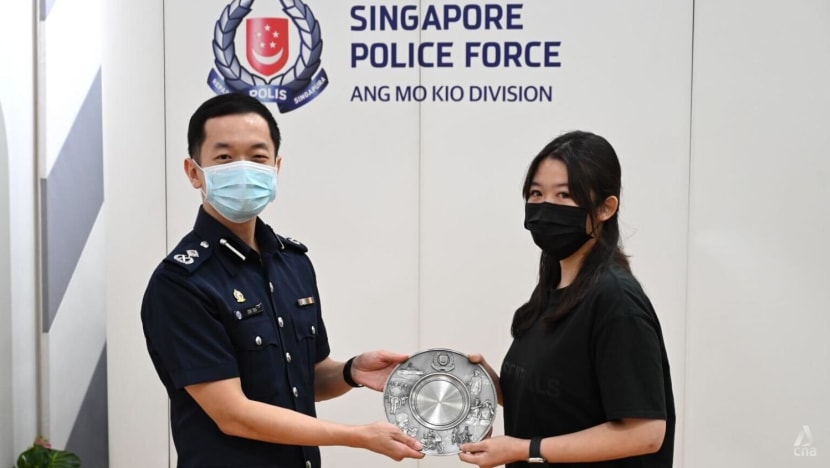 The police raided Fadhil's residence and two packets of yellow pills were seized.
The Internal Security Department (ISD) said on Tuesday that preliminary investigations so far "do not suggest that the incident was an act of terror".
Fadhil was previously investigated by the ISD in 2016 for sharing images of militant groups online. 
"However, there was no indication that he was radicalised or intended to engage in armed violence. Fadhil was administered with a written warning for his social media posts," said ISD.
In January 2020, he was arrested after approaching a religious leader at Masjid Al-Mawaddah with a knife. ISD's joint investigations with the police at the time "did not suggest that Fadhil's attack was terrorism-related", said ISD.
"Fadhil was found to have consumed a large number of pills containing dextromethorphan, which contributed to his behaviour," it added.
He was sentenced to nine months and two weeks' imprisonment and was released in July 2020, after his sentence was backdated.
"Although Fadhil was assessed not to be radicalised, he was referred for religious counselling after this second incident as a matter of precaution," said ISD.
It added that it would work with the police to investigate the latest incident and provide an update "in due course".