Tripartite Committee to complete recommendations for workplace anti-discrimination law in 2022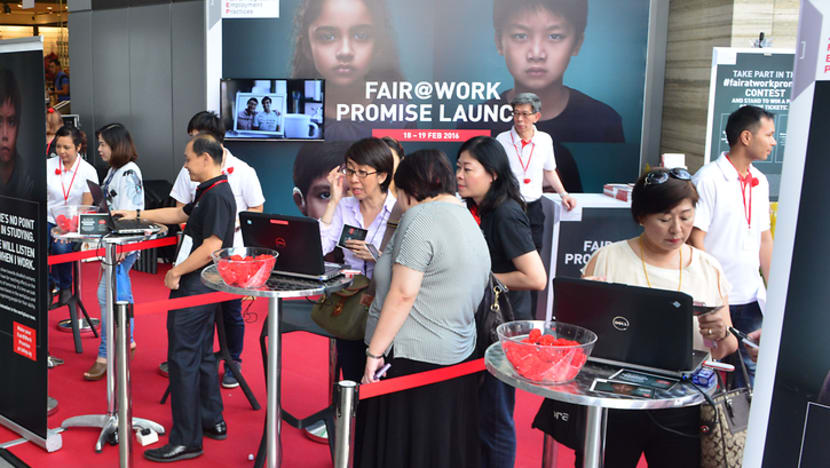 SINGAPORE: The Tripartite Committee aims to complete its recommendations for enshrining workplace anti-discrimination guidelines into law in the first half of 2022, said Senior Minister of State for Manpower Koh Poh Koon in Parliament on Tuesday (Sep 14).
Thereafter, the Government will consider the recommendations, and if accepted, prepare legislation.
The Tripartite Committee comprises businesses, unions, Government and human resource representatives. It will also conduct wider engagements with these groups and the general public to ensure its recommendations are "balanced", said Dr Koh.
He was responding to questions by Members of Parliament (MPs), on legislating the current Tripartite Alliance for Fair and Progressive Employment Practices (TAFEP) guidelines.
This comes after Prime Minister Lee Hsien Loong announced the Government's intention to write TAFEP guidelines into the law, in response to Singaporean workers' concern on how they are being treated compared to work pass holders. 
"The tripartite partners' approach to enhancing workplace fairness has been a successful journey," said Dr Koh on Tuesday, adding that human resource practices of firms have "improved significantly" since TAFEP's formation in 2006.
"This was the right approach. Rather than rush to legislate, the tripartite partners recognised that education to cultivate the right workplace norms and values was the foremost and more fundamental task.
"We did not want the process to become legalistic or confrontational. It is better if disputes can be resolved amicably," he said.
As Singapore "progressively" stepped up its efforts through education and enforcement, the country developed the Tripartite Guidelines on Fair Employment Practices.
The "vast majority" of employers comply with the guidelines, said Dr Koh.
He added that about two-thirds of reported cases are "not substantiated", with the majority being misunderstandings which are later clarified.
For employers with gaps in their practices, most accept and make amends after receiving counselling from TAFEP, he said. "Very rarely does the employer dispute the assessment and refuse to correct their actions."
When discrimination is substantiated, TAFEP refers the employer to the Ministry of Manpower (MOM), which can restrict it from hiring foreign workers, he added.
HOW LEGISLATION HELPS
Legislation allows the Government to broaden the range of remedies available, which can benefit employers and workers, said Dr Koh.
"For workers, the remedies could give them direct redress, rather than indirectly through enforcement action against the employer," he said.
"For employers, curtailment of their work pass privileges, which has a significant impact on their overall business operations, can in some cases be disproportionate to the breach."
He noted that even with mitigating factors, there are no alternative penalties to provide for a "more calibrated approach".
"Legislation will also send a strong signal that society does not condone discrimination at the workplace and further entrench the fair employment standards that we have built up over these many years," he said.
Dr Koh added that the Tripartite Committee on Workplace Fairness will look into how Singapore can avoid fostering a litigious workplace culture.
"We should have a claims process where mediation is the first and necessary step, and appearances before the tribunal as a last resort," he said, adding that it has "worked well" for salary related and wrongful dismissal cases.
GENDER DISCRIMINATION
Over the last three years, one in seven reported cases were about gender discrimination, said Dr Koh.
In about 30 per cent of these cases, discrimination was substantiated after further investigation and the errant employers had their work pass privileges curtailed.
Most involved employers specifying their gender preference in their recruitment advertisements, he said.