IN FOCUS: How a Tampines resident's noisy neighbour situation went 'from bad to worse' to a 30-year nightmare
Day and night, Mr Syed Rahman and his family put up with yelling, screaming, pounding and water leaking from the unit upstairs - until he decided enough was enough.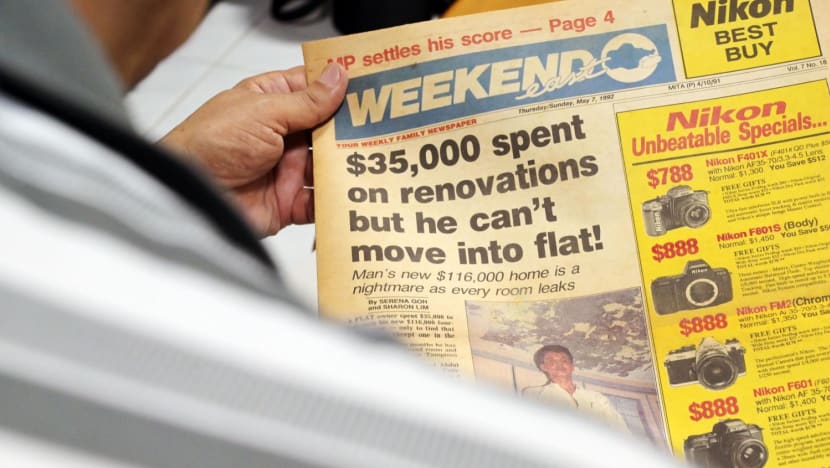 SINGAPORE: The renovation for his new flat in Tampines was going along smoothly, at least until contractors detected water damage to the ceiling due to leaks.
Having already splashed S$35,000 on the makeover for what would be his first home, Mr Syed Rahman – at the time in 1992, single and 36 years old – decided to write to the Housing Development Board (HDB) and speak to newspapers about the problem.
It worked, prompting the authorities to step in and inspect both Mr Syed's unit at Block 166 Tampines Street 12 as well as the one upstairs. 
In the case of Mr Syed's neighbour above, they tried to.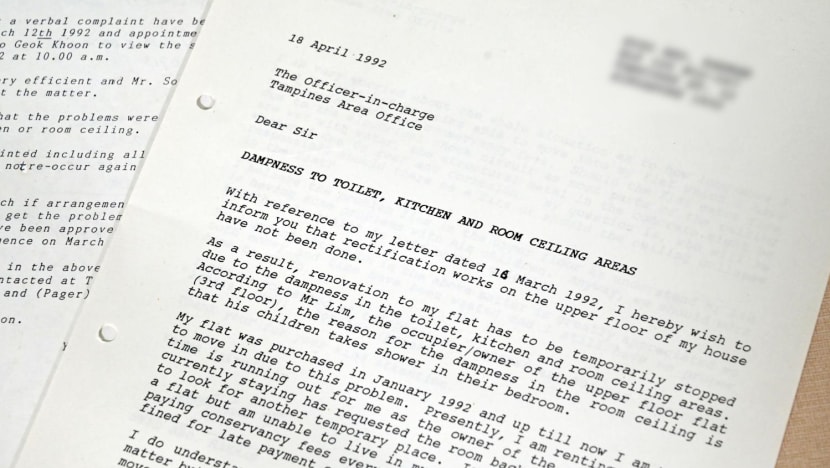 The owner of the unit told HDB officers that his wife and son would "react fiercely" to visitors to their flat, and requested that they check if the leaks could be repaired from Mr Syed's apartment instead.
HDB did so, and in a letter addressed to the owner of the unit a few days later, confirmed that repair work would have to be done from upstairs instead.
"Your family members were at home but they refused to let our staff inspect the flat. Several service cards were left in your flat requesting you to contact us," HDB wrote in the note, with a copy also sent to Mr Syed.
"We wish to inform you that under the terms and conditions of the lease, you are required to permit HDB's officers to examine the condition of your premises and carry out repairs as and when deemed necessary by HDB."
Mr Syed's neighbour eventually relented, and the leaks were fixed.
A perhaps inauspicious start, the new homeowner thought as he finally moved in – but hopefully the first and last spot of bother with this neighbour.
He would be proven wrong.
"CAN'T EVEN BE COMFORTABLE IN OUR OWN HOME"
Today, Mr Syed is 66 years old, married and with two daughters who have graduated from university and are now working full-time. 
And in the 30 years since he moved in, his family has seen, heard and suffered it all – from persistent ceiling leaks to ear-splitting noises – from the same neighbour upstairs.
"It's every day; terrible. I tell you, you cannot sleep," he told CNA. 
At first, in Mr Syed's first few years living there, it was music blaring from the radio and at any time of the day.
He shrugged and dealt with it by keeping his windows shut. Over the years, he has also twice changed his windows to soundproof ones. 
"We can tolerate a bit because it was the radio only. But sometimes, extremely loud." 
In 1996, HDB told Mr Syed that its legal department had served a letter to the unit above to tell them to "stop creating any inconvenience" to neighbours. 
Noise nuisance is an offence under the Miscellaneous Offences (Public Order and Nuisance) Act. 
The police could take action, said HDB then, as it encouraged Mr Syed to call 999 for help should noise problems arise. 
In the 2000s, the loud music was replaced by shouting and shrieking, incessant knocking, and the sound of furniture being dragged or objects dropped on the floor - sporadically through both day and night. 
Mr Syed's family has collected about 100 audio clips over the years, with the noises becoming more frequent in recent times.
He takes a 1.5-hour drive to work and from work each day, and his daughters would worry for his safety on the road, especially after a disturbed or near sleepless night due to the din above.
Their father, on the other hand, would fret about them not being able to study at home.
When Mr Syed approached his estate's grassroots team for help, they suggested that his daughters study at the Residents Committee (RC) centre. 
"I have my own home. Why should my daughters go there and study?" he said. "It's not fair."
Across the decades, three different Members of Parliament have represented his division in Tampines GRC - Dr Aline Wong from 1991, Mr Yatiman Yusof from 1997 and current Minister for Social and Family Development Masagos Zulkifli, who took over in 2006.
Mr Syed has met all three of them.
In 2019, in one of several emails to Mr Masagos and his Tampines West constituency team, his elder daughter wrote: "My sister and I are still in university, and these incidents have a negative impact on our ability to perform as well as we would like to in school, as we often get very little or interrupted sleep. 
"Furthermore, as these incidents occasionally occur in the daytime as well, we cannot even be comfortable in our own homes."
Responses, if they came at all, often took some time.
"It has been almost two months since my last email and the situation has not improved. In fact, it has been getting worse of late," Mr Syed's elder daughter said in a later email.
"My family and I have been left completely in the dark about any progress that might have been made on your end - without communication, I am inclined to believe that nothing has been done, and this is unfortunate as I had much faith in you to help resolve this issue that has been plaguing my family for over 20 years." 
CNA contacted Mr Masagos and his constituency team with queries on Mr Syed's case.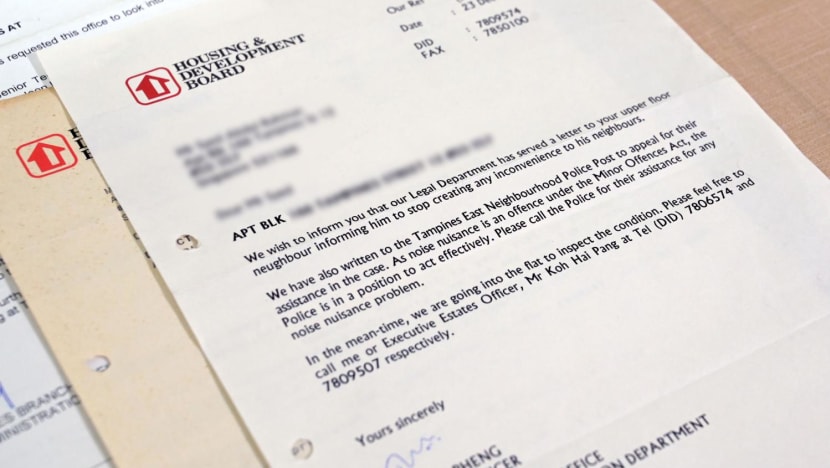 WATER RUNNING "THE WHOLE NIGHT"
Then there were the ceiling leaks.
Over 30 years, Mr Syed's home and the flat above have undergone repairs three times, with HDB's assistance - in 1992, 2011 and 2017.
In letters seen by CNA, he also corresponded with HDB on other instances of ceiling leakage in 1993, 1994 and 2000. 
After some time, Mr Syed decided to take it upon himself to handle minor instances of leaks or ceiling water damage, by painting over damp spots appearing every few years.
HDB never explicitly confirmed to Mr Syed the exact cause of the water damage, but he had his suspicions.
From his unit, he could hear the constant sound of running water, at almost all hours of the day. 
"I went downstairs to take a video of the water meter running. He can leave the water running the whole night, I don't know whether he fell asleep or what," said Mr Syed with a wry smile.
In 2011, HDB sent a letter reminding the neighbour upstairs to refrain from turning on the water tap unnecessarily, with a copy of the correspondence also received by Mr Syed and seen by CNA.
CNA sent HDB queries on Mr Syed's case, asking for more information on the ceiling leaks and noise complaints; whether the statutory board had visited or communicated with the family upstairs; and whether they had advised Mr Syed to take further action through the courts, for example.
The agency's website contains a page outlining steps which residents can take to manage neighbour disputes. 
"HOW ARE WE GOING TO LIVE?"
When Mr Syed first moved into the flat in 1992, the household upstairs comprised a couple with two sons. Both parents have since passed away, and their children continued to live there.
In 2017, HDB told Mr Syed that Mr Masagos had "made representations" on his feedback over the excessive noise by his neighbour. In a letter, the agency also noted the brothers as having a history of hoarding and mental illness.
HDB said it had discussed with other Government agencies how to help the brothers transition into the community. 
"Social workers and their uncles have agreed that both brothers will require special attention and will make regular visits to the unit to ensure they do not hoard the flat or cause inconvenience to neighbours," the letter read. 
The two brothers were also receiving help from the nearby SBL Vision Family Service Centre, which is supported by the Ministry of Social and Family Development.
The ministry did not respond to queries from CNA on the help rendered to the brothers, and how it has assisted with the neighbour dispute. 
Their mental health has been a factor in Mr Syed's reluctance to escalate matters.
Instead, whenever shouting and shrieking erupted from above, his family would wonder if the brothers were fighting, and worry about their safety and the risk of someone getting hurt.
"I think it's very pitiful," he said. "I do not want (them) to be out of the house ... But then at the same time, how are we going to live?"
Over the years, Mr Syed has attempted to approach the younger brother, in hopes of cordially discussing – and resolving – their dispute.
He has also used the WhatsApp messaging app to try and communicate with him. In texts seen by CNA, Mr Syed asked about his and his brother's health and about possible reasons for the noise, among other questions. Most went unanswered. 
The younger brother did tell Mr Syed, however, that he was "stressed" by his elder sibling's behaviour.
"When he comes back his brother will start to make noise," said Mr Syed. "And then when he tells him not to make noise, he will attack him, scratch him ... He cannot sleep also when he comes home because the brother disturbs him.
"I don't know, maybe the brother loves him or the brother doesn't know what to do, that's why he doesn't want to send him away. But I strongly feel not helping him get treatment is not proper."
The younger brother once suggested that Mr Syed move out of his flat – an option the latter briefly considered.
"Actually I wanted to apply for a new flat, but I was thinking (it's) so inconvenient to move out," he said, adding that his current place was comfortable and in a convenient location. 
"And why should I move out? I'm not the cause of the problem." 
Mr Syed has never seen or interacted with the elder brother. 
In letters sent by HDB to Mr Syed between 1992 and 2017, officers noted multiple times that the neighbour upstairs would often fail to answer the door.
Mr Syed has met with the same resistance.
He was eventually advised by the police to avoid confronting the neighbours directly when they were noisy - and especially if they appeared to be arguing or in conflict - to prevent the situation from escalating.
In Singapore, residents are protected from neighbourly acts that cause nuisance under the Community Disputes Resolution Act (CDRA), which prohibits causing unreasonable interference with a neighbour's enjoyment or use of his home, lawyers told CNA. 
The CDRA provides a non-exhaustive list of examples that may count toward such interference. 
These include causing excessive noise, smell, smoke, light or vibration; littering in the vicinity of the resident's home; obstructing the home; interfering with the person's movable property; conducting surveillance on the resident's home; and trespassing.
In the event of a dispute, a resident should first speak to their neighbours and try to resolve the issue amicably, said Mr Razeen Sayed Majunoon, a solicitor with Advance Law LLC. 
If this fails, residents should try to mediate the problem with a third-party peacemaker, he said.
For example, they might approach grassroots leaders to facilitate the conversation or request formal mediation at the Community Mediation Centre (CMC).
If all of this is unsuccessful or not possible and the nuisance is "intolerable", a police report can be made, said Ms A Meenakshi, an associate with IRB Law. 
Residents are also protected under the Protection from Harassment Act (POHA), she added. 
For example, if they are being threatened with violence by a neighbour, this may result in criminal charges, said her colleague Mr Ashwin Ganapathy. 
Threatening to injure a person or harm their reputation and property may also amount to criminal intimidation under the Penal Code, he added. 
One "last resort" is for a resident to seek legal recourse at the Community Disputes Resolution Tribunal (CDRT), said Mr Razeen. 
"It is essential to note that the resident can still bring civil proceedings in the State Courts like the Magistrates Court, District Courts and the High Court, where parties can be legally represented and the standard costs and rules of procedure apply," he added. 
"But the CDRT route, in my opinion, would be a better option as costs are significantly lower, rules of procedure are simplified and parties are self-represented."
"WE ARE HELPLESS"
The COVID-19 pandemic and the 2020 "circuit breaker" period that kept Singapore's residents mostly at home proved to be a tipping point for Mr Syed.
With the noises from above intensifying in volume and regularity, the family often found themselves jolted awake in the wee hours by knocking or shouting.
Between 2020 and 2022, Mr Syed called the police so many times that officers stationed at their Tampines branch became familiar with his case. 
"When the police comes, I let them hear it first. I will quickly go down and wait for the police to come, and ask them to come to my house first. I leave the door open, let them stand there and wait. Then they will hear the sound, then they go up," he recounted.
"When they go up and knock on the door, it's straight away silence. But their lights – all on."
Mr Syed added: "There are times when the police never come when I call them. They say, 'Sorry, we cannot come, noise caused by neighbours is not considered a crime or emergency, so we will just refer them to HDB.'
"You refer them to HDB, then what happens to us? We don't sleep?"
HDB has seen an uptick in feedback on noise from residents' activities. Of all neighbour dispute cases registered for mediation, noise was the top complaint "by far", said Minister for Culture, Community and Youth Edwin Tong in October. 
The number of noise-related complaints increased from 400 cases a month in 2019 to 2,500 in 2020 and 3,200 in 2021.
To tackle the problem, a Community Advisory Panel on Neighbourhood Noise was convened by the Governnment in March this year.
On Nov 19, the panel submitted a set of recommendations, including for a window for quiet hours to be extended by 1.5 hours from between 10.30pm and 7am, to between 10pm and 8am.
In July 2020, Mr Syed was advised by HDB to apply for mediation assistance from the CMC. But he found that he could not proceed without his neighbour's participation. 
His younger daughter wrote to HDB again in February last year, on the advice of police officers who had responded to their multiple calls for assistance. 
"We have (applied for mediation) but no progress has been made as our neighbours are not responding to CMC, neither are they showing up – rendering our efforts futile," said his younger daughter in an email.
"We are left with no choice but to regularly call the police in the wee hours of the morning (anytime past midnight and before the sun rises) since we are helpless."
The Ministry of Law (MinLaw) told CNA that the CMC handled an increased number of neighbours in dispute and requesting mediation in the past two years.
"The increase could be attributed to more residents staying at or working from home during the COVID-19 pandemic, and increased awareness of CMC's mediation service," a spokesperson said. 
MinLaw said that at the CMC, more than 80 per cent of disputes are settled. 
"However, some residents involved in disputes with their neighbours are unwilling to attend mediation," the MinLaw spokesperson said.
"We are studying the feasibility of mandating mediation in appropriate situations to increase participation in mediation." 
The number of claims filed with the CDRT – where residents seek legal recourse – has also increased in recent years, from 108 in 2019 to 211 in 2020 and 237 last year.
Data from the ministry also showed that in 2020 and 2021, about 77 per cent of CDRT claims were not mediated at the CMC in the six months before they were filed. 
"This is concerning to us," said the spokesperson.
"Commencing court proceedings against one's neighbour should be a last resort and should be considered only if all attempts at amicable resolution have not succeeded.
"Where direct communication between neighbours does not yield results, parties should strongly consider seeking professional mediation." 
"SOMEBODY IS SUFFERING"
By March last year, however, Mr Syed's family had reached the end of their rope. They decided to turn to the "last resort" of filing a claim with the CDRT. 
To do so, they had to prove a bonafide case against their neighbour, which meant sharing with the tribunal their dozens of audio recordings and pages of correspondence with authorities.
A neighbour dispute claim was then filed for a fee of S$150. 
Claims are typically served within 14 days to the neighbour, who has another 14 days to respond or settle the matter.
If this doesn't work out, parties will have to attend a pre-trial conference, followed by mediation or counselling, said Mr Razeen. 
If matters are still unresolved by then, parties will have to attend a hearing where a court order is given. 
The CDRT can grant various orders including an injunction for a neighbour to cease certain activities, or for a neighbour to apologise or pay for damages.
In Mr Syed's case, the tribunal in August last year ordered the younger of his neighbours upstairs to not cause excessive noise including shouting and knocking; and to take all reasonable steps to ensure his elder brother also does not cause excessive noise.
Still, the noise continued for months, leaving Mr Syed pondering the even more nuclear option of applying for an exclusion order. 
This temporarily bars people from staying in their homes. Since it was formed in 2015, the CDRT has issued just two exclusion orders – in December 2019 and January 2021.
An exclusion order "is intended to deal with the most serious cases", MinLaw told CNA, and can be issued if the CDRT is satisfied that the person has failed to comply with the tribunal's orders on two previous occasions.
Before making up his mind, Mr Syed asked the younger brother to go with him to a meet-the-people session in June this year.
"Tonight I go see MP, u want to come? Cannot like this day and night, shouting and knocking. People need rest, to go to work. Situation is getting from bad to worse," Mr Syed texted. 
There was no response.
At the meet-the-people session, a lawyer with the constituency team advised Mr Syed to go ahead with the application.
"I told them we are taking a court order, this court order is not very good because he will be evicted from the house and all that. Where is he going to live?" Mr Syed recounted.
"To me, it's cruel. Somebody is suffering there ... You want me to take action and make life more difficult for him?"
Mr Syed added: "Despite what he has done to me, I still want to help him. The thing keeps on happening, which I do not blame him for because he has mental problems, he doesn't understand, he doesn't know."
Mr Syed applied for an exclusion order the same month.
Stressing that it was a tough decision to make, he said: "I also don't want people to think like 'this fellow is helpless, you take legal action, you want to bully him'. I know people will think like that ... But then how?
"We waited until so long. And we (didn't) want to do it. We did it because it became worse and worse and worse ... Something must be done."
At a hearing, the judge asked Mr Syed if he wanted to proceed with the order against his neighbour. "Do you want him to be out of the house?"
Mr Syed replied: "I don't want to, but I have no choice. I need to sleep ... This is not one night, two nights. This is every night." 
At the next hearing on Sep 13, the younger brother was present, along with a mediator who sternly advised him to send his brother to a hospital for treatment.
The brothers disappeared the next day, and the house upstairs has been quiet since.
Concerned for their safety and whereabouts, Mr Syed tried reaching out to the younger brother as well as their social worker.
He believes they are either receiving treatment or have moved in with other family members.
CNA understands the brothers were admitted to the Institute of Mental Health after the September hearing, and one of them was discharged the next month. 
The younger brother stopped by the unit once at the end of October, but Mr Syed has not seen him come home since.
The parties returned to court on Nov 16, where the younger brother was asked if he was confident enough about his elder sibling's condition, to bring him back to their home in Tampines.
The younger man said he was not, and that he was monitoring his brother's progress.
Until a pre-trial conference in December, the younger brother will be working with a court counsellor and social workers to find a long-term solution.
For now, with the clamour and racket of the last 30 years giving way to some semblance of calm and quiet, Mr Syed and his family are cautiously hopeful that their new reality endures.
"I was reading on my phone and I dropped it – because I fell asleep. Last time, cannot," he chuckled.
"I feel much, much better. It's very peaceful.
"Now, it's like a real home."