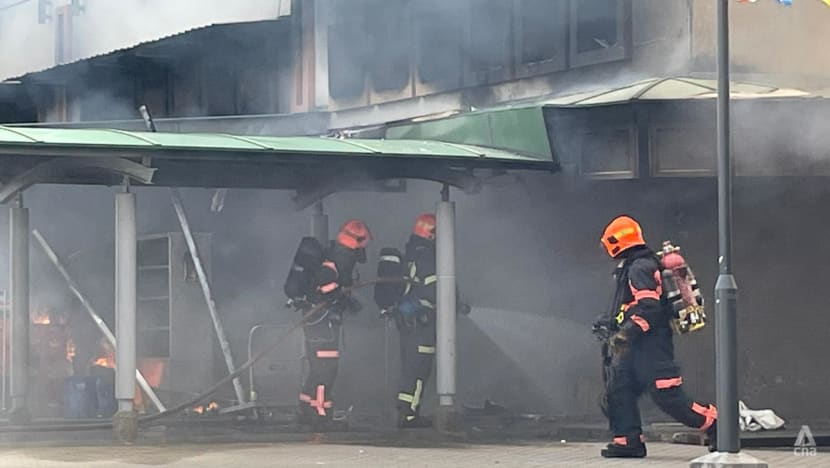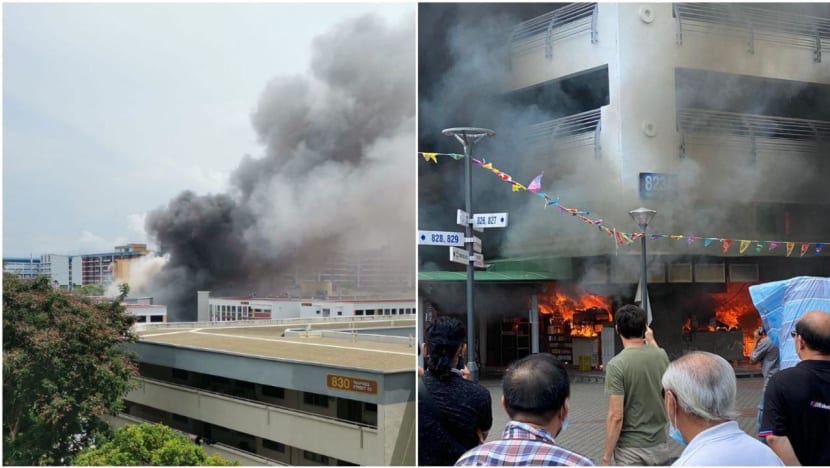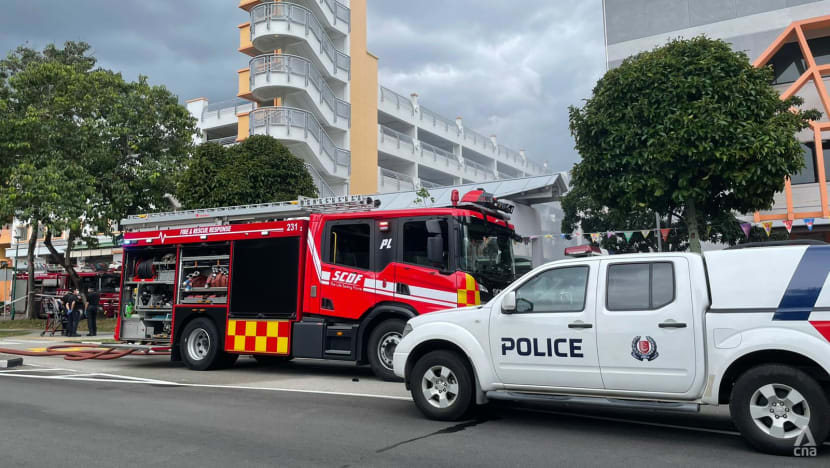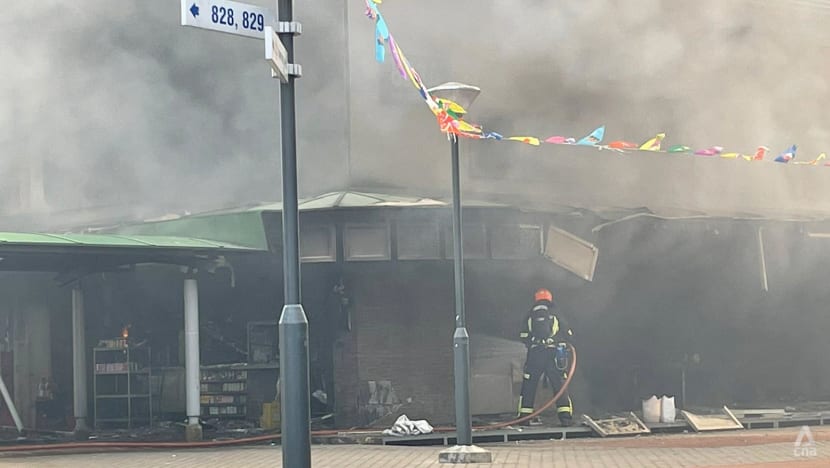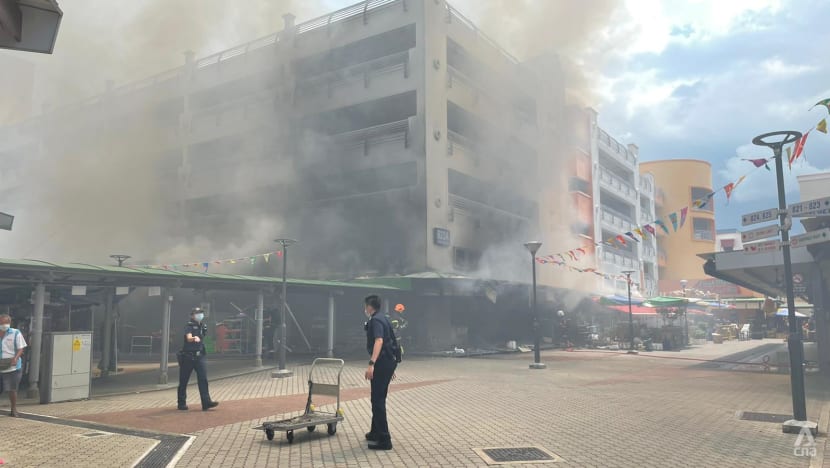 SINGAPORE: A fire broke out at a coffee shop at Block 823A Tampines Street 81 on Saturday (Aug 7) afternoon, disrupting operations as hawkers evacuated the premises.
The Singapore Civil Defence Force (SCDF) said it was alerted to the fire at about 2.15pm, and arrived to find that contents of the coffee shop were "well alight".
Several members of the public were trying to control the raging fire with three hose reels, added SCDF in a Facebook post.
"Armed with water jets, SCDF firefighters with their breathing apparatus sets proceeded cautiously into the burning coffee shop" to carry out the firefighting operation, said SCDF.
The fire was extinguished within an hour using four water jets.
No injuries were reported, said SCDF. Stall owners and patrons from the coffee shop as well as people in the immediate vicinity had evacuated themselves prior to SCDF's arrival.
Damping down operations were ongoing as of 5.30pm, according to SCDF. This involved the application of water to wet burnt surfaces immediately after a fire had been put out, to prevent any potential rekindling of the fire.
The cause of the fire was under investigation.
Witnesses told CNA that they heard multiple loud explosions at about 2.20pm. A video taken by a stall owner showed orange flames burning inside the coffeeshop while a loud explosion sounded.
Other videos and photos of the scene showed dark grey smoke billowing from the coffee shop.
When CNA arrived at the scene, police officers were dispersing crowds away from the fire and telling people to move back so that they would not inhale the smoke.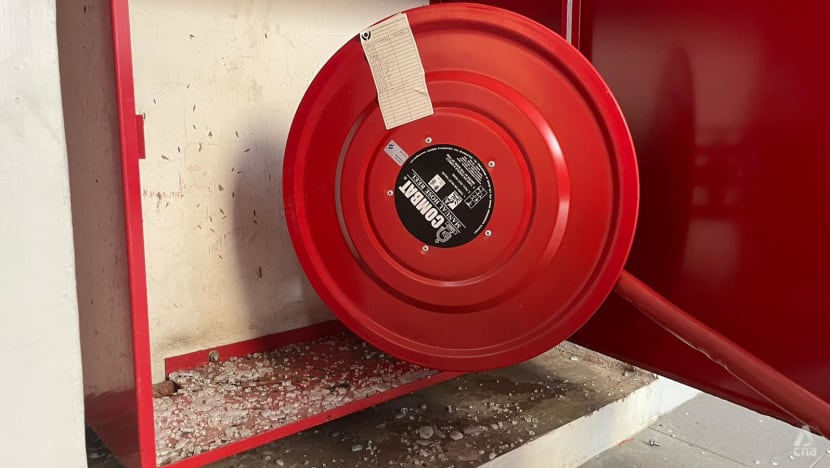 "DIDN'T EVEN HAVE TIME TO FOLD MY POPIAHS"
A stall helper at the coffee shop said she was folding popiah when she heard another hawker shout. She saw that the stall attendant of a nearby fish soup store was washing dishes with a small fire behind him.
When the fish soup store attendant noticed the fire he threw some water on it, but the fire then grew rapidly, she said.
Some hawkers tried to get a fire extinguisher to put out the fire, she added.
"I didn't even have enough time to fold my popiahs," said the stall helper, who did not want to be named.
"I didn't even have time to take my money. Now I don't even have anything, how am I supposed to go home?"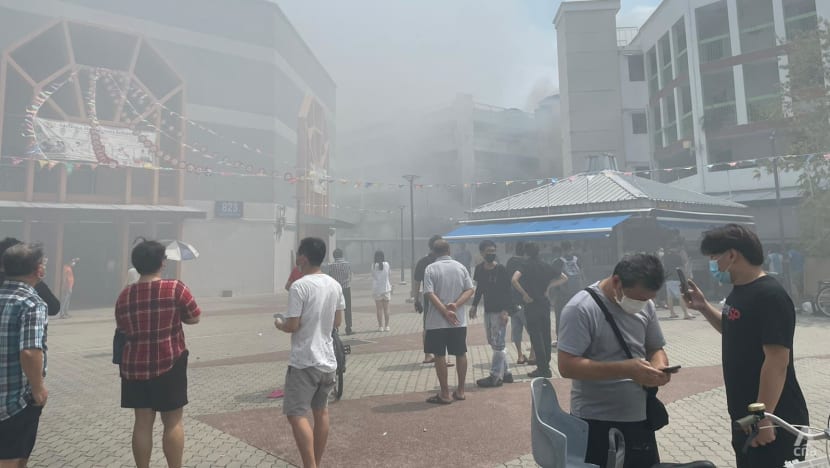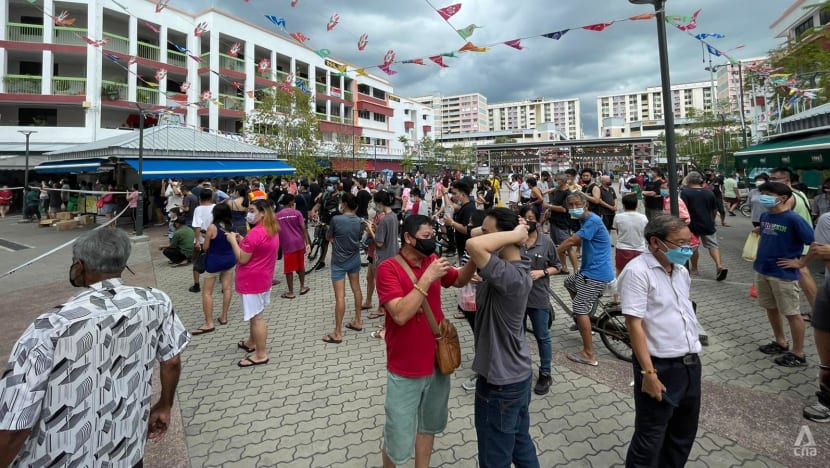 Another stallholder, who did not want to be named, told CNA that she was preparing ingredients for her store when she noticed that there was a fire and that people were running out of the coffee shop.
"I didn't care about my things, I just saw the fire and ran," she said.
A worker at a zi char stall told CNA that the fire happened at around 2pm to 2.10pm, and that he was shocked to see the fire when he ran over to the affected stall.
"I quickly grabbed my things and ran," said the man, who did not want to be named.
When asked how he felt, he said that it was a "headache" and added that he now could not conduct business.
A resident staying on the second floor of Block 826, opposite the coffee shop, said he heard a "small explosion sound, followed by screaming".
"At first I thought something heavy had dropped. When I turned around, the whole (place) was engulfed in smoke," said Mr Andronicus Koshy, adding that firefighters came within five minutes after that.
Employees of a KFC restaurant near the coffee shop told CNA that they immediately ran upon smelling gas. There were no customers inside the restaurant then.