Man on FBI's most wanted list pleads guilty in Singapore court to falsifying North Korea-linked invoices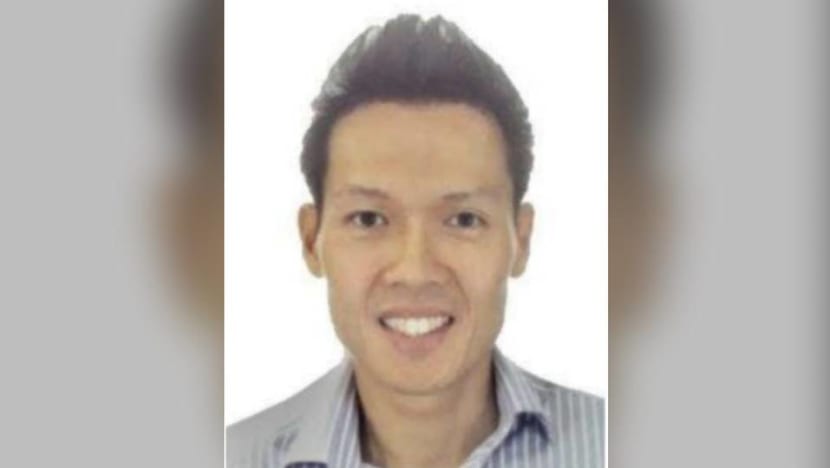 SINGAPORE: A Singaporean man who is on the United States' Federal Bureau of Investigation's (FBI) most wanted list for money laundering pleaded guilty in a Singapore court on Monday (Oct 11) to falsifying invoices linked to businesses in North Korea.
Tan Wee Beng, 44, pleaded guilty to seven charges of falsifying invoices of two companies, with another 13 charges taken into consideration for sentencing.
The court heard that Tan was the managing director and a shareholder of Wee Tiong, a company dealing in commodities trading. He was also the director of Wee Tiong's sister company Morgan Marcos. All the shareholders of both companies were Tan's family members.
At the time of the offences, Wee Tiong maintained bank accounts and credit facilities with UOB. As of November 2016, the credit facilities granted by UOB to companies in the Wee Tiong group totalled about S$125 million.
Tan began trading with Ri Nam Sok from North Korea in 2007 or 2008, and with a second North Korean Jon Chol Ho in 2010. 
He sold sugar to their companies, receiving payments for the goods into the bank accounts of Wee Tiong and Morgan Marcos.
In November 2016, March 2017 and October 2017, UOB sent queries to Tan about deposits of money into his two company accounts. OCBC also sent a query in September 2017 about deposits into Morgan Marcos' bank accounts.
Tan knew that the deposits were payments for sales of goods by Wee Tiong to Ri and Jon, but was concerned that UOB and OCBC would terminate their banking relationships if they found out that the transactions were with North Korea-linked entities.
Deciding to conceal this fact from UOB and OCBC, Tan prepared false invoices with the help of co-accused Bong Hui Ping, Wee Tiong's shipping manager.
Bong changed the names of the end buyers or destination ports on the invoices to remove references to North Korean companies or ports, and Tan issued the invoices before responding to the banks with the false invoices.
Deputy Public Prosecutor Ryan Lim asked for at least two months' jail for what he said was essentially bank fraud. This was not a one-time offence, with a total of 20 invoices falsified, he said.
Defence lawyer Josephine Chee asked for a high fine instead, pointing out that the transactions with North Korea were legal at the time. She said Tan exported sugar and other commodities like soya beans and rice to North Korea for about 10 years, but said his companies stopped such trading after it was made illegal.
For each charge of falsification of invoices with intent to defraud, Tan can be jailed up to 10 years, fined, or both.
He will return to court for mitigation and sentencing next week.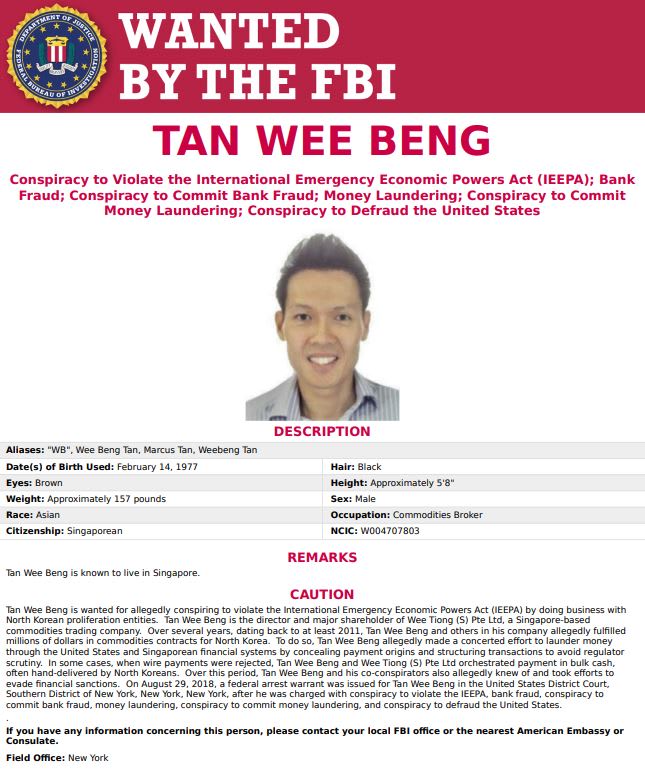 Tan is listed in an FBI notice as being wanted for crimes including bank fraud, money laundering and conspiracy to defraud the United States.
He allegedly concealed payment origins and structured transactions to avoid regulator scrutiny in his trade with North Korea.
A federal arrest warrant was issued for Tan in August 2018 by the US District Court, Southern District of New York, after charges were filed against him.