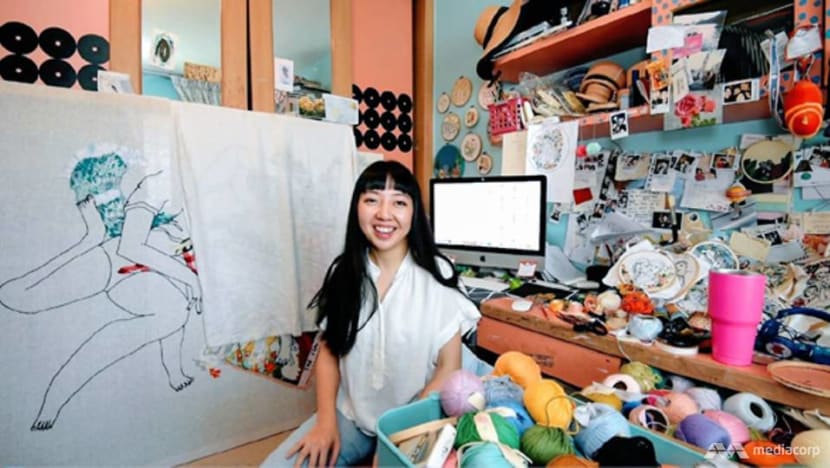 SINGAPORE: While most people take quick snaps with their smartphones on holiday, and maybe zhoosh it up with careful cropping and filters for the 'Gram, Teresa Lim takes her time, hours even, capturing scenes from her vacations.
Armed with needle and thread, she has enshrined her impressions of everything from the Eiffel Tower in Paris, to the haphazard buildings of Vietnam's Ho Chi Minh City and the farmland at her grandparents' home in Germany, in intricately embroidered pieces.
All together, the 27-year-old has more than 40 of these charming travel "snaps" in her ever-growing Sew Wanderlust series.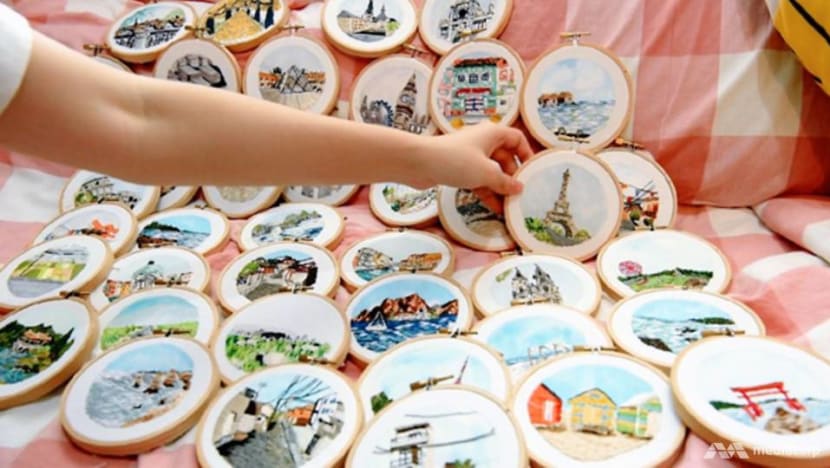 Three years after her works caught the attention of international media, Ms Lim, known by the moniker Teeteeheehee, has scored an impressive list of clients as an embroidery artist. It includes the likes of Gucci, Uniqlo, Melissa Shoes, Singapore Airlines, Changi Airport and even Netflix.
SEW FAR, SEW GOOD
Speaking to Channel NewsAsia in her workshop in her family HDB maisonette, Ms Lim shared that being an embroidery artist was never the plan for her. The Fashion Design and Textiles graduate from LASALLE College of the Arts said unlike most of her peers, she did not dive into a job search immediately after graduation. Instead, she gave herself a year to focus solely on embroidery, a medium she had picked up in school.
"I think that was very important because when you don't put pressure on yourself. That's where you grow and understand yourself more.
As expected, her choice to pursue art as a career was met with scepticism from her parents. While she received well-meaning advice that she might not go far and that she should stick to a more secure job, she was not deterred.
"I cannot imagine myself going through life like that. I would rather suffer doing something I like than being safe and not enjoying what I do," Ms Lim said.
And suffer she did. She recalled being financially strapped in her first year, while she was jobless and without a steady income. She did not want to rely on her parents either, in a bid to prove them wrong.
When she realised she was down to her last fifty dollars, she decided to start giving lessons on playing the violin, a skill that her mother — a piano teacher — had inspired her to pick up from young.
Ms Lim indicated she's embraced the harsh realities of being an artist in Singapore.
"Ultimately, art in Singapore is not mainstream. There is no fixed income. We don't know when we will get a big project and then nothing for three months," she said.
"Realistically speaking, when you worry too much about whether you can feed yourself, that can drown out the passion. Once you have that sorted out, you can have the space and mental capacity to create."
Today, she brings home a comfortable income through commissioned works for brands looking for artwork for their campaigns or individuals looking for customised portraits.
A basic embroidered portrait is priced at S$250, while more elaborate pieces can cost up to S$550.
"When you do something you like, it can only take you to good places. People can see it reflected in your work and naturally people are drawn to it," Ms Lim said.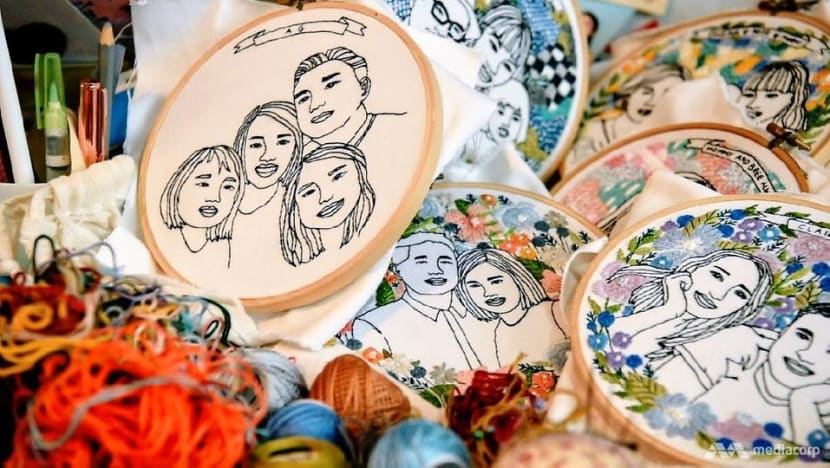 Today, Ms Lim describes her work as "telling stories" or "capturing moments through thread". "I like to encourage discussion, but I'm not very good with words, so I let my work speak for itself," she added.
Her first personal project, the Sad Girls Club, was a series of embroidered illustrations depicting the sadness she felt when she went through a breakup.
She published her work periodically on Instagram and built up a following, with some people reaching out to tell her that they could relate to her work. From there, Ms Lim's passion for storytelling emerged.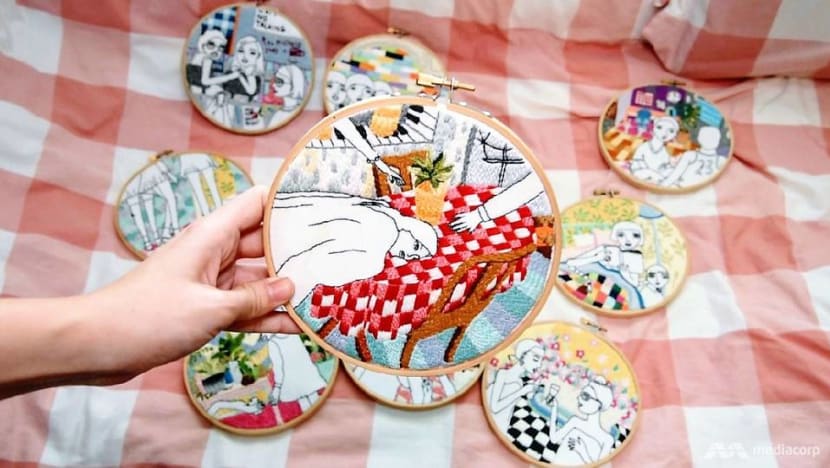 She moved on to address bigger issues in her next series, The Twelve Rooms, after overhearing a group of schoolgirls comparing their bodies to that of perfectly sculpted models on magazine covers.
It struck a chord with Ms Lim who remembered feeling that way when she was younger. She also took inspiration from personal stories of some of her followers.
Said Ms Lim of the project: "I started this series as a kind of conversation with my younger self. When you're young, you think nobody understands you so you don't share much and in the whole process you feel very alone.
"What I hope to do is encourage discussion. There is power in knowing that someone who has been through all that is looking back and saying 'It's okay to feel this way'."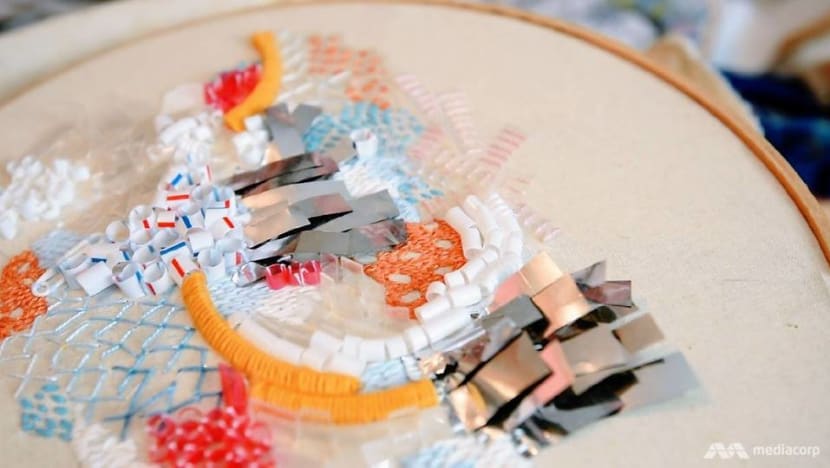 This year, she is busy with a personal project tackling the issue of excessive plastic use. Inspiration for it came when she realised she could never escape the use of plastics in her daily life, even when she tried to avoid it.
She now collects what she terms 'accidental plastics' – bits and bobs of plastic items she uses without consciously asking for them. She hopes to incorporate all these plastics into an embroidered piece that depicts the ocean by the end of the year.
Asked what the way forward for her is, Ms Lim said: "I always get that question, but I don't even know what I'm going to do tomorrow.
"I will always be embroidering, just that the subject matter or the stories that I tell will evolve. Every year, I am excited to see what I will discover the next year."