Tembusu tree accident: Death of woman a 'tragic misadventure', says coroner
The tree's deterioration started in the "distant past" when its roots were cut to make way for a path, Coroner Marvin Bay said.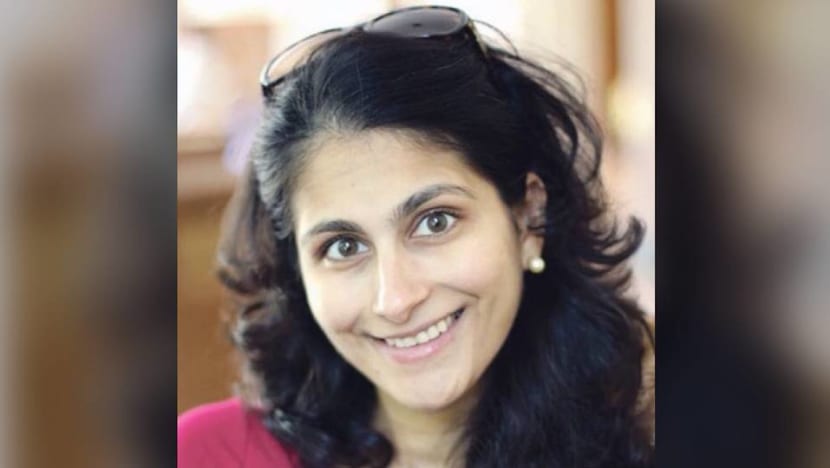 SINGAPORE:  The death of a 38-year-old woman who was killed by a Tembusu tree which uprooted at the Singapore Botanic Gardens last year was a tragic misadventure. 
That was Coroner Marvin Bay's finding on Monday (Apr 30), two weeks after the conclusion of an inquiry into the death of Indian national Radhika Angara.
Mr Bay noted that there were no external signs or symptoms of an internal decay, a point raised by arborists who had testified during the inquiry. An external void was flagged in 2016 during an inspection, but that turned out not to be damage. 
"No other feature was documented about the tree which would have raised the index of suspicion that it was susceptible to imminent collapse," he said. 
Strong winds and heavy rain in the days before the tragic incident was a factor in the "final failure" of the tree's roots, said the coroner. The wind had initiated the process by buffeting the tree, causing "considerable" swaying, he added.

This in turn caused the tree's already weakened roots to fracture.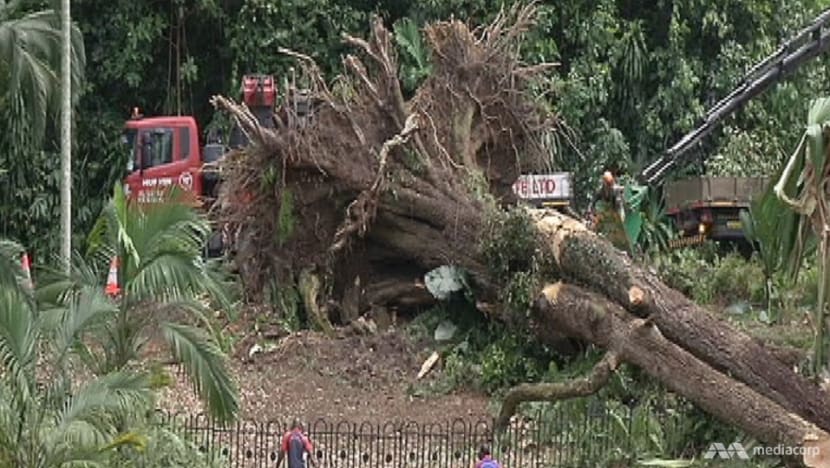 The incident happened on Feb 11, 2017, when Ms Angara was at the UNESCO world heritage site with her husband and now two-year-old twins. She was killed when the 40m-tall tree fell on her. Four others, including her husband and children, were injured.
Ms Angara's husband, French national Jerome Rouch-Sirech, sat with his face in his hands most of the time while the coroner delivered his finding.
Her sister Aarti was also in court. Speaking to reporters on behalf of the family, she said it was inaction by the people in charge that led to the tragedy. It could have been prevented, she added, saying her niece and nephew will now have to "bear the burden of this disaster, and will never get to know their mother".
Breaking down, she said: "Sitting here today, we had to relive the day of the tragedy and what caused her death. That has just been gut-wrenching." 

Meanwhile, Mr Rouch-Sirech covered his face and sobbed. 
PROGRESSIVE DECAY OF 270-YEAR-OLD TREE
While there were no visible signs of an internal decay, the roots of the 270-year-old heritage tree had in fact deteriorated over time. 
In his findings, the coroner pointed to the tree's "distant past" when its roots were cut to build a path nearby. As a result, the roots were unable to spread further and become degraded.
This already "dire" situation was worsened by a severe decay of the roots below soil level.
"This was also associated with the same root cuts that had occurred in the past which had at some point introduced pathogens which had caused progressive decay," said Mr Bay.
The decay eventually migrated to the trunk, causing "massive internal decay" he added.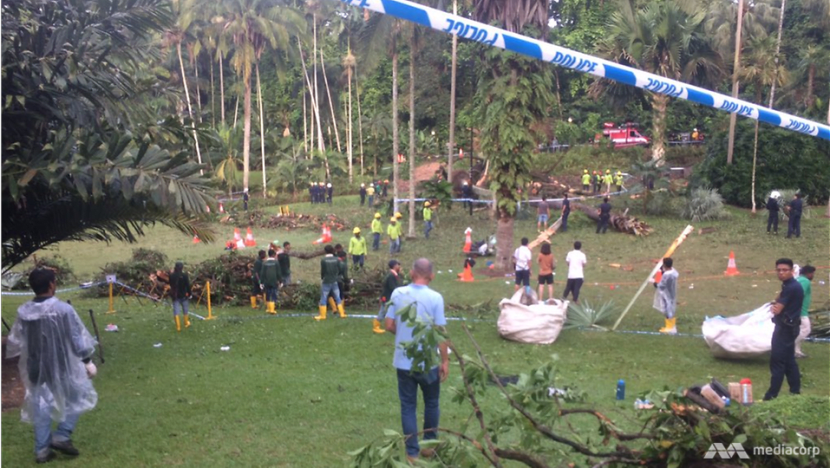 Protocol that existed at the time was followed, said Mr Bay, but he noted that it would be useful for photographs to be taken during all regular tree inspections for significant trees such as old and large trees, or heritage trees. 
"These recorded images would be useful in investigations and inquiries, as an archive of contemporaneously taken photographs of the same tree can allow a more cogent analysis of the actual baseline health of the tree," he said. 
This would afford longitudinal tracing and visual examination over years or even decades, he added. 
Such decay can currently be uncovered through advanced inspection, he observed. This is done if the arborist conducting checks suspects internal decay or any other issue that might affect structural integrity.

THE LAST INSPECTION IN SEPTEMBER 2016
Mr Bay referred to the last inspection of the tree on Sep 29, 2016 as a "major controversy" in the case. Senior Counsel Chelva Rajah, who represented Ms Angara's family, had articulated his suspicions about an "external cavity", as documented by an arborist who inspected the tree, and why it had not been addressed before the tree collapsed. 
Singapore Botanic Gardens' deputy director Elango Velautham, the supervisor of arborist Thaddeus Cheng, had explained during the inquiry that the arborist noted a space that "looked unusual" and recorded it as a cavity without decay.
Upon further inspection, Mr Elango found that it was not an external cavity, and that there was no decay. It was in fact a flute, which is a fold in the surface of the tree, and Mr Cheng had used the word "cavity" due to limitations in the form he submitted. 
The Tembusu tree that fell was inspected twice a year, as are other large heritage trees, trees in carparks and those in areas where "the occupancy rate is high", Mr Velautham had said during the inquiry, which took place over four days spread out over a period of about nine months.
In response to Channel NewsAsia's queries, the National Parks Board said: "NParks notes the Coroner's findings that this was a tragic misadventure and will study the Coroner's report."