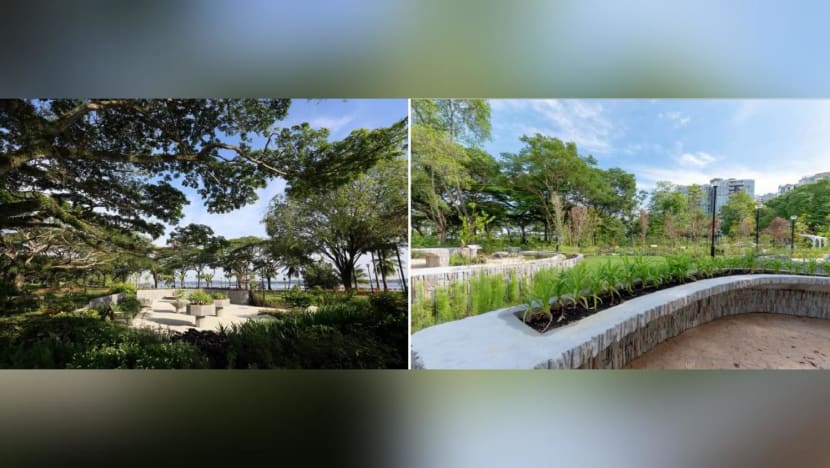 SINGAPORE: Two new therapeutic gardens opened on Monday (Feb 28) at Bedok Reservoir Park and Pasir Ris Park, the first such gardens in the east of Singapore. 
This takes the total number of therapeutic gardens in Singapore to nine.
"Designed using evidence-based design principles, therapeutic gardens are deliberately planned to facilitate people's interactions with nature and improve the well-being of its visitors," said the National Parks Board (NParks) in a media release.
"The gardens' locations are carefully selected based on proximity to care centres, level ground for easy accessibility and an emphasis on the garden's interesting features such as the sea view."
NParks said it aims to establish 30 therapeutic gardens across Singapore by 2030.
BUILT OVER FORMER SAND QUARRY
The 1,650 sq m therapeutic garden at Bedok Reservoir Park overlooks the reservoir and is the first therapeutic garden to be built over a former sand quarry, said NParks. 
"Reflecting this heritage, NParks has designed an interactive rock feature with stones and boulders," said the agency.
"Focusing on the sense of touch, rock balancing therapy seeks to strengthen their mental well-being, mindfulness, motor skills, and balance."
There is also an inter-generational fitness corner, as well as an outdoor physiotherapy area with fitness equipment that can be helpful for physiotherapy sessions for seniors. "These will help strengthen their mobility, stamina and balance while engaging their minds," said NParks.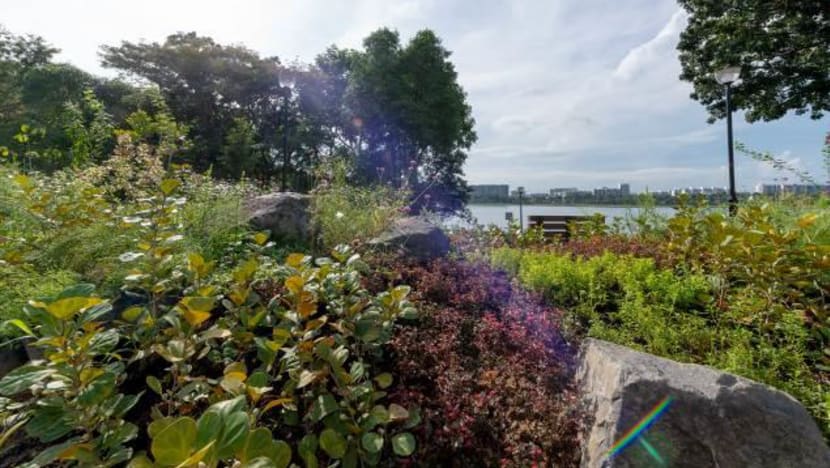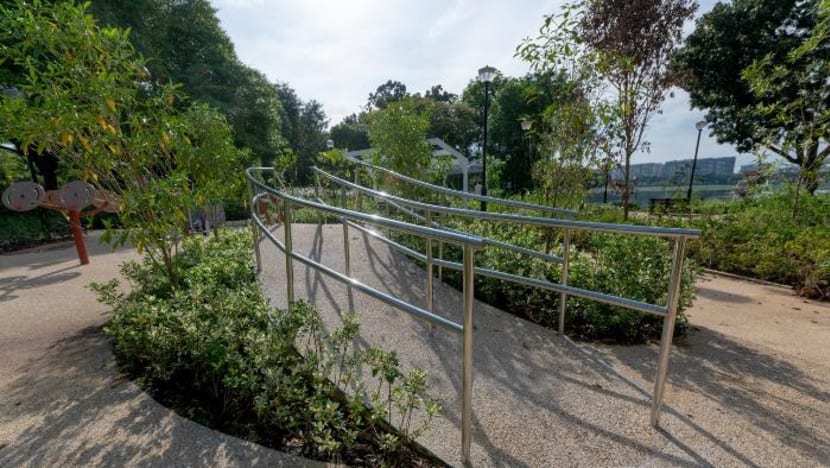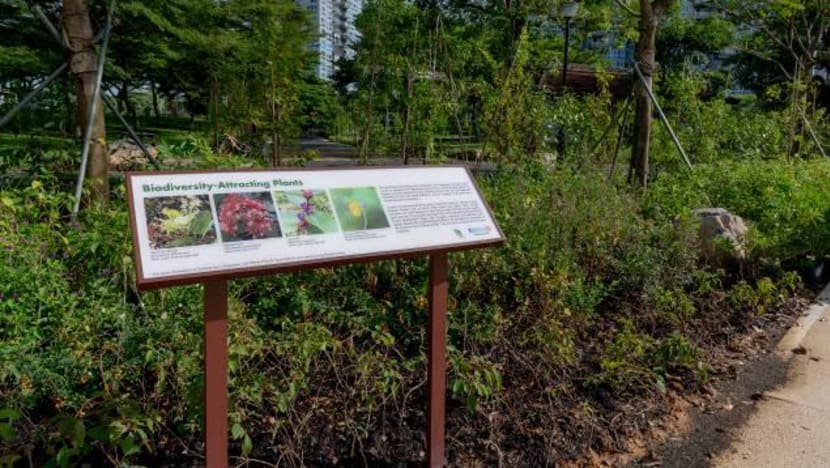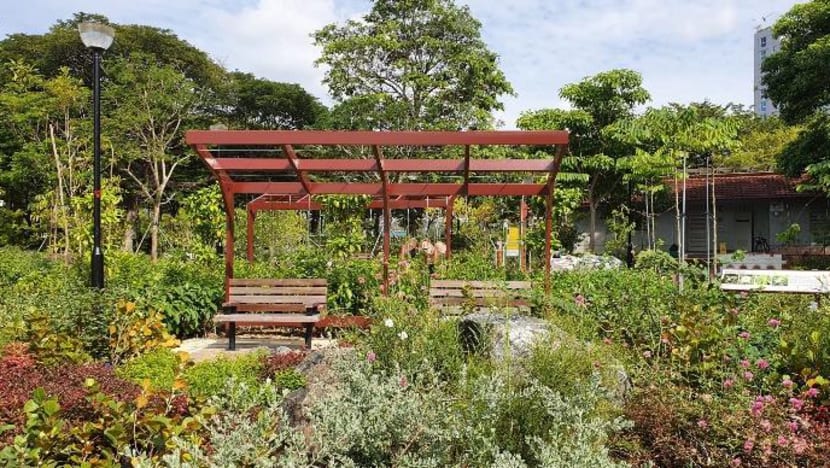 VIEW OF THE SEA
The 1,600 sq m garden at Pasir Ris Park is located 67m from the sea, making it the first therapeutic garden that offers a view of the sea and some of Singapore's kelongs. 
The garden has a fitness area incorporating "play elements" like a xylophone, a balance beam and a slider. 
Another feature is a swale that runs through the garden, which functions as a naturalised drain. 
It is also a "nature-based solution that contributes towards Singapore's resilience in addressing the challenge of sea-level rise and inland flooding due to climate change", said NParks. 
Other design elements include wooden benches crafted from recycled wood, a labyrinth lawn, different planting zones, as well as an area with wheelchair-accessible planters.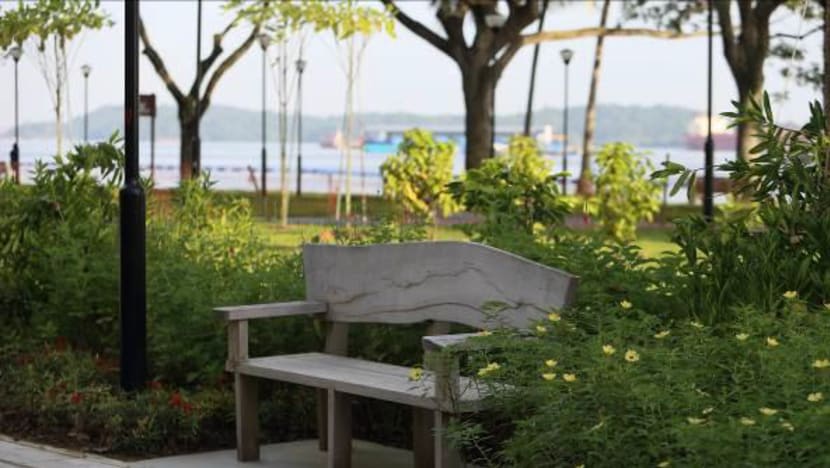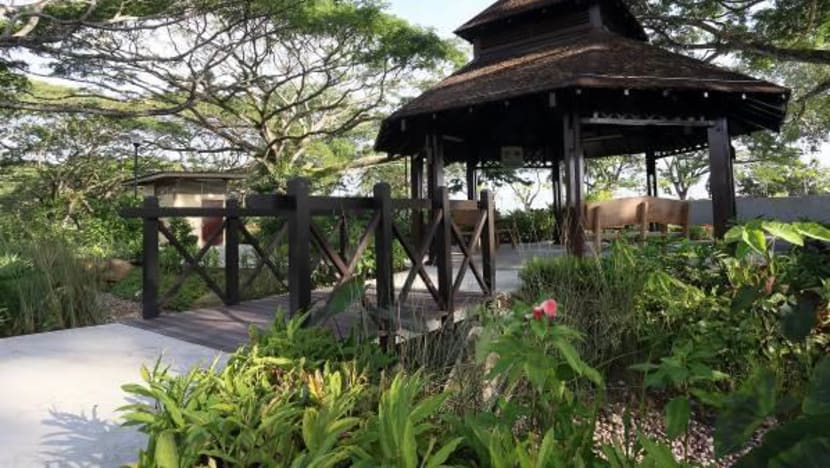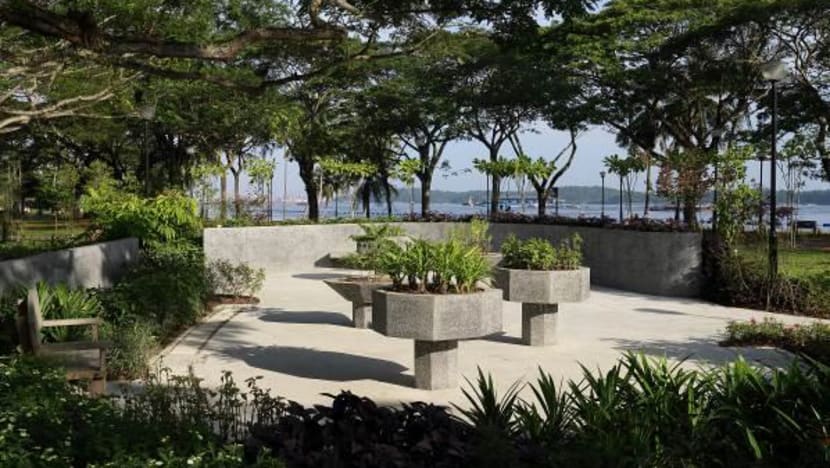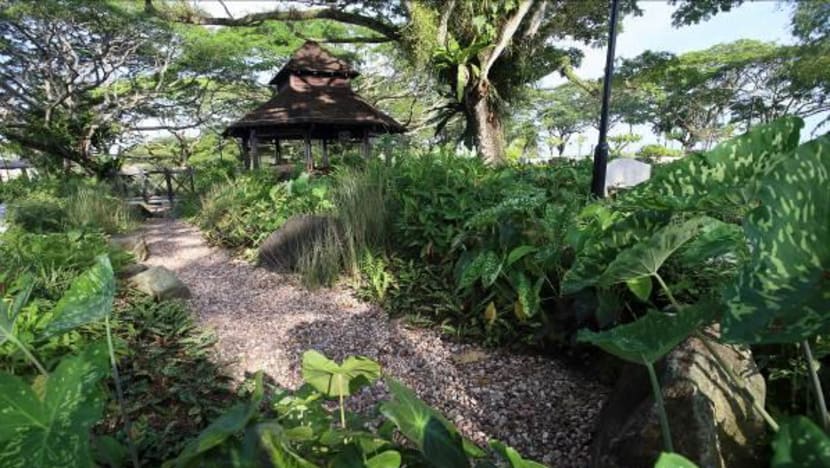 NParks said it will partner eldercare centres and senior activity centres in the area to conduct therapeutic horticulture programmes. 
The programmes were offered at the therapeutic gardens in HortPark, Choa Chu Kang Park, Bishan-Ang Mo Kio Park and Tiong Bahru Park. They were run twice a month for group sign-ups before being discontinued temporarily due to COVID-19 restrictions. 
"The sessions, customised to the needs of the seniors, were designed to stimulate participants' senses and memories through interaction with nature as well as to encourage motor and hand-eye coordination," said NParks.
Singapore's largest therapeutic garden, at Jurong Lake Gardens, opened last September with a dedicated section for children. 
Two other therapeutic gardens at Sembawang Park and West Coast Park will open this year.
EFFECT OF URBAN NATURE ON HEALTH AND WELL-BEING 
NParks said four evidence-based research studies it conducted with its research partners found that urban nature contributes positively to the health and well-being of residents. 
"The research studies not only contribute to the formulation of science-based urban nature planning, management, and design in Singapore, but are among the first few studies in the world which demonstrate the impact of gardening on mental resilience and the relative importance of different types of urban nature during the COVID-19 pandemic," said the agency.
It added that it has been working with the National University Health System and other institutions to build "evidence-based insights" on the effects of nature on health in Singapore, in order to enhance the design of green spaces and therapeutic horticulture programmes.