IN FOCUS: A couple's love story, their neighbourhood bakery and the difficult decision to call it quits
"All good things must come to an end": With the popular Tiong Bahru Galicier Pastry bakery set to close later this year, owners Mr Tan Yong Siang and Madam Jenny Soh look back on the memories of a lifetime.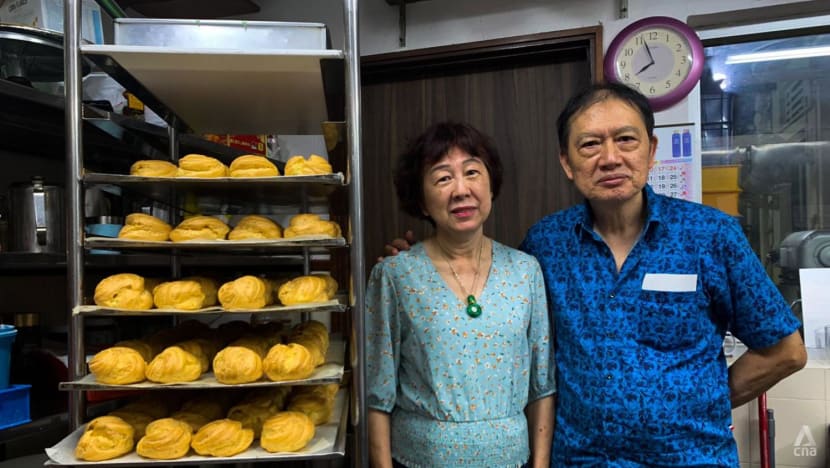 SINGAPORE: In a bakery at the corner of Orchard and Killiney Road, a girl fell in love – first with old-school English pastries, and then later with her future husband.
"When I was young, I was often at the shop because there were cakes and soft drinks," Madam Jenny Soh told CNA.
"The shop was doing well, so they would also make cakes in our house (to bring over). There were always things to eat. All of us loved to eat, and we would watch the helpers make cakes."
The bakery, called Dong Log Wee (Dong Le Yuan in Mandarin), was owned by Mdm Soh's father Mr Soh Siew Hong.
But as a young child, Mdm Soh was not allowed to get involved.
"I remember them making Christmas cakes and we would put on the decorations. From there, I really loved cakes. But my dad didn't like us girls making cakes or standing too close while the adults were making them."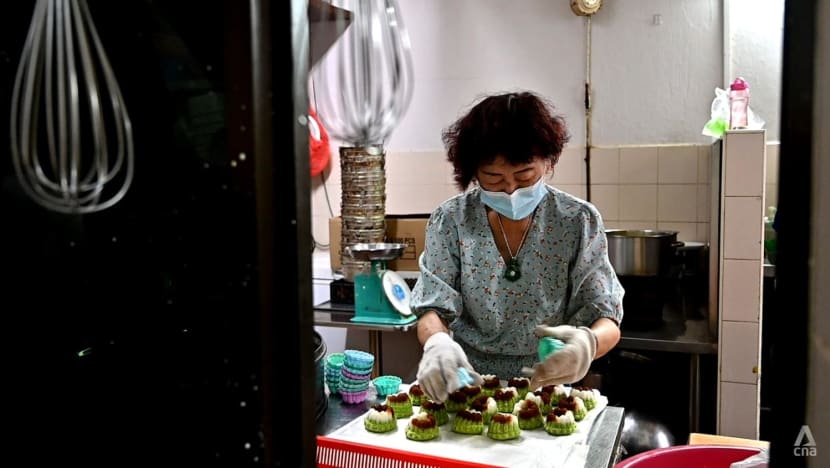 As she grew older, Mdm Soh would eventually spend more time in the bakery.
"My dad would allow me to go in the shop, and I would take down notes of whatever they were doing, take down the recipes. Back then they used ounces, so I noted that down," she recalled.
But it wasn't just ladyfingers and English macaroons that she would fall head over heels with.
"He'd been working at the shop ever since he was a young boy," Mdm Soh said of her husband, Mr Tan Yong Siang.
"But I didn't pay much attention to him because I was still a student," she explained. "At the start, he liked me at first. But I never really noticed him, because I had my own life."
It was not until she was in her early 20s that Mdm Soh began to work at the bakery full-time.
"From my time spent helping, I could see how tiring this job was. That's why my dad didn't want us to do it," she said.
And soon, she also began to notice her future husband.
"He was very hardworking and loved what he did. When my dad was sick and asked him to help, he would always do it with a good spirit," she said.
For Mr Tan, there was one thing about Mdm Soh which caught his eye.
"I saw how pretty she was!" he explained with a rare laugh.
BAKING AND MAKING ENDS MEET
After the couple tied the knot, Mr Tan took up a job as a pastry chef at Orchard Hotel. Even as her father's health deteriorated, Mdm Soh continued to work at the family bakery.
The business was eventually handed over to her older brother and Mdm Soh sought new pastures.
She found a job at Singapore Airlines cargo where she worked as a server from Monday to Friday. On the weekends, she was a cashier at the Singapore Turf Club's VIP room.
But as if by some invisible thread, life always drew her back to baking cakes.
"My husband's job involved working for somebody else and it wasn't one that was sustainable in the long run," she explained. "Money was a problem and we needed to earn more."
To make extra cash, Mdm Soh would bake cakes after she returned home from work.
"I sold them to friends and those whom I met at the Turf Club," she recalled. "They told me that they really liked these cakes and asked why didn't I open a shop?"
But opening a bakery would mean taking huge risks.
"At that point in time, it probably needed several hundred thousand dollars to do so. It's hard to save that much money," Mdm Soh explained. "We thought about it for a long time but continued with our daily lives and working hard."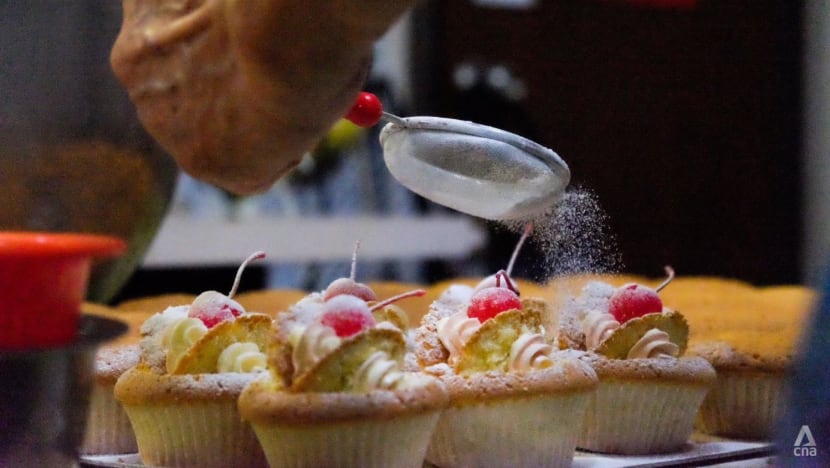 The opportunity to rent a shop at Serangoon soon came up. And when several partners came on board to invest in the business, Mdm Soh and Mr Tan took the plunge.
In 1983, they finally had their own bakery.
The couple worked there for about 17 years, recalled Mdm Soh. Business was good, and their business partners initially let them run the show.
The couple decided to name the bakery "Galicier" because it sounded like the word "delicious", said Mdm Soh.
But business disagreements emerged, she said. Their partners wanted Mr Tan and Mdm Soh to ramp up production of their cakes and focus on quantity, similar to some other bakeries.
"Our thinking was to bake fresh cakes so that customers could enjoy them. (To focus on) quality," Mdm Soh explained. "They wanted (us) to make more and use cheaper ingredients."
The couple decided to set up a new bakery in Tiong Bahru and strike it out on their own.
"We thought Tiong Bahru would be a good place to set up our business. The name Tiong Bahru was a nice sounding one," said Mdm Soh. "We liked the atmosphere here and the layout of the shop."
ON THE BRINK OF GIVING UP
But no matter how delicious the bakery's offerings were, they simply could not attract customers.
Mdm Soh said: "Only a handful of customers would tell me how good the treats tasted. They would ask me: 'Why aren't there any more customers?'" 
For the first eight years in Tiong Bahru, the bakery bled money due to a number of factors.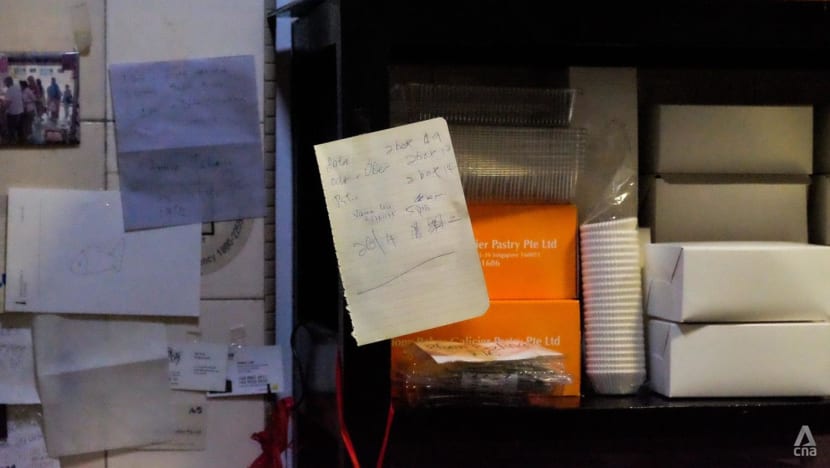 For one, the Government relocated residents from the four-storey Housing and Development Board (HDB) blocks across the road. What is now Link Hotel was eventually built there, but it took a number of years for the hotel to be built, said Mdm Soh.
In addition, many of the area's HDB flats were rented out to tenants who were foreign workers. These workers did not patronise the bakery, Mdm Soh said.
"Those who lived in this area would go to Chinatown to have the traditional Chinese biscuits and cakes rather than what we were selling," she added.
"It was very, very difficult. We were losing money every month – for eight years."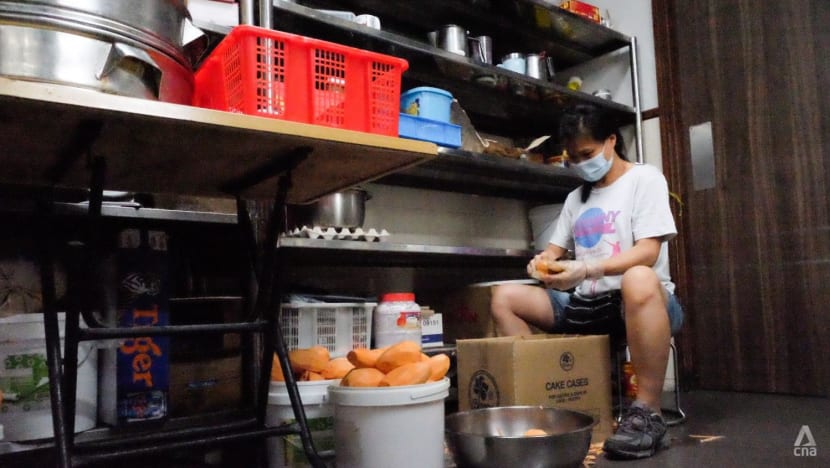 Since they weren't able to sell cakes and bread at the bakery, the couple instead made them on-site and supplied them to other businesses. This helped defray some of the rental costs for the Tiong Bahru shop, said Mdm Soh.
There were times when tears were shed, she recalled.
"It was amid this kind of tears where you tell yourself to stay strong and keep going on," Mdm Soh said. "My husband said we should give up because we were losing money ... for so many years."
The couple were on the brink of closing the Tiong Bahru shop and they began to entertain offers to buy the bakery's equipment.
"We were very close (to selling)," said Mdm Soh. "But the offers were too low. We bought the equipment for tens of thousands and they were offering us only a few thousand dollars."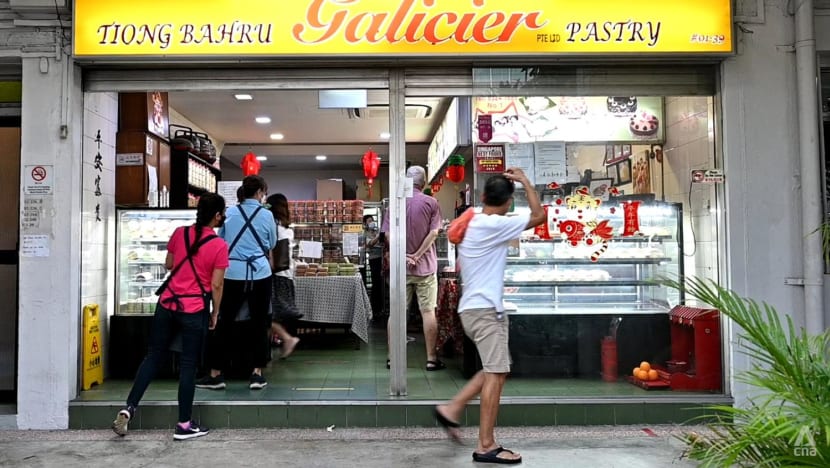 At their wits' end, the couple decided to make and sell kueh in addition to other offerings.
Some of the recipes for the kueh were from Mr Tan's Peranakan grandmother. Mdm Soh modified them with her own ideas, making the treats less sweet but still equally delicious.
"When we started, we did not make much variety - just a few items," recalled Mdm Soh. "But the customers loved it because they said that it was very different and not so sweet."
Two to three years later, the widely popular tv drama The Little Nyonya began to capture hearts and minds. Peranakan culture came to the fore and interest in Nyonya kueh grew.
The couple decided to make more varieties of kueh and experiment with more recipes.
"Customers liked us making new cakes and kueh. So we continued to make new things and increase the variety of what we made," she said.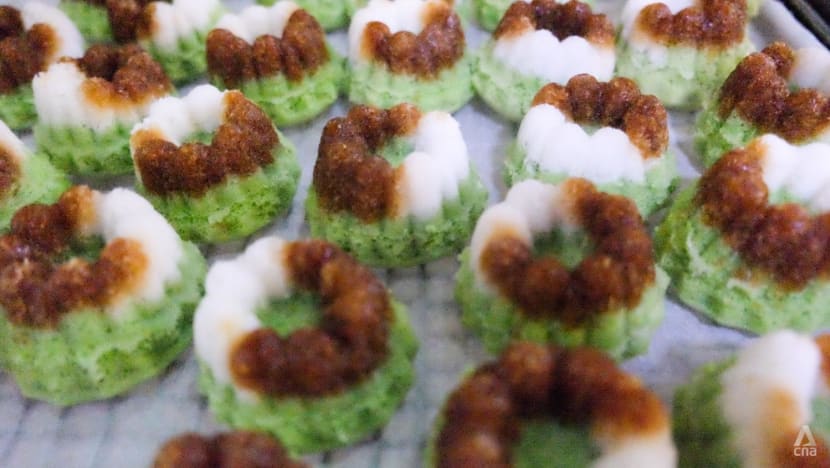 With the bakery also featured on a local Chinese television programme, business took off.
"Our customers were telling their friends about us and the word spread," Mdm Soh. "I felt very happy to see the customers, (seeing) that they would support us."
Fast forward almost two decades, and the bakery has become an institution in the neighbourhood. 
Queues sometimes form before the shop opens for the day. The line snakes past the bakery's ubiquitous yellow signboard and spills out onto the corridor.
Often, the famous kueh dadar – rolled coconut crepe with grated coconut – and putu ayu kueh – steamed pandan sponge cake with gula melaka coconut – are sold out by noon.
SUCCESS, BUT A FINAL FAREWELL
Working in a bakery is hard work, said Mdm Soh. The bakery is open five days a week, from 10am to 8pm.
But Mdm Soh and Mr Tan's day begins hours earlier.
At the crack of dawn, they leave their Bukit Panjang home and scour five to six markets in search of the freshest ingredients. They arrive at the bakery an hour before opening and join their workers, who have already been hard at work since 7am.
"We have to get all the different kinds of ingredients - coconut juice, coconuts, leaves, potatoes. And we have a lot of ingredients," said Mdm Soh.
All throughout the day, the husband-wife duo busy themselves with all sorts of activities - pushing trolleys, folding dough, serving customers.
"If you want nice tasting food, you have to take the effort to make it yourself," Mr Tan said simply.
After the bakery is closed for the day, the work continues. Sometimes the couple and their workers knock off at 11pm or midnight. Other times when they prepare a bulk order, the clock ticks to 1am or 2am.
During the Chinese New Year period, they are in the bakery until 3am or 4am.
Over the years, Mdm Soh and Mr Tan's old friends have helped them out in one way or another at the bakery.
"We've been blessed to have friends like them who helped me during our difficult times. I'm very grateful to them," said Mdm Soh.
But the work never ends, and it has understandably, taken a toll.
The couple sleep between four and six hours a night, and age is beginning to sneak up on them.
"It's quite tough for us and this job is not easy," explained Mdm Soh, who is now in her early 70s.
Mr Tan's hands hurt when he carries heavy objects, after he bumped into a door at the bakery earlier this year. "It's an issue with the nerve," he explained. 
The varicose veins in Mr Tan's legs also throb when he stands for too long. His doctor's advice? Stop working and relax.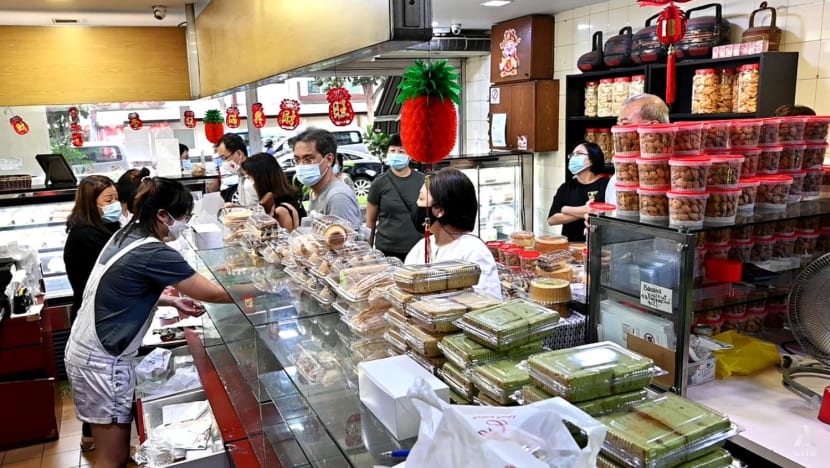 While Mr Tan insists that he can still carry on, these aches and pains mean that the enjoyment of working at the bakery is no longer there, said Mr Tan.
"It feels like there is no longer meaning to it," he added.
The couple's two children, Madeline, 36, and Shaun, 34, have proven to be invaluable in running the bakery and helping out on a daily basis. But they have no plans to take over the business full-time.
"My children know how tough the job is and they have watched us do it since they were young," she added. "It means long hours and having no friends to socialise with, no anything."
"I don't want my children to follow on this road that we have taken," said Mr Tan. "It's simply too tough."
And so earlier this year, the couple made the decision to call it quits.
"People see the success, but they don't see the sacrifice and pain that you had to go through to get there," said Mdm Soh.
Widely reported in the news, the planned closure saw people arrive in droves, many anxious for a final nostalgic taste of their favourite kueh or cakes.
"After the news, there were so many different kinds of people from different places. Some are very old customers, they also feel very sad," added Mdm Soh. "Our things are very 'old style', they love it because there are so many different kueh and cakes."
Even after many decades, the couple remain intensely passionate about what they do.
Mdm Soh has an encyclopaedic knowledge of the various kueh, cakes and pastries and it is clear how passionate she is about her craft.
"The customers love us so much. Over the years they bought our cookies … They are very sad, they hug me. For me, I also feel sad, but the life is (too tough)," she added.
"But, all good things have to come to an end."
Some of their current customers have known the couple from the old days at Orchard Road. Other foreign customers visit annually, but are unaware of the bakery's impending closure.
Over the years, the landscape of Tiong Bahru has changed, said Mdm Soh.
"Tiong Bahru was much different in the past.  Before it was very quiet and this area was different from other areas, with four-storey buildings. The people were very close," she said.
"Now there are a lot of cafes and restaurants."
And in just under two months' time, there will be one more change: Tiong Bahru Galicier Pastry will open for the last time.
There will be no new bakes, and no more kueh.
"It is important to preserve cultural heritage," said Mr Tan. "But being able to do it is not easy."
But despite all the hardship along her journey, Mdm Soh has no regrets about the road she and her husband have taken.
"It's a tough job but when people come and enjoy your food and praise it, you feel that sense of accomplishment, like what we have done is worth it," she explained.
Her reply was a quick one when asked what she plans to do after the bakery is shut for the last time – a cruise with her husband, she added with a laugh.
After decades of hard work, it is fitting that the couple will sail off into the sunset.
A new chapter and a new adventure await.