We were friends: Couple who lost S$180,000 on how they fell victim to luxury goods scam
Before they went on the run, Pi Jiapeng and Siriwipa Pansuk were friends with some of their customers, inviting them to their home and having expensive meals together.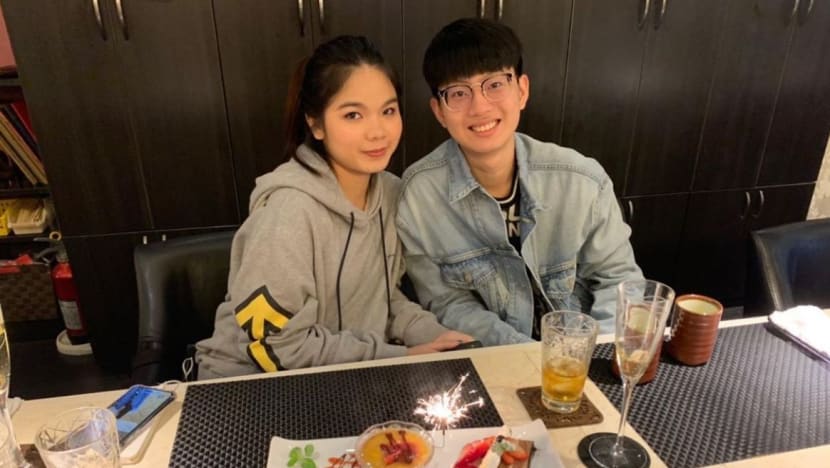 SINGAPORE: When husband and wife Jasper and Alice (not their real names) bought a luxury watch online, they did not know it would be the start of a close friendship with a couple who eventually went on the run, allegedly with S$180,000 of their money and millions of dollars from other victims. 
The couple decided to order their first watch from Tradenation in September last year after seeing Instagram influencers promoting the company and reading many positive customer reviews on e-commerce platform Carousell. 
"My husband was a little bit sceptical at first. But I told him, just give it a leap of faith since it's a Singapore company and somebody actually promoted it. It shouldn't be a scam or something, right?" Alice told CNA.
They did not see any negative reviews left by customers on the company's Carousell page, which advertised watches with a wait time of two to four weeks. "Everyone said they received their watch," she said.
The day Jasper and Alice met Siriwipa Pansuk to collect their first watch, she took the couple to a watch shop in Orchard Road to authenticate the purchase. The watch was authentic, and the couple decided she was trustworthy even though the delivery of the watch was delayed by a few days. 
She then asked the couple out for dinner on the same day, and they had dinner together at an upscale restaurant in a hotel. After the restaurant closed, the 27-year-old Thai national invited the couple to her home. 
"We found that we could click quite well and we became friends," Alice said, adding that the other couple encouraged them to also start an account on Carousell buying and selling watches at a profit. 
For months, Jasper and Alice frequently met Pansuk and her husband Pi Jiapeng, a 26-year-old Singaporean. The four of them chatted, had meals together and went shopping. 
It was not a business relationship involving the buying and selling of watches, but a friendship, Jasper said.
"The husband talked a lot about cars, talked a lot about watches. So we had common topics ... and we met up almost every other day."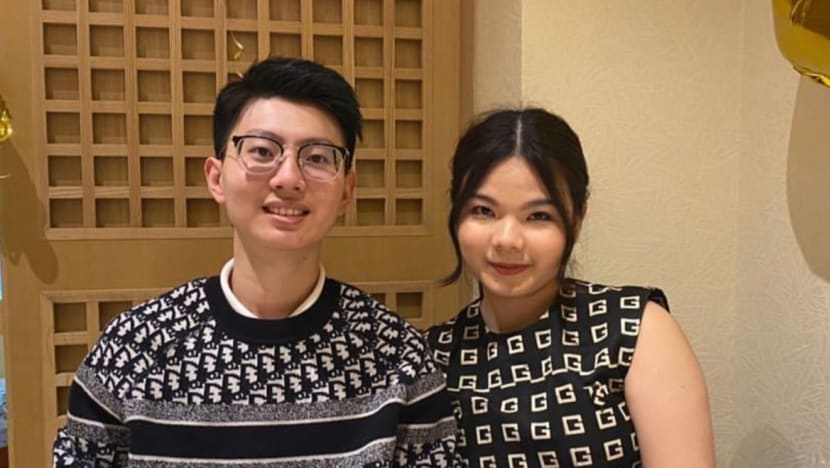 Pansuk and Pi are accused of cheating victims like Jasper and Alice who made advance payments for luxury watches and bags they sold under two companies – Tradenation and Tradeluxury. 
Arrest warrants and Interpol notices have been issued against the couple, who are wanted in connection with a series of cheating cases associated with these companies.
As of Jul 20, at least 180 reports involving the two companies have been made, said the Singapore Police Force.
While some media reports said the total value of the undelivered goods was S$32 million, CNA understands that the victims who made police reports have not received goods worth at least S$20 million as of Jul 17.
RED FLAGS
As time passed, Jasper and Alice's friendship with the couple became more intense. Months into the friendship, Pansuk and Pi, or "JP" as the couple called him, invited them to their home to meet Pansuk's grandmother and have meals cooked by a private chef. 
"I just felt that it was a bit too much and that it was another red flag. Nobody does things to that extent … Her grandmother comes over and (they get a) private chef," said Jasper, adding that this took place in November to December 2021. 
"It's just too ridiculous. After that time, we started to distance ourselves because I realised something was not right." 
Alice said they did not dare to raise their suspicions because Pansuk "always says 'I can sue you'".
"And of course we didn't want to get into any trouble because we're running a business as well ... We also did not have any concrete evidence that it was really a scam," she said.
In January this year, Pansuk suggested that Jasper and Alice purchase more products from them.
Jasper said he felt then that something was "very fishy". But his doubts abated slightly when the couple told them they would be opening a physical store. 
"That's when I thought I was thinking too much ... They have a shop and need to start it up, need to buy more watches – that's what they told me – to get ready for the shop's opening."
And so they bought more watches from the couple. They waited months and despite repeated requests, did not get the products they paid for. 
Jasper and Alice made a police report on Jun 11.
Alice said she received text messages from Pansuk berating Jasper for making a police report. 
"She said: 'I got a report from your husband. Very disappointed when you all know us for a while, but still like this. Anyway tell your husband, please wait until the court is done then see if he can get his money.'" 
Pi was arrested on Jun 27 for his suspected involvement in cheating offences, the police said previously. His passport was impounded and he was released on bail on Jun 28, pending the completion of investigations. 
Pansuk was also assisting the police with investigations and surrendered her passport to officers on Jun 30. 
The couple fled Singapore on Jul 4 by hiding in the container compartment of a lorry. The lorry driver has been charged with helping them escape.
They still owe Jasper and Alice about S$180,000. At one point, the outstanding amount was S$850,000, but Pi and Pansuk paid part of this back in multiple transactions after repeated demands. 
According to Jasper and Alice, when they made their police report, they were advised that this was a breach of contract and that they should engage a lawyer. 
Just before Pi and Pansuk fled Singapore, Alice and Jasper tried to trace the couple's whereabouts, but were always a step behind.
OTHER VICTIMS
Another victim CNA spoke to said his first order with Pi and Pansuk went smoothly. But he waited four months for his second order and received a watch that was not brand new, unlike what was advertised. 
The victim, who wanted to be known only as Marcus, said his last purchase with Tradenation was in June when he bought two Rolex watches for his friend and for himself. 
The couple told him another customer had bought more Rolexes that would be delivered in two weeks. They asked if he wanted to buy over some of the watches as that customer needed cash urgently. 
Marcus bought another watch and paid them a total of S$78,000. But two weeks went by and no watches were delivered. The couple told him that the shipments were delayed, but Pi began ignoring his WhatsApp messages and refused to take his calls.
"Suddenly, they messaged me – sorry, we are under investigation now," Marcus said.
He made a police report on Jul 1 and joined a Telegram group with more than 180 other victims who were waiting for their goods. 
Some victims had already started legal proceedings against Pi and Pansuk, he said. 
"There were so many victims before me, and they went as far (back) as January."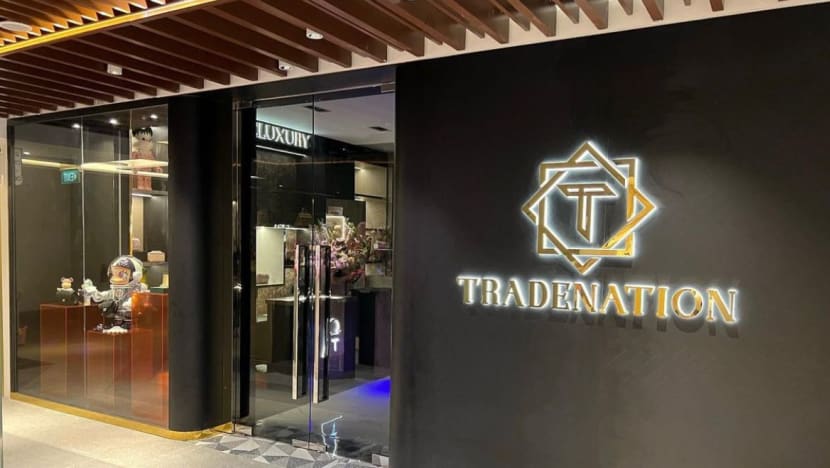 Some of the victims were first-time buyers, who were misled by Tradenation's legitimacy due to its physical store and its registration with the Ministry of Law, said Marcus. 
Tradenation was registered as a precious stones and metals dealer. Registered dealers are regulated only for anti-money laundering and countering the financing of terrorism purposes, the ministry said previously.
Its registration has since been suspended.
First-time buyer Justine (not her real name) ordered a Rolex Submariner worth close to S$20,000 on behalf of a friend. She told CNA that purchasing the watch from an authorised dealer or a Rolex shop would have meant a wait of several years.
"We actually put our name on the (authorised dealer's waitlist), just that we need to wait for a very long time. If you want to get the watch faster, this is the only way."
Tradenation also was selling the watch for about 10 per cent cheaper than its retail price.
"(I wanted to) get the first one and see if they can deliver ... If it was okay, we actually planned to buy some more," said Justine.
But after she made her purchase in May, the excuses from the couple began.
First, they told her that the watch would take about two weeks to be delivered. Then they said the shipment was delayed.
"They did mention that if I wanted a refund, I can request a refund. I did not at that time because I've already waited this long and then they promised that the shipment will arrive at the end of the month," Justine said.
At the end of May, the couple said that the watch had arrived in Singapore but was stuck in customs due to a "tax clearance issue". It would only be delivered to her towards the end of June.
Justine's subsequent messages to them from mid-June went unanswered. She eventually made a police report in July.
"After the incident, I explained to my friend and then we split the cost. (He was) devastated, pissed off, but cannot do anything."
The money lost is a "significant amount" of her savings, Justine said. "I'm still hoping that we can get some back, hopefully even a small portion of the amount I would be okay – at least we have something back."