Company ordered to stop misleading customers, claiming alkaline water prevents cancer and diabetes
More than 460 complaints were lodged against Triple Lifestyle Marketing, which provides water filtration systems and dispensers.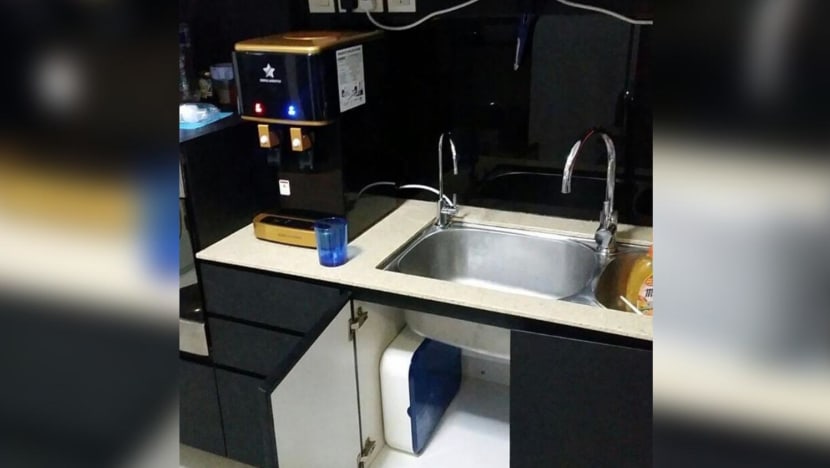 SINGAPORE: A water filtration company has been ordered by a court to stop making false claims, including that alkaline water prevents diseases such as cancer, diabetes and chronic lower back pain.
Between January 2018 and October 2022, the Consumers Association of Singapore (CASE) received 469 complaints against Triple Lifestyle Marketing, which supplies water dispensers, alkaline water filtration systems and maintenance service packages.
In most cases, these packages cost about S$3,000 (US$2,258) each and included the filtration system, dispenser, periodic water filter change, and repair services within a warranty period.
On Nov 30 last year, the Competition and Consumer Commission of Singapore (CCCS) filed court proceedings against the company and its sole director Tan Jia Huang. It comes after the company was issued a second warning by CASE last year.
The authority asked the State Courts to make findings that the company engaged in various unfair practices, such as making false claims and misleading customers.
It also applied to the court for an injunction to stop Tan from knowingly abetting, aiding, permitting or procuring Triple Lifestyle Marketing to engage in unfair practices.
Both orders were granted by the court. The company and Tan failed to appear for court proceedings, the CCCS said on Tuesday (Mar 28).
The company and its director have been ordered to publish a full-page public notice with details of the court orders in the Straits Times, Lianhe Zaobao, Berita Harian and Tamil Murasu by Wednesday.
If they fail to do so, the CCCS may publish a notice in any one of the newspapers and claim the cost from the company or Tan.
They also have to publish – for three years – details of the court orders on the landing page of any marketing platform, such as its social media pages. 
Tan also has to publish the details of the court order against him on the landing page of any platform used by him or any businesses to market Triple Lifestyle Marketing's goods and services.
For the next three years, the company must notify any customer in writing about the court order and obtain their written acknowledgement, before a contract is signed.
The company and its director have also been ordered to pay the costs of the proceedings of S$12,000.
FALSE CLAIMS
Following the complaints, CCCS conducted an investigation into the company and interviewed numerous customers.
Some of them had found the company by searching online for alkaline water, filtered water, or water dispensers, while other customers were paid unsolicited house visits by the company's sales representatives.
According to a judgment filed on Mar 3, the company had claimed that its products were accredited and that it was "trusted by more than 50,000 customers and voted #1 on social media".
It also falsely said that Thomson Medical Centre was one of its customers.
When customers asked to repair or replace faulty water dispensers or provide a change of water filters, under the maintenance package, the company gave excuses for its delay or inability to do so.
It told such customers that its supplier's factory was closed or that a staff member had flu symptoms during the COVID-19 pandemic.
Triple Lifestyle Marketing also misled customers on the health benefits of alkaline or filtered water, claiming that alkaline water "slows the ageing process and degenerative diseases".
It said that alkaline water can prevent or improve the condition of diseases such as cancer, osteoporosis, diabetes, arthritis, "kidney disorder", and chronic lower back pain, among others.
The company also told customers that alkaline water can help in weight loss and fat reduction and that it can help to "detoxify" the body.
"CCCS's investigations revealed that (Triple Lifestyle Marketing) had persistently and egregiously engaged in unfair practices under the Consumer Protection (Fair Trading) Act, causing harm to consumers," said CCCS chief executive Sia Aik Kor.
"CCCS will not hesitate to take action against such suppliers, including persons who knowingly abet, aid, permit or procure such suppliers to engage in unfair practices."
She said suppliers should ensure their claims on goods and services are true and accurate. When claiming any health benefits, they must be able to substantiate such claims with credible evidence.
CASE president Melvin Yong said the injunction orders against Triple Lifestyle Marketing "send a strong signal to the marketplace that businesses that engage in persistent unfair practices to take advantage of consumers cannot be tolerated".
Editor's note: This story has been updated to show that Triple Lifestyle Marketing was issued a second warning by CASE last year, not CCCS. We apologise for the error.