Johor police looking for woman who ripped licence plate off another car near Tuas Second Link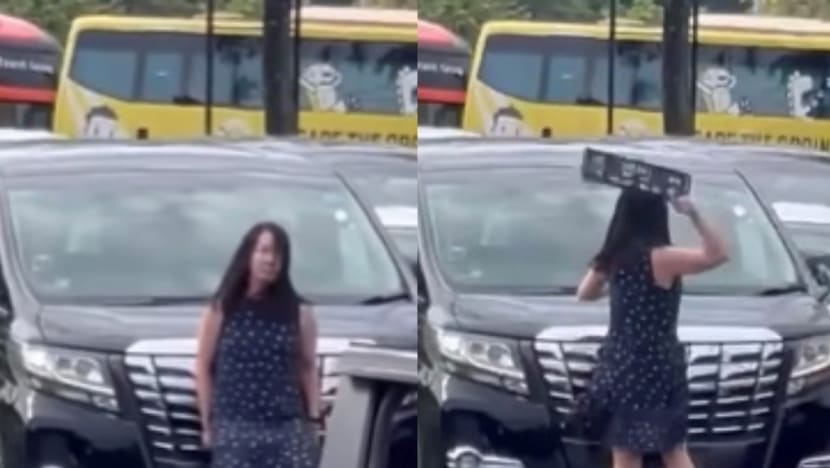 SINGAPORE: Johor police are looking for a woman who ripped off the licence plate from the front of a Toyota Alphard and threw it at the vehicle's windshield near Tuas Second Link Immigration and Quarantine Complex (CIQ).
A video of the incident was widely circulated on social media on Saturday (Jul 9).
In the viral video, a woman can be seen using both hands to push against a black car in slow-moving traffic, before ripping off the licence plate and throwing it at the windshield.
A man later gets off a Singapore-registered Kia car and runs towards the victim's vehicle, making offensive gestures.
In other parts of the video, the woman can be seen in front of the car with her phone, preventing it from moving forward.
The incident occurred after the driver of the Toyota Alphard grazed a Kia car while moving into the right lane, said Iskandar Puteri district police chief Assistant Commissioner of Police (ACP) Rahmat Ariffin in a Facebook post early on Sunday.
A man and woman from the Kia car then got off the vehicle, with the man shouting and gesturing obscenities towards the victim, ACP Rahmat said in a statement issued in Malay.
"The female suspect ripped the car's number plate and threw it at the victim's windshield," he added.
The victim was returning to Singapore from residential development Forest City in Johor, and was not injured, said ACP Rahmat, adding that there was minor damage to the victim's car.      
He added that closed-circuit television (CCTV) recordings were obtained from the victim's car dashcam. The case is being investigated for mischief.
"Road users are advised to drive in a prudent and unhurried manner, especially at the Second Link's CIQ roads," said the statement.