A hero's welcome for SCDF rescuers returning from quake-hit Türkiye
The 68-strong Operation Lionheart contingent was welcomed by family members, colleagues and the Turkish community at Changi Airport.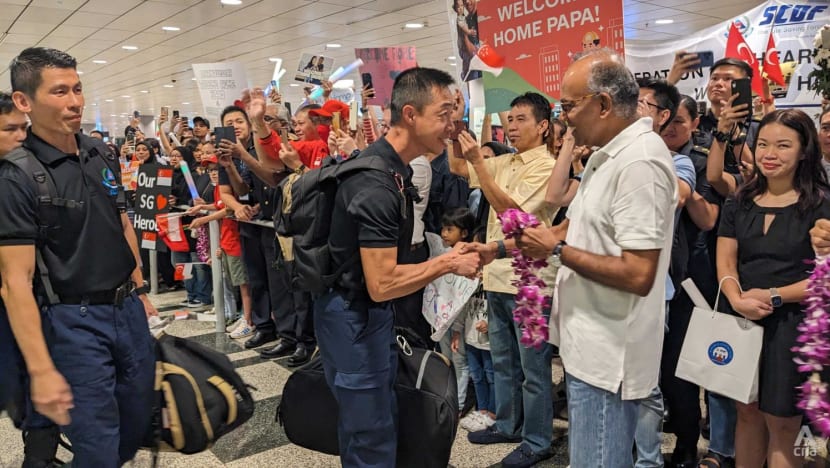 SINGAPORE: Singapore Civil Defence Force (SCDF) officers returning from earthquake rescue efforts in Türkiye were treated to a hero's welcome at Changi Airport on Saturday morning (Feb 18).
Cheers from dozens of family members, SCDF colleagues and members of the Turkish community welcomed the 68-strong Operation Lionheart contingent when they came through the airport doors at 5.10am.
More than 41,000 people have died in the earthquake that struck on Feb 6, which now ranks among the 10 deadliest tremors in the past century.
The SCDF team was deployed in Türkiye for 10 days, with an advance group of 20 arriving on Feb 8 and a second team following on Feb 10.
On the ground, they were involved in two successful rescues, extracting a 12-year-old boy from the rubble of a three-storey building and helping to locate a man trapped in a semi-collapsed building.
Returning on Saturday, they were received by Minister for Law and Home Affairs Minister K Shanmugam, Minister of State for Home Affairs and National Development Faishal Ibrahim and Turkish Ambassador to Singapore Mehmet Burcin Gonenli.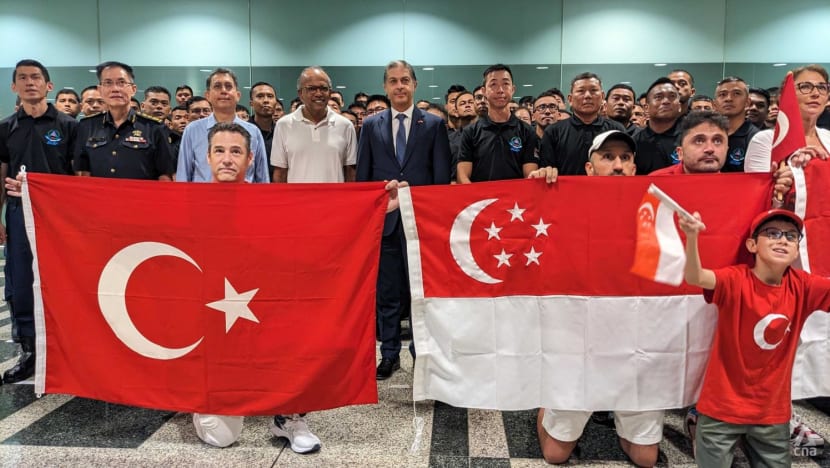 Singapore Civil Defence Force (SCDF) officers returning from earthquake rescue efforts in Türkiye were treated to a hero's welcome at Changi Airport on Saturday morning (Feb 18). Alif Amsyar reports.
Mr Shanmugam commended the SCDF, saying: "You deployed your search canines, life detection equipment, and you contributed supplies - trauma equipment, medicines, food, thermal wear, tents - to the Turkish rescue teams.
"I, and all Singaporeans, are proud of you for your spirits and contributions, despite the very difficult conditions," he said, noting the freezing temperatures and risk of further collapse of buildings.
Mr Shanmugam said that SCDF was approached for earthquake assistance on Feb 6 and agreed immediately. SCDF is classified as a Heavy Urban Search and Rescue Team recognised by the International Search and Rescue Advisory Group. 
Contingent leader Colonel Chew Keng Tok told the media that this means that it has the capability to operate on two rescue sites continuously, for 24 hours, over a period of 10 days.
Asked if SCDF could return to the disaster area in Türkiye, COL Chew said that Operation Lionheart would remain on standby for any disaster around the world, especially in the Asia-Pacific region.
Operation Lionheart comprises 79 members and is on standby round-the-clock. It was formed in 1990 and has been deployed on 20 search and rescue or humanitarian relief assistance missions.
This was its first deployment to Europe. COL Chew said that the main terrain challenge in Türkiye was the weather, which was in single digits during the day and could go down to -3 degrees Celsius at night.
TURKISH COMMUNITY GRATEFUL
Describing the earthquake as the biggest natural disaster in Türkiye's history, Mr Gonenli said the magnitude of the destruction was "too big for a single country to shoulder" and thanked SCDF for its assistance.
"In Türkiye, they saved lives. And people were hugging the SCDF members when they were departing, to thank them," he said.
Also waiting in the airport to welcome the contingent back to Singapore were about 20 members of the Turkish community.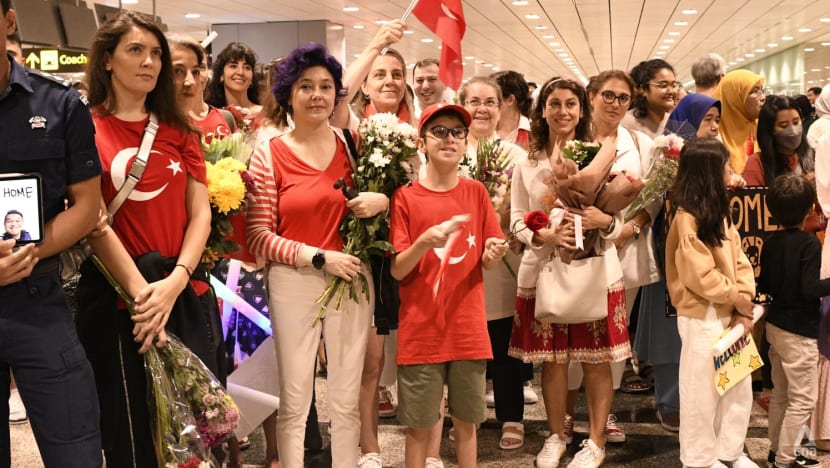 Jale Akin, who has been in Singapore for four-and-a-half years, was there with her husband and two friends from 4am.
The homemaker is from Iskendurun, a city affected by the quake, and all her relatives and friends still live there.
"We lost many relatives in the earthquake" she told CNA, holding back tears.
Clutching a bouquet of orchids, Ms Akin said it was important to her to thank the SCDF contingent in person.
"(I'm) really heartbroken to see all families lost their lives and homes and everything," she said. "You're just aimless. We try to help but it's not enough, nothing is enough."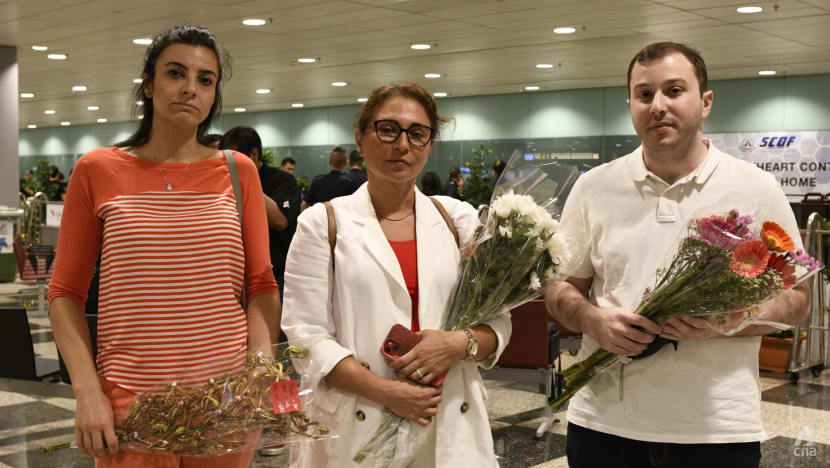 WELCOME HOME BY FAMILIES
Singapore's contingent included officers from the elite Disaster Assistance and Rescue Team, paramedics, doctors and search specialists, as well as four search dogs from SCDF's K-9 unit.
In a first for Operation Lionheart, two psychologists also travelled in the contingent to look after the team's mental well-being.
The officers were tasked by the United Nations to travel to the city of Kahramanmaras - near the epicentre of the 7.8-magnitude earthquake.
Rescue engineer Captain Oh Chun Yong told CNA this was his first deployment with SCDF, having previously done missions with Mercy Relief.
He said that he found the Turkish people to be resilient, and that he was looking forward to spending time with his wife and three young children after returning home.
CPT Oh said that he had made plans for his wife's birthday on Feb 10, but dropped these after his sudden deployment in the second team.
"Hopefully I can make it up to her after I come back," he said.