Turning a hobby into a career - why some do it
Attitudes toward work and life have evolved, and definitions of what makes the good life are being challenged, say local human resource academics. Channel NewsAsia profiles some Singaporeans who are finding their way.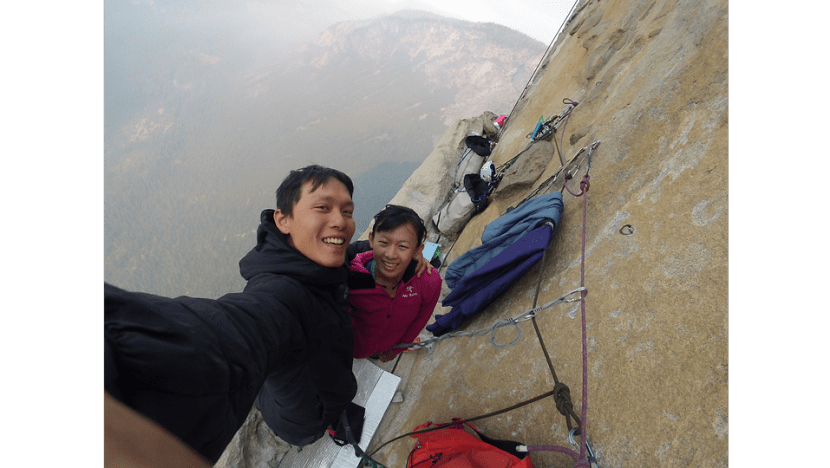 SINGAPORE: Cheang Qing Xin is a frequent flyer who travels for work. In a year, the 34-year-old spends at most a couple of months in his three-room flat in Kallang. The rest of the time is split between the US, Taiwan and Thailand.
But Cheang is not your typical businessman or management consultant. He and his wife, Kelly Khiew, are rock climbing guides, who have managed to turn what would be a weekend hobby for most people into a personally rewarding and financially sustainable full-time career.
"Home is my duffel bag, and depending on where I am, I could be sleeping in a tent or a sleeping bag under the stars," he said, adding that another place to crash would be the Bivy, the climbers' hostel the couple owns, which is next to sea cliffs in northeastern Taiwan.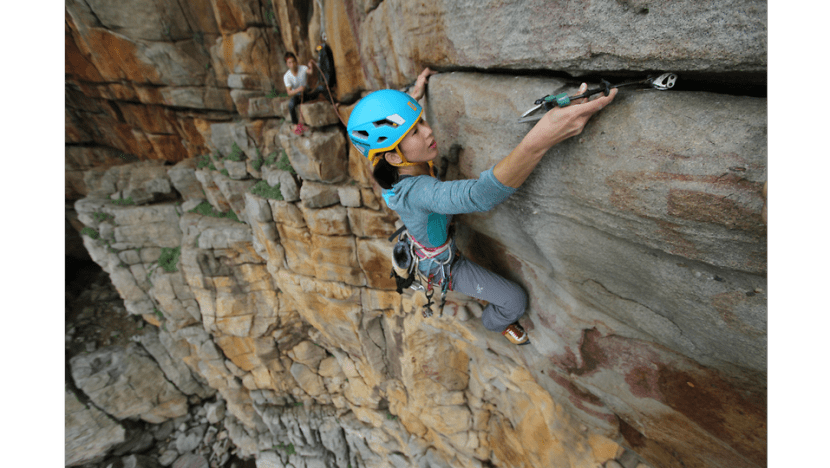 Khiew trad-climbing at Longdong in Taiwan. She and Cheang spend the spring and autumn months there, running their climbers' hostel, guiding and teaching. (Photo courtesy of Qxadventures)
With a combined 30 years of climbing experience between them, Cheang and Khiew both left their jobs - in the military and at the National Museum of Singapore, respectively - in 2013 to try to see if they could build a lifestyle and livelihood around their hobby.

"When we started the first year of operations, we did not make very much money. It was mainly enough to pay off operations and travel expenses, as we did not get a lot of details sorted out and the clientele was very small," said Cheang, who initially supplemented his earnings by working part-time in climbing gyms.

Three years later and with a "mid-five-figure sum" sunk in, the duo says the venture - named Qx Adventures - is on a more stable footing. But Khiew, 32, acknowledged that there are moments when she still frets over their financial status.

"I'm teaching part-time in a tuition class as well and although I don't earn much from it, I commit myself to a small amount of time each week," she said. "I'm still able to spend the bulk of my time on climbing, guiding and working at the Bivy. I like how much control I have over my time now that I have the flexibility to move from one aspect of work to another."
DESIGNING A LIFE THAT WORKS FOR YOU
Like Cheang and Khiew, Pauline Ho and Elaine Tan, both 29, left the security of being salaried employees to embark on personal projects about three years ago. Ho transitioned from advertising to floristry, while Tan struck out in jewellery-making after stints in fashion marketing and branding.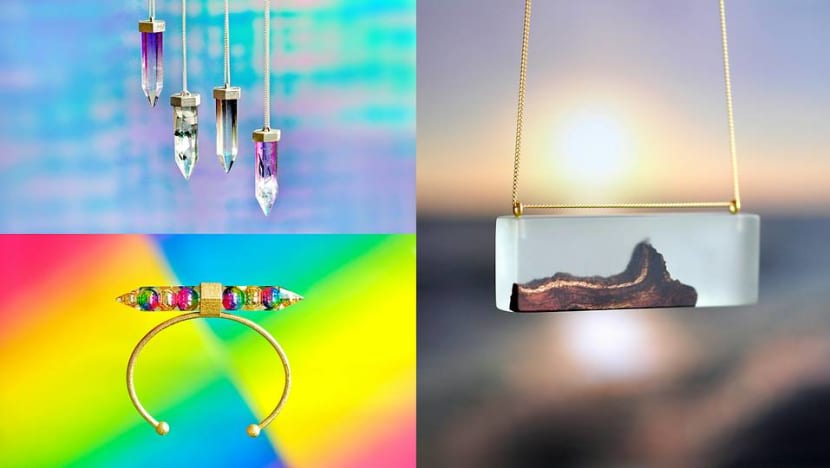 Tan's jewellery is crafted from environment-friendly bioresin and upcycled materials like driftwood. (Photos courtesy of Amado Gudek)
Tan, who says she is "much happier now compared to being a salaryman", was initially afraid that turning her long-time hobby into work would "kill (her) passion for jewellery-making".

This fear turned out to be unfounded. From selling her handcrafted jewellery at small shops and bazaars as a student 10 years ago, she now runs three costume jewellery brands under her company Alfie Atelier.
Ho's foray was a little more straightforward. The founder of Fleurapy had been documenting her newfound hobby on her Instagram handle when it got noticed by friends, who began to commission bouquets for special occasions.
"I had then left my previous job not to 'dive' into the floral business but to do a career switch," she explained. "However, in the period that I was looking for a new job, the number of orders started picking up. After six months of operating from home, I decided it was time to really go into it, and I rented a studio."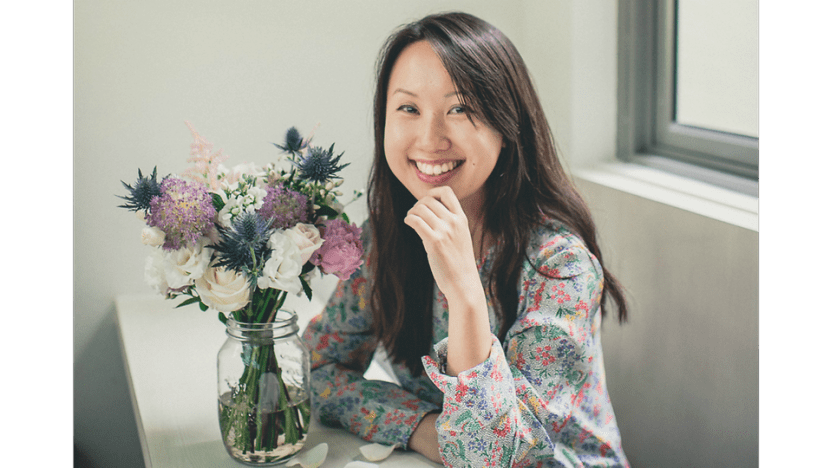 "Floral arrangement has led me to learning many things - how to run my own business, managing staff and clients. I realise that because I'm doing different things all the time, I never get tired of doing any one thing." (Photo: Gideon Lim)
Speaking to the four of them, it is clear that they do not fit into common archetypes of people who choose to break away from the cookie-cutter approach to modern life. They are neither privileged individuals pursuing entrepreneurial dreams funded by family wealth, nor bohemians without responsibilities to family and society.
Anecdotally, local academics believe there are more Singaporeans breaking away from standard approaches to work and life.

"In today's context, different career paths are leading towards success and people defining success in multiple ways. Multiple intelligence is emphasised. So, not only are the individuals willing to take the risk to try out, society is more positive about it," said Wu Pei Chuan, a senior lecturer at the NUS Business School's Department of Management & Organisation.

But because these individuals defy easy categorisation, it is hard to pin down exactly how many of them exist. One category they fit into is the self-employed, which number 300,500 and make up 14 per cent of Singapore's workforce. But this category does not quite represent them, as it is a broad church including taxi drivers, hawkers, property agents, insurance brokers, company directors and chief executive officers.

They can also be grouped with the estimated 200,000 freelancers in Singapore. But this data does not distinguish between those who are in the gig economy by choice, and those who are forced to enter less traditional employment arrangements.

Bespoke bouquets designed by Ho, who finds arranging flowers therapeutic. (Photos courtesy of Fleurapy)
REDEFINING THE GOOD LIFE
Cheang, Khiew, Ho and Tan are Gen-Y'ers who grew up in the '90s, seeing their elders - the baby-boomer generation - look to the 5Cs and material accumulation as a barometer of the good life.

These aspirations - Cash, Credit Card, Car, Condominium, Country Club - have since been supplanted by a broader definition of success and well-being, said Paul Lim, a lecturer of organisational behaviour and human resources at the SMU Lee Kong Chian School of Business.

According to Lim, who studies how attitudes and beliefs around work and life evolve with generational cohorts and a country's level of wealth and development, Gen-Y'ers and millennials are influenced by the experiences of the previous generations, whom they perceived as "toiling in jobs they did not like at the expense of family time and community engagement". They are thus more likely to feel called to a cause, and accept pay and lifestyle adjustments to act on a need "to do good".

And the conditions enabling these Gen-Y entrepreneurs to do just that may have never been better. Technology-driven changes help them keep the cost of running a business low, and reach a wider, global clientele. On a personal level, they also face relatively fewer responsibilities to family compared to the baby-boomer generation.

In addition, the risk of entrepreneurial failure was arguably low - thanks to tight labour market conditions over the last five years. "So, even if the business didn't work out, I could still go back to the workforce," said Tan, reflecting on what made her take the plunge.
"You will need to have a deep interest or desire for doing what you plan to do as a business. This is key to survival as it naturally translates to perseverance and mental stamina." (Photo courtesy of Elaine Tan)
This safety net may currently be somewhat diminished for today's would-be rainbow chasers, as Singapore closed yet another quarter with anaemic economic growth. But the silver lining is this: Against this backdrop, there are perhaps bigger lessons to be learnt from Cheang, Khiew, Ho and Tan - beyond feel-good exhortations to follow your heart and pursue your passions.
They demonstrate curiosity in trying to figure out their place in the world, courage in re-imagining work to fit their values, and tenacity in learning and applying themselves to a new hustle.

"There are many people who are left out in the traditional workforce system just because they are not good at talking or doing things the 'right' way," said Tan, referring to her experiences interviewing for staff.
"This does not mean that they are less capable in any way. They just happen to lack certain skills which are perceived to be superior in modern-day living. Very often these people go on to start their own thing - which is great!"