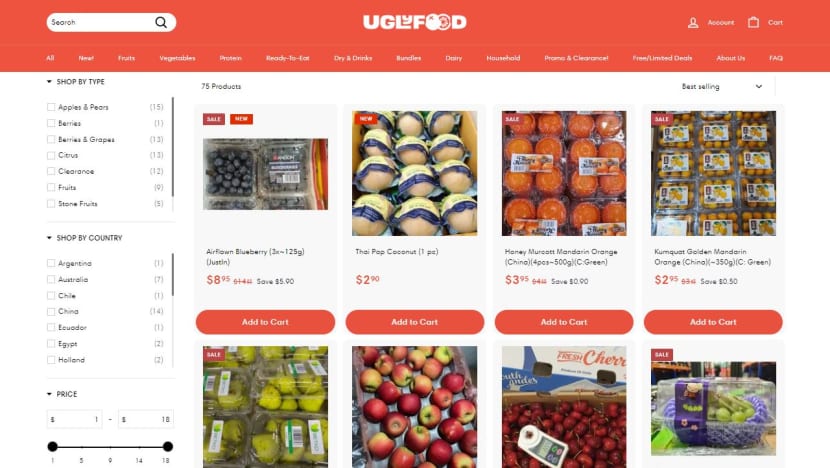 SINGAPORE: UglyFood, the local start-up with a stated mission to reduce food waste, is closing down close to seven years after its launch.
The online grocer said it was winding up as it was "unable to raise the funds required to grow further", in an Instagram post on Wednesday (Jan 4).
It is holding a closing down walk-in sale at its shop at Gambas Crescent until Sunday. Online orders on its website have stopped, and all deliveries from Wednesday onwards are being refunded.
The company told customers on its Telegram channel that it was "almost a one man show at this point".
"Might restart the whole thing in future," it added.
CNA has reached out to the company for comments.
UglyFood started out as a school project and took in blemished and excess fruits from importers, supermarkets and wholesalers.
In 2021, the company told CNA it had saved 200 tonnes of food since it was founded in 2016.
On social media, it has educated the public on food waste issues using illustrations and animations. These included tips on the shelf life of different fruits and vegetables, and how to keep them fresh.
UglyFood previously raised US$120,000 in a pre-seed round, according to business data provider Crunchbase.
Customers reacted to the news of UglyFood's closure with disappointment. Many on social media asked if the company would accept crowdfunding to keep afloat.
"Your business and what (you all) stand for is so important especially in a world where food wastage is so prevalent!" commented one user.
"Great work bringing awareness to sustainability and hope you make a comeback soon," said another.
Food waste is one of Singapore's largest waste streams, with 817,000 tonnes generated in 2021.
UglyFood was among a crop of local start-ups aimed at tackling the problem, also including treatsure, CRUST Group and Lumitics (previously known as Good For Food).