SINGAPORE: Singapore and the United Kingdom on Thursday (Sep 29) signed a new Memorandum of Understanding (MOU) to jointly promote capacity-building in Southeast Asia.
The MOU on the Singapore-UK Third Country Training Programme was signed by Minister for Foreign Affairs Vivian Balakrishnan and the UK's secretary of state for foreign, commonwealth and development affairs James Cleverly.
Mr Cleverly, who was appointed as UK foreign minister earlier this month, was in Singapore to conclude a three-day visit to the region which included stops in Japan and South Korea.
The MOU "reaffirms the excellent state of bilateral relations and extensive cooperation between Singapore and the UK", said the Ministry of Foreign Affairs in a press release.
It builds on both countries' strengths in international development cooperation, including through the sharing of best practices in sustainable development, the ministry added.
The MOU also supports a plan of action to implement an ASEAN-UK dialogue partnership, by exchanging best practices in areas of complementary expertise and capacity-building for Association of Southeast Asian Nations member states.
The Third Country Training Programme is among several technical cooperation partnerships under the Singapore Cooperation Programme, a flagship platform for extending technical assistance to fellow developing countries, said MFA.
Established in 1992, the cooperation programme has hosted almost 150,000 officials from more than 180 countries and territories as well as international and regional organisations.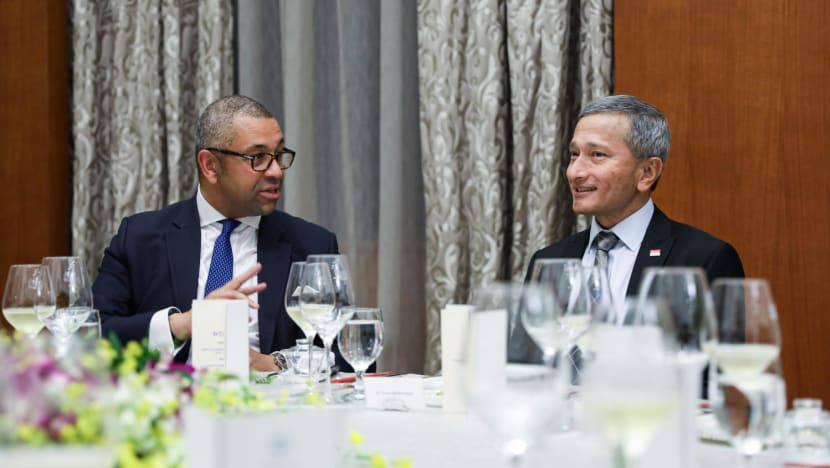 On Thursday, Dr Balakrishnan and Mr Cleverly discussed ways to enhance cooperation in areas including the digital economy and clean energy. They also exchanged views on global and regional developments.
Dr Balakrishnan welcomed the UK's interest to deepen its engagement of the region, including through the ASEAN grouping, said MFA.
Earlier on Thursday, Mr Cleverly called on Prime Minister Lee Hsien Loong and met Deputy Prime Minister Lawrence Wong.
Mr Cleverly will leave Singapore on Thursday.