A 'cat and mouse game': Unlicensed massage parlours feel the heat from new laws
While unlicensed masseuses question the efficacy of stricter legislation, the police remain committed to clamping down on such businesses.
SINGAPORE: She came from China 18 years ago, eagerly looking forward to the bliss of married life, and could not be more excited when awarded her Singapore citizenship a short while later. 
Then times got tough. With her husband's salary not being "high enough", and to support her three children, she decided to stop being a housewife, and turned to a job she was familiar with, having once done it in China.

To her family, Coco (not her real name), 43, has been the boss of her own small, one-woman massage parlour for five years. What they don't know is that "since day one", she has been offering extra sexual services along with back rubs and foot kneads.
"I'm doing it for my husband and children, just using different methods to make money," she said in Mandarin. "For now we are happy and everything is alright. But if the police catch me, it'll surely lead to divorce."
Of late, Coco has had more to fear. New laws against unlicensed massage joints were passed in November last year under the Massage Establishment Act (MEA) and came into force in March. Under the toughened laws, offending operators face up to S$10,000 in fines - 10 times the previous penalty - or two years in jail.
These efforts represent an attempt to clean up what appears to be an ongoing issue in Singapore. Most recently available figures show the number of illegal massage parlours increasing by 40 per cent from 2013 to 2016. Of the 300-odd errant operators identified in 2016, 40 per cent were engaged in vice-related offences.
While debating the bill in Parliament last year, Second Minister for Home Affairs Josephine Teo gave further context to the new legislation, stating the previous S$1,000 penalty as "grossly insufficient" compared to the profits that unlicensed establishments can make "especially by engaging in vice activities".
The Singapore Police Force (SPF) told Channel NewsAsia that due to operational considerations, it could not comment on the number of raids conducted since the implementation of the new MEA. But it promised to "continue to take strong enforcement actions against unlicensed massage establishments, as well as errant licensed massage establishments".
This year, the police have taken to issuing a monthly average of around four announcements of arrests stemming from raids on such establishments, compared to the second half of 2017, when there was one or fewer such announcements per month on average.
Vanessa Ho, who heads local sex worker rights group Project X, said that just by walking the ground, she had observed an increase in the number of targeted raids on massage parlours.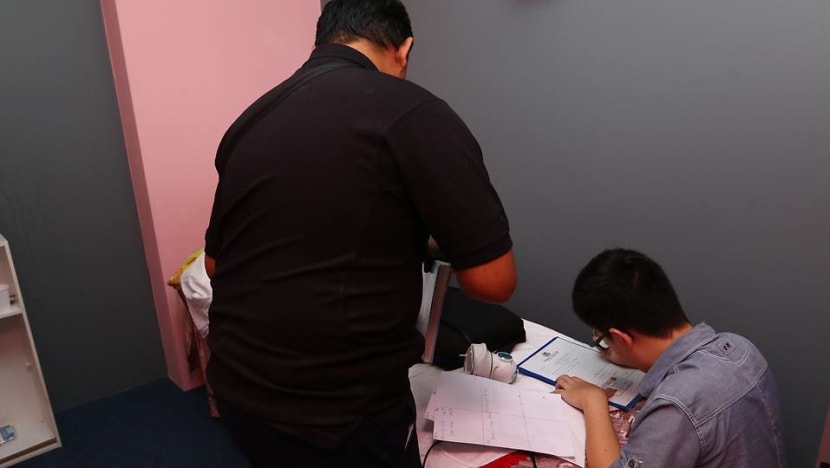 "THEY DON'T BUG US" - OR DO THEY?
In the Jalan Besar and Beach Road areas, which have been the subject of repeated police raids, residents have expressed concern to their Member of Parliament (MP) Ms Denise Phua over a perceived increase in the number of massage parlours and related vice activities.
Ms Phua said she had conveyed such feedback to the police. 
"My residents welcome police efforts to clamp down unlicensed operators and vice activities in their neighbourhoods, for the sake of their loved ones," she added.
It is the police's duty, she said, "to ensure a safe and secure living environment for residents and other businesses".
Her fellow MP Heng Chee How, whose ward includes nearby Lavender Street, faces similar issues. 
"On behalf of the residents of Whampoa ward, we have maintained a clear and consistent position with the police - that we support strict enforcement against all illegal and vice activities in our area," he said.
Along Lavender Street, which is in Mr Heng's ward, there are at least four recently-shuttered massage establishments. With signage still intact, they stand directly in front of the Bendemeer Light estate.
A resident of four years there, Teresa, 38, has seen plenty of skimpily-dressed women openly walking around and hanging their clothes out to dry. "It's obvious that something's up, but they don't bug us," she said.
One of her neighbours, a woman who declined to be named, said: "I just stay away from that area. Then you won't notice anything."
For more than 20 years now, Mr and Mrs Ong have run an auto accessories shop directly opposite the stretch of massage parlours. "Last time, it was 10 shops in a row," said Mr Ong. "They come and go, but the scantily clad women are always around."
On nearby Cavan Road, raided by police just last month, a lone massage establishment can be found - and seemingly closed for good, with its interior left in disarray as seen through the glass door. Neighbouring businesses said it appeared to be operated independently by a woman from China, who did not interact much save for the occasional hello and good-bye.
"It's quiet around here, the only thing is she liked to hang underwear outside," said the owner of a nearby shop. "But it's alright - as we Singaporeans like to say, don't come and disturb can already."
CLAMPDOWN "COMPLETELY USELESS"?
Meanwhile Coco, whose parlour has previously been raided, said the new laws are "too strict".
"It's not like we want to do bad things. I don't feel like I'm doing anything wrong. Inside our shops, we're not affecting anyone, not harming anyone - so why do you have to jail people?" she asked.  "They are being unreasonable. Just issue everyone licences. If during checks they're really found to have done wrong, then take away the licence and they'll stop."
But while ongoing attempts to shut down the illegal businesses are creating nervousness among their owners, eradicating the problem once and for all may be a challenge.
Ho explained that with each raid, foreign workers lacking proper documentation will be deported and blacklisted from coming back. "But new batches of women enter the country to take their place," Ho said. "The cycle continues. Agents and pimps benefit the most because they earn new batches of agent fees.
"Clients can also be said to 'benefit' as after the women are arrested, new women show up to take their place. And the clients return for more."
She added: "With the MEA, current efforts may succeed in eradicating most sex work from massage parlours. But what's next? Where will they be displaced to? And for how long more can we play this cat and mouse game?"
Coco agreed. "Close down one, and they'll just open more and more parlours somewhere else," she declared. 

"Whether from Thailand, Vietnam or elsewhere, there will always be supply. All these operations are completely useless. You can't finish catching them all."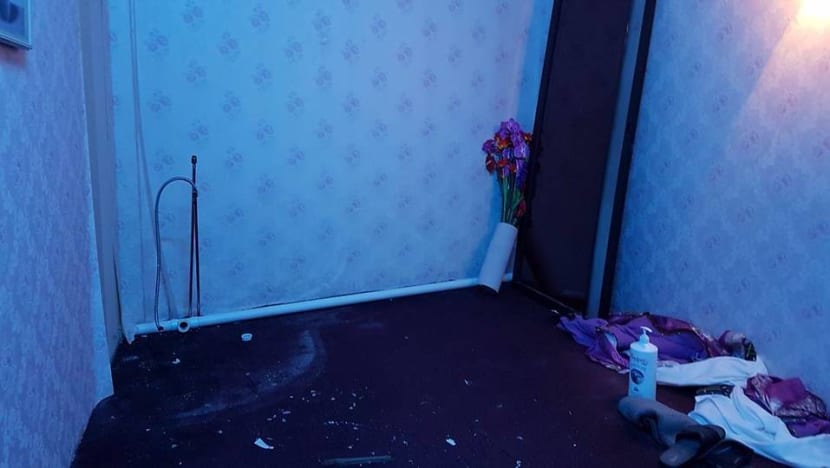 "WE JUST WANT A RICE BOWL"
Local massage parlour owner Sonia (also not her real name), 55, blamed the stiffer laws on these foreigners. "That's why at my place, all the girls are Singaporean, and we all just want a rice bowl," she added. "If we don't do this, somebody's mother, sister or daughter will be in this line anyway."
A single mother, Sonia turned to the massage industry 20 years ago. "I needed cash then for my son who got cancer," she said. "Now, all he knows is that mum has a shop."
She said that her employees offer "basic" sexual services of their own accord. "It's their own arrangement with the customers. We owners don't force the girls to do anything," said Sonia. "They want the money. My girls, some of them have old mothers, or up to four kids who're schooling, and they need to pay fees."
Coco, too, said she did not want "to keep doing this".
"I hope to stop in three years. But for now, I need the money," she added.
Sonia said her masseuses receive a base monthly pay of S$500, and could get up to S$50 for a sexual service. Each of them gets one to two customers a night. The parlour is open daily.
"I've had my girls' husbands come to my shop, asking them what the hell are they doing, then of course they get separated," she said. 
"But if you ask my girls to go find another job, they'll go be cleaners and they won't earn enough."