exclusive Singapore
'We will remember forever': Inside the search for Singapore's drowned dragonboaters
Cambodian officials relive a challenging 40-hour operation to recover five bodies from the vast Tonle Sap river in 2007.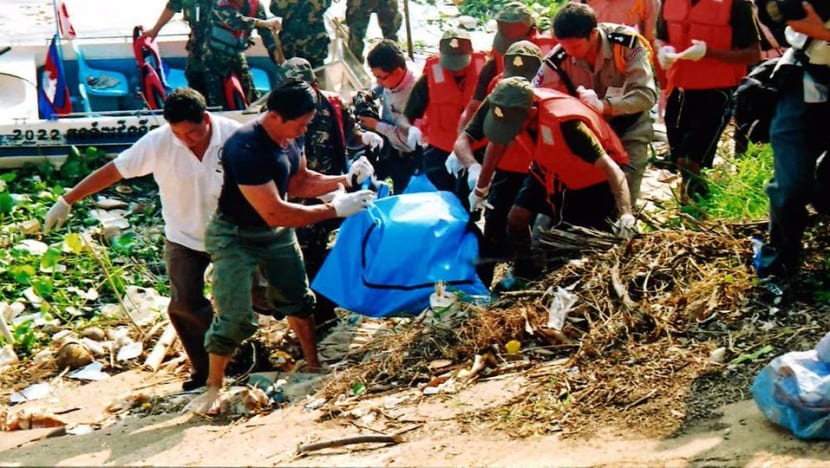 With his weather-beaten tan and rugged, stocky frame, Mat Kry Ya resembles most of his fellow river-dwelling, free-diving Cham people. But something else rests in his eyes and the wrinkles creased around them: A placid, slightly weary air of a man who has seen it all.

"I'm known for diving and searching for bodies underwater, even at sea," said the 52-year-old, speaking through a Khmer translator.

Without a trace of arrogance, he tells of his claim to fame in 2014, when he helped recover four soldiers killed when a chopper plunged into a deep quarry on the outskirts of his Phnom Penh home. Here in Cambodia's capital, he lives and works by the Tonle Sap river, where over the years he's aided in retrieving hundreds consumed by the immense waterway.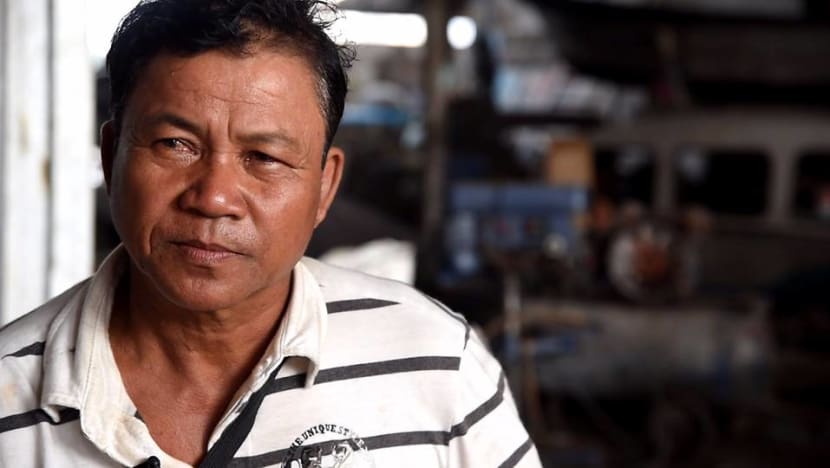 "After somebody's drowned here, you can say 100 times out of 100, I'll locate the body quickly." Kry Ya paused. "But once, the current was flowing just too strongly."

It was this time, this tide, which claimed the lives of five Singaporean national dragonboaters in 2007. Returning to their berthing point along Sisowath Quay after a race at Cambodia's annual Water Festival, the boat carrying the crew of 22 collided with a nearby pontoon and capsized.

Of 10 paddlers dragged into the depths of the river, five were rescued shortly after - but the others remained missing that evening of Nov 23.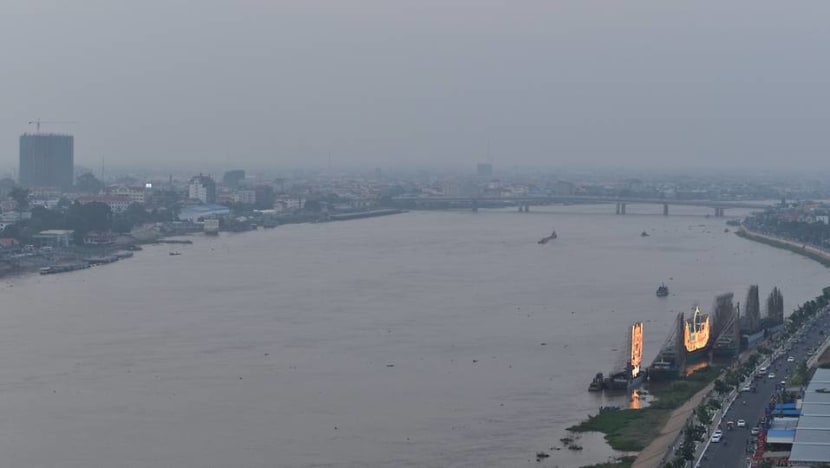 FRIDAY: S.O.S.

Kry Ya was one of eight divers quickly dispatched to the accident site by his employer Min Ormax, who runs a speedboat workshop near the Chroy Changvar Bridge, some 2km upstream.

"I didn't take orders from anyone. I got the information by listening in on police radio using my walkie-talkie," said the boisterous, beer-guzzling Ormax. "After that, I sent out five boats, with two to three of my staff on each, to try to retrieve the paddlers."

He frequently activates his boats and workers to voluntarily help with such rescue and recovery missions - a testament to the hazard posed by the Tonle Sap, particularly during the dry season from November to April.

"The river flows back out from the Tonle Sap Lake, because the (connecting) Mekong's water level is lower, so the river will be pushing and moving down very fast," Ormax explained.

A further 2km south from the Singapore team's launching point, in the main gallery in front of the Royal Palace, Nhim Vanda was enjoying a vantage view of the boat races when word of the accident first filtered through.
As head of Cambodia's disaster management agency, he was promptly ordered by Prime Minister Hun Sen - seated nearby - to call on all necessary resources to search for the missing. Vanda, an army general whose left arm was blown off by a grenade in the 70s, swung into action himself and headed out on a speedboat to coordinate efforts.

As men on military and local vessels scanned the waters, Cham and Cambodian naval divers fanned out to comb the 50m-long pontoon's underside and surroundings.

"I suspected they were already dead because of the strong current," said Vanda. "But even if not alive, we had to find the bodies."

Touch Naroth, then-chief of Phnom Penh police, was more optimistic at first. "When we started our search, we felt hope they were going to be alive, because we thought they might have swam to the riverbank and got off among the crowds," he said.

"One hour later, it began to feel hopeless."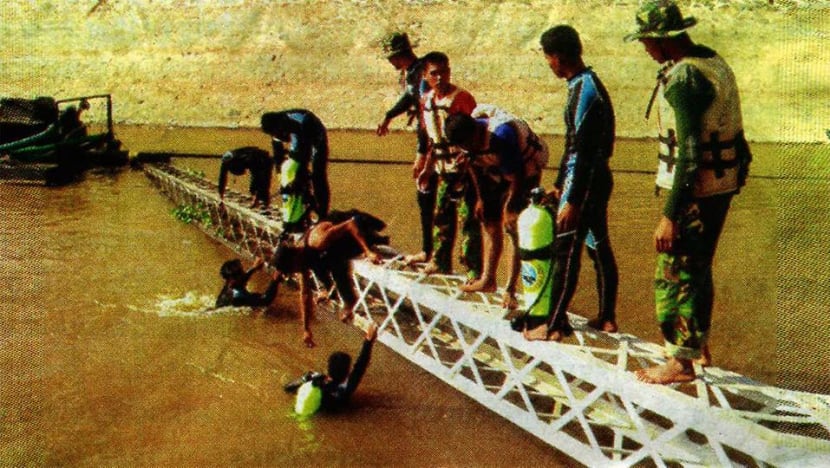 The Tonle Sap's brown, muddied waters offer almost zero visibility even in daylight, much less under cover of night that was fast approaching. But Kry Ya, who was diving with only a snorkel and fins, decided to take a bold, risky approach: "I strapped a 3kg stone to my body, went down and searched by feel.
"I dived until midnight, spending 30 minutes to an hour in the water each time … It was difficult, because the current kept pushing me, and my head hit the rocks a few times, but we persevered."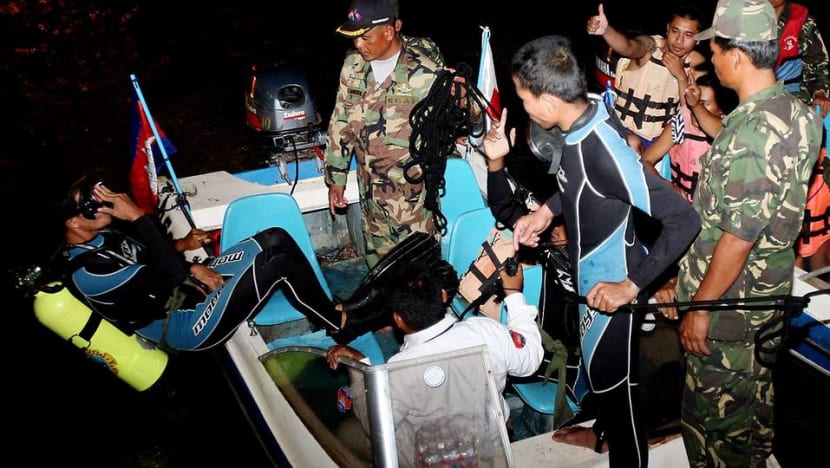 SATURDAY: ALL AT SEA

By the next morning, Vanda had amassed a search party of some 400 personnel comprising Cambodian police, navy, fishermen and villagers living along the river banks, and more skilled divers like Kry Ya.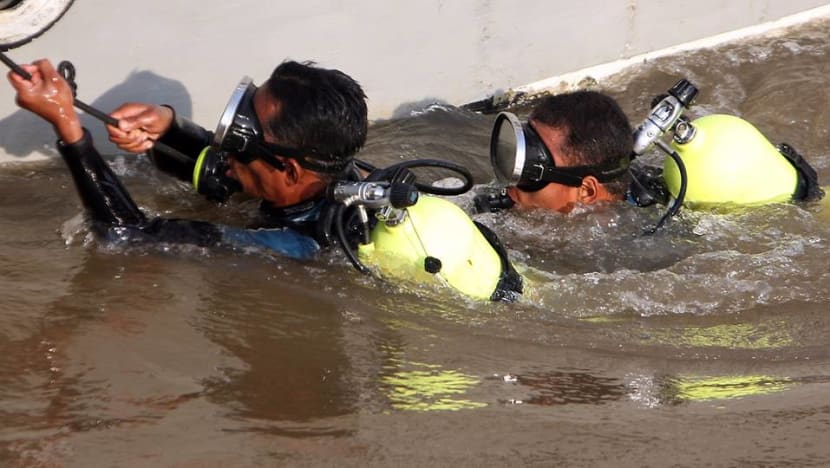 A 3 million riel (over S$1,000) reward was offered to locals to find each of the missing Singaporeans, and the search area was widened to the festival venue's entire 6km stretch.

"We sent officers down along the river, as we expected the current would take them further from the accident site," said Naroth.

Vanda and Ormax spent the day steering their boats up and down the sides of the river, eyes peeled for both floating bodies and racing dragonboats. Events were going ahead as scheduled, despite the misgivings of some of the other national teams invited to compete in Phnom Penh.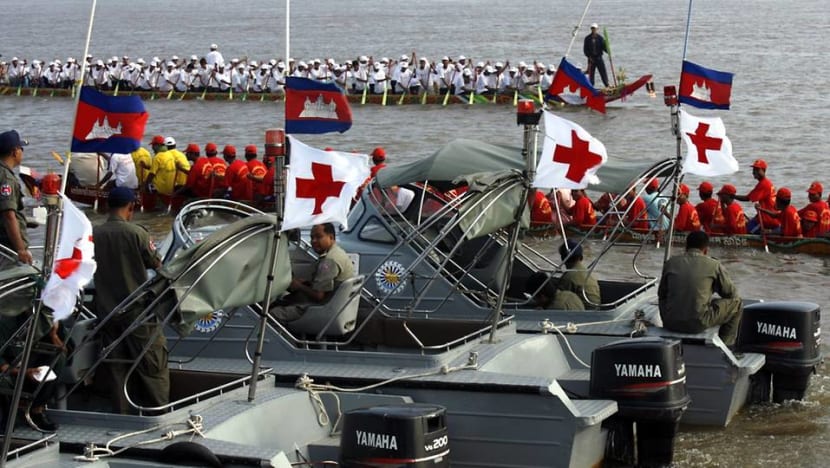 "We were asked to continue racing, but we all wanted to back out due to fear, and we were deeply saddened and distraught," said Filipino dragonboater Judith Pagsuyuin-Hakim. "We definitely had no drive or enthusiasm to win. We only wanted to participate and show respect."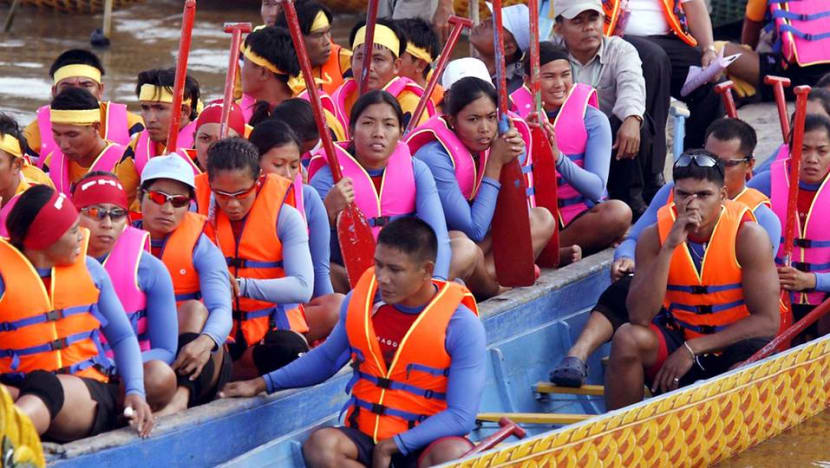 With no sign of the missing by midday, Vanda devised a plan to attach fishing nets to the underside of boats, to trawl through the river in hope of picking up the bodies. "It didn't work well," he said, frowning at the memory.

Reinforcements arrived around 3pm in the shape of Singapore's own elite Naval Diving Unit (NDU). The eight-man team - a mission commander, a medic and six divers - were first mobilised in the morning and flew out in a C-130.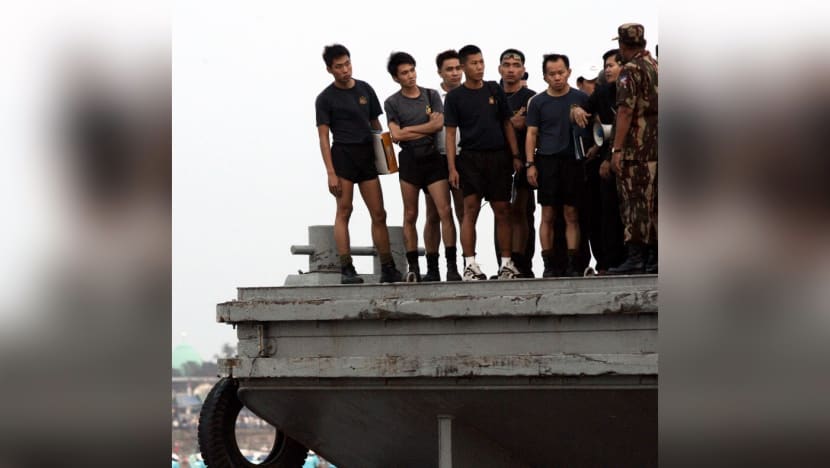 Sonar cameras were dropped into the waters to survey the riverbed, but even such advanced gear - which the Cambodians did not possess - failed to make the murky Tonle Sap any clearer. Once again, as nighttime fell, the search was called off.

SUNDAY: THE RIVER RELENTS

According to Vanda, other Southeast Asian countries like Indonesia, Thailand and the Philippines extended offers to join the operation early on Sunday morning. But after another sleepless night, the veteran soldier had a new idea up his sleeve. Instead of nets, the search crafts would be affixed with homemade ropes and metal hooks to scrape the bottom of the river.

On shore, the Singaporean divers were preparing their equipment to tackle the river again, as they stepped up efforts to find the bodies of their missing countrymen.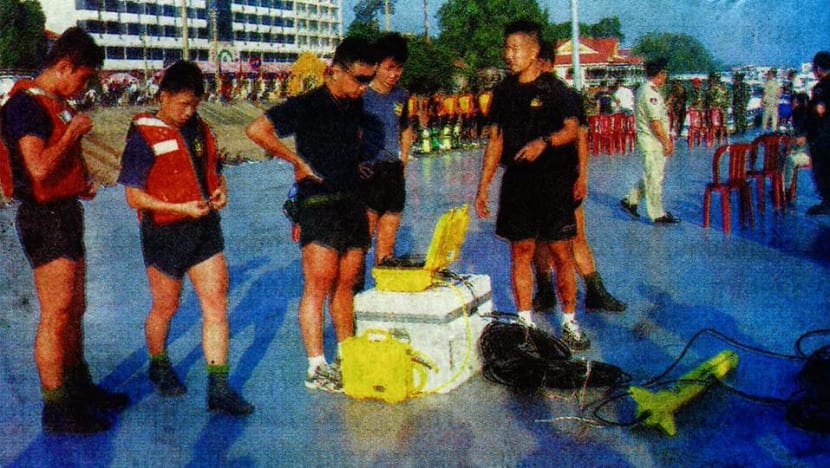 As they swept an area fronting Koh Pich - "Diamond Island" in Khmer, some 4km downstream from the accident site - the shrill blare of alarms sliced through, carried by gusty winds from nearby.

The first body had been found.

Chee Wei Cheng, 20, was retrieved at 8am, some 40 hours after the accident; Jeremy Goh, 24, and Stephen Loh, 31, followed soon after. All three had been lodged in the riverbed and blanketed in mud, only dredged up using Vanda's improvised hooks.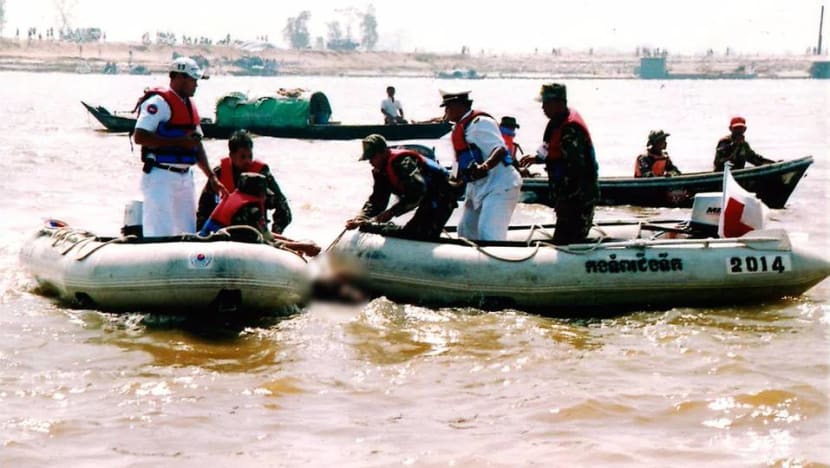 In the next few hours leading to noon, the bodies of Poh Boon San, 27, and Reuben Kee, 23, would surface on their own, in that order.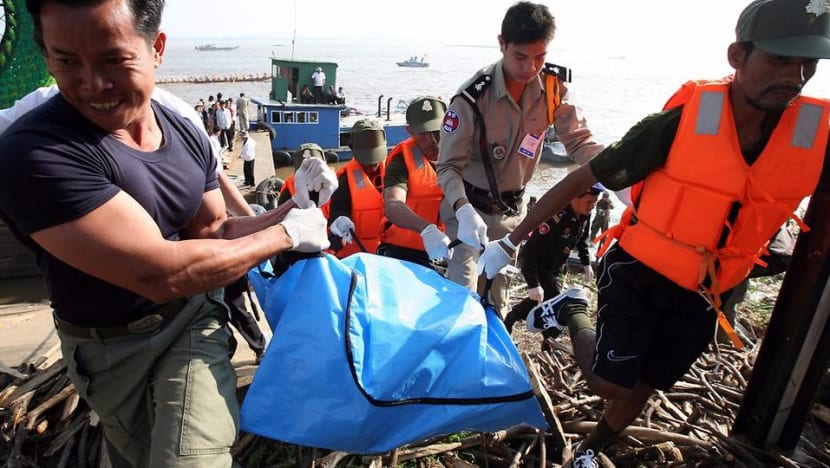 All five were recovered not far from each other - close to Koh Pich and at the confluence of the Tonle Sap, Tonle Bassac and Mekong rivers, said navy chief Pes Lim.

"We just cleaned them up as best we could and sent them to the hospital," said Vanda. "Then we followed advice from the Singapore embassy on what to do with the bodies according to their traditions."

10 YEARS ON: A HEAVY CONSCIENCE

For Cambodian officials who were involved in the recovery efforts, the decade-old operation still evokes much sadness and remorse.

Naroth, who recalls spending both nights sleeping near the pontoon, said Cambodian authorities had exhausted all means possible.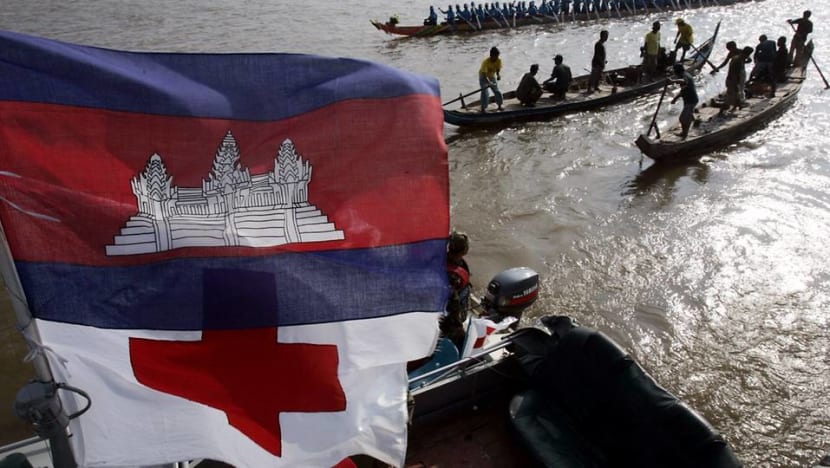 "This case was very complicated," said Vanda. "We tried very hard, but I'm not exactly proud that we found the bodies... I just had to try my best to find them. It's simple for me. The important thing was to help the Singaporeans."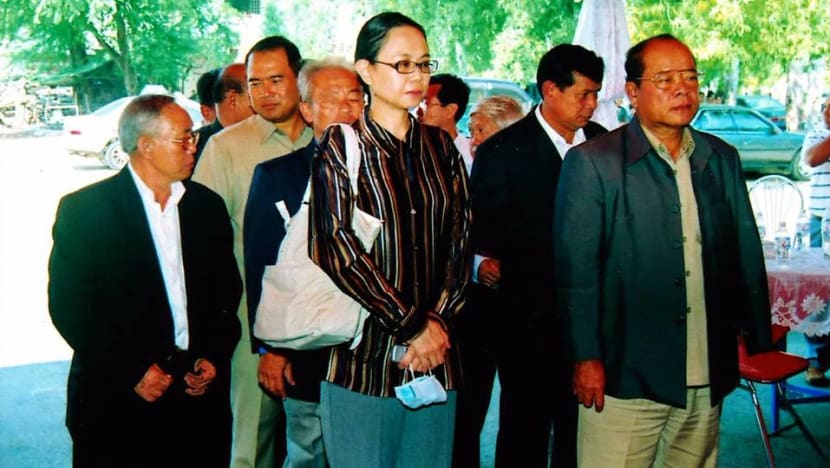 It also remains the worst incident involving competitors at the Water Festival, which dates back to the 12th century.

"A big disaster," said Bou Chumserey, organiser of the festival since 1999. "We've had one to two paddlers drowning, but never anything like this.

"That was the first time foreigners participated at our Water Festival. Since then, we haven't invited any others, because we're afraid."

Local reporter Ly Menghour was filing stories for both Radio France International and a local Khmer newspaper at the time. "Some considered the incident an unexpected one," he said. "But there were also some blaming the organisers for being careless."

Chumserey sees some validity in the latter conclusion. The soft-spoken six-footer had already cut a contrite figure meeting this Singaporean journalist. When later told he was speaking to a member of the 2007 dragonboat team which competed in Cambodia, the self-reproach came in waves.

"Honestly, it was our mistake because we didn't set up buoys to protect the area," he said. "On this 10th anniversary, as the person-in-charge, I apologise for the lack of preparation that led to the deaths.

"I am very, very sorry for the loss of lives. To the families that sent their children to come here, I am very sorry. It is a lesson we have to learn.

"We will remember forever … and I ask for mercy and forgiveness from the Singaporean people."

This is the second part of a series marking the 10th anniversary of an accident in Cambodia which left five Singaporean national dragonboaters dead. Read the first, third and fourth parts, or view our special interactive site here.