A cautious approach as employers gear up for staff to return to the office with change in WFH rules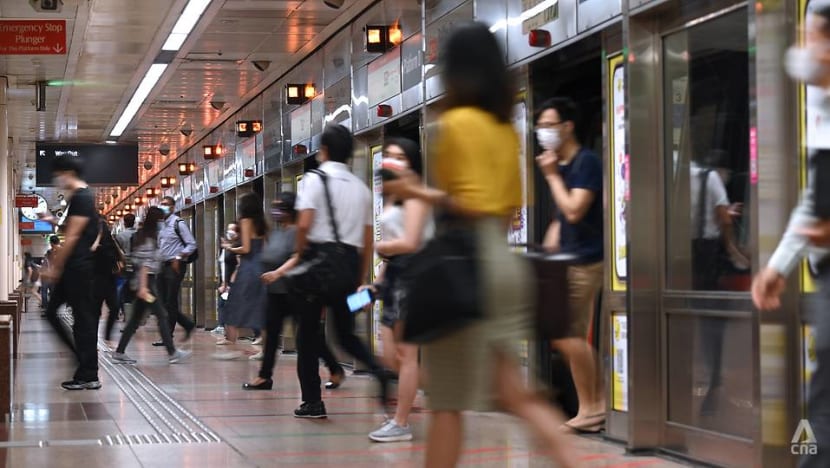 SINGAPORE: Face-to-face meetings could soon be a thing again for vaccinated employees at Mr Sanjeev Gathani's company, which "would prefer" staff to return to the workplace from Jan 1. 
This, however, would also depend on the individual's job scope, said Mr Gathani, head of human resources at RV Healthcare. 
Working from home has been the default since September. But 50 per cent of employees who can work from home will be allowed to return to the office from the start of January, announced the Ministry of Health (MOH) on Tuesday (Dec 14). 
This is because previously announced workforce vaccination measures will kick in on that date, meaning Singapore will be "in a better position to ease the current default work-from-home posture", said MOH.
In-person meetings are "better" in cases where, for instance, colleagues are discussing marketing strategies, product development or the pros and cons of a product, added Mr Gathani. 
"Sometimes people, especially in Asia, don't turn on their cameras. It's very hard to see their facial expression. What is it that they are expressing? While they may say something, the expression is otherwise," he said. 
"And then to get everybody to coordinate the meeting times … It's very tough because different time zones, different people, so if people come back to the office, it's easier … the response is much faster, it's focused.
"Not every one of us has a very big home and big space. And that also becomes challenging when you're talking about confidential information."
GIVING EMPLOYEES FLEXIBILITY 
Other companies also welcomed the move to return to the office, highlighting the significance of meeting colleagues in person. 
The Association of Small and Medium Enterprises said it is "cautiously happy".
"Members have shared that there are limits to working from home, such as how much we can push team bonding, synergy, certain levels of productivity versus face-to-face," said the association's vice-president Yuit Ang.
Having employees come to the office enables "more face-to-face meetings with customers and vendors in support of business growth, and more interactions among colleagues in the workplace", added Mr Lam Yi Young, chief executive officer at the Singapore Business Federation.
"(This) helps in the generation of new ideas and collaborations, and in team-bonding. Such meetings and interactions have been impacted by the work-from-home-as-default arrangement."
Still, some companies said they will keep the option of remote working on the table. After all, it has proven to be a viable arrangement during the pandemic. 
At global natural resources intelligence company, Wood Mackenzie, many employees are "keen" to return to a routine of working in the office again, said Mr Jamie Taylor, head of its Singapore office. 
But he pointed out that "the situation is still fluid", and the company's top priorities are employees' safety and mental wellness. 
"While we recognise the benefits of physical meetings, we also want to make sure our employees feel safe and are comfortable coming back to the office," he said. 
"If certain tasks or workflow require face-to-face collaboration to achieve optimal outcomes, then we would expect employees to be back in office for these tasks. But if tasks are location-neutral, and if colleagues prefer to have that flexibility to work from home, we are happy with that as well."
Likewise, global financial services group Nomura Singapore will continue to give its employees a choice. 
The company has found that "most staff can effectively work remotely and have done so for the better part of two years", a spokesperson told CNA.
But they believe "the expected new rules will be welcomed as it will allow employees who wish to return to the office to connect and collaborate with their colleagues".  
NO RUSH TO RETURN
Some companies are not rushing to return to the office either, choosing instead to take things slow. 
Professional services firm Precursor Assurance plans to take it "step by step", allowing about 30 per cent of employees to return to the office from Jan 1.
"We just want to take a step back first, since everything is working well. We are not rushing. (We will) take a step slower just to be more conservative," said managing director Tan Khoon Guan. 
This lower percentage would work well, given that the company also plans to roughly halve its office space in June, having reconsidered their need for space amid the pandemic, he said. 
Workers who would get priority to return are those who perform administrative roles, as they may need to be in the office to receive documents, he said.
"For the majority of the people who don't need to go to the office, things are very normal. They're able to execute duties. … (But) we will be easing in … because at the end of the day, there is still relevance in meeting face-to-face," added Mr Tan. 
He noted that there will always be a mix of attitudes towards returning to the office, but employees generally understand the direction the firm is taking, given that humans are "social animals" that require interaction. 
At cybersecurity firm Horangi Cyber Security, there is no rush to return either, as the company has been operating on a "remote-first" strategy since the start of the pandemic. 
"During this period, there's been a lot of upsides. If there's a restriction, it doesn't really affect our business. It doesn't (matter) whether you're in the office. From that aspect, (working from home) has been quite helpful," said the company's chief executive officer Mr Paul Hadjy. 
Such a strategy also "creates a level playing field", as workers from different regions all collaborate virtually, he said.
Mr Hadjy doesn't think the ability to meet in person will have "a major sort of effect on our business" at this point. Still, the company will give its employees the option to return to the office, especially for those "craving physical interaction". 
"People generally still meet up from time to time and we have the office for people to do meetings like if it needs to be in-person, if it's a big planning for a major project," added Mr Hadjy. 
"But it's not necessary every day and the majority of the work that we do can be done remotely, and I think there's advantages for everyone to do that."
Moreover, employees' safety remains a priority for companies like RV Healthcare. Being in the pharmaceutical industry means it's even more important that they walk the talk and prioritise employees' safety, said Mr Gathani. 
"My boss is a firm believer that face-to-face can never be replaced by technology, because that feels very different. So he prefers returning to the office, but at the same time, he understands, and socially we need to be responsible," he said. 
WFH A "CHALLENGE" FOR NEW EMPLOYEES
But amid mixed feelings about a return to the office, there is one group who may benefit most from being in the office: New employees. 
When Ms Kelly Bowerbank-Chua shares about a potential employer with job candidates, some of the immediate questions she gets asked include: Does the company have a hybrid culture? And is it temporary? 
If a hybrid working arrangement is only temporary, candidates usually express hesitation, the associate director at executive search firm Kerry Consulting told CNA. 
So she believes the hybrid working arrangement that resumes on Jan 1 will be "highly welcomed", especially by new employees. 
A full work-from-home arrangement has been challenging over the last two years, especially during the Great Resignation, noted Ms Bowerbank-Chua. 
The Great Resignation refers to a global trend that has seen an increasing number of employees leave their jobs, usually following a period of reflection about what they want in life after living with the COVID-19 pandemic for two years. 
The struggle of adapting to fully working from home is especially felt by job seekers, who may join a new workplace environment, and existing employees who receive new team members. 
"You can imagine it's actually been a challenge to build relationships and team cohesion or loyalty with new organisations during such a period, if it's 100 per cent work-from-home," said Ms Bowerbank-Chua. 
Almost all the candidates she has placed during periods where an entire company's employees work from home tell her that they "struggle and don't know who to ask for help". For instance, many face "anxiety" about asking their boss a simple question. 
"When you're in the office, you can form informal friendships, informal relationships, and you know who to ask for help. It's something we often take for granted," she added.  
"Especially in fast-paced organisations where everyone's very busy, candidates have expressed that when they start work, they send a private message to someone and people don't reply to them. They wonder, 'Is it because the person hasn't seen my message? Maybe Microsoft Teams is not the best way to message someone? Maybe I should email, call or WhatsApp? What is the best communication channel? Who should I ask for help?'" 
Unless companies pair new employees with a mentor, a full work-from-home model might not be feasible, said Ms Bowerbank-Chua. 
This model may also work if companies manage their expectations about employees' performance while working from home fully, but "we are still looking at an environment where companies expect you to learn the ropes as quickly as being 100 per cent on site", she added. 
As a result, with their transition to new environments, most new employees would need "very often, at least minimally a hybrid" work arrangement.