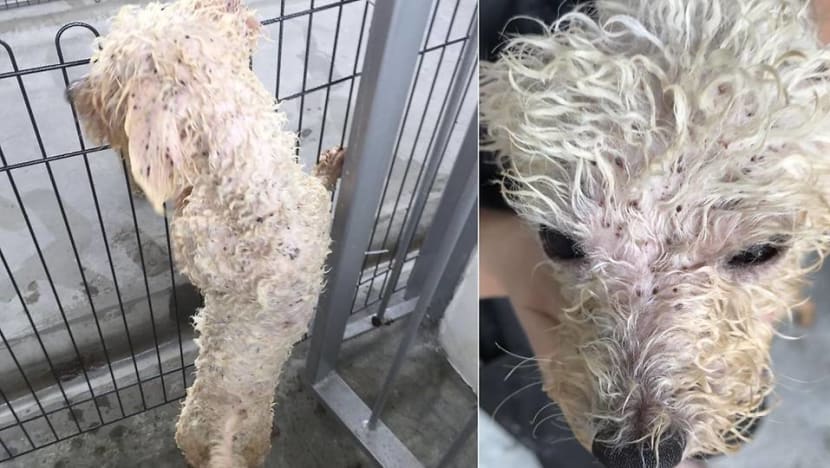 SINGAPORE: A woman was fined S$12,600 on Thursday (Aug 5) and banned from owning pets for six months for multiple charges of pet negligence and keeping 16 dogs without a licence.
Leow Suat Hong, 49, pleaded guilty midway through a trial to 17 charges, mostly of keeping Bichon-Maltese cross dogs without a licence.
Another 26 charges were taken into consideration, and a further 10 charges were withdrawn.
Leow purportedly kept about 20 dogs in her house, 14 of which later died after an outbreak of the deadly and highly contagious parvovirus among the animals.
She kept 16 of them without a licence between May 2017 and January 2019, the court heard.
A member of the public gave feedback to the then-Agri-Food and Veterinary Authority of Singapore (AVA) on Apr 18, 2016 that there were about 20 dogs at 4 Starlight Road.
AVA officers tried to inspect the home several times before eventually meeting Leow.
She showed them six dogs that were in satisfactory condition but not licensed. The officers told Leow to rehome the excess dogs and ensure they were licensed by their new owners, as she was not allowed to own or keep more than three licensed dogs.
Leow moved her dogs to Kennel 11 at The Pet Hotel in Pasir Ris Farmway 2 in September 2016.
Around Oct 20, 2016, Leow told AVA that there was an outbreak of parvovirus at the kennel. 
The officers inspected Kennel 11 and found 52 Bichon-Maltese dogs belonging to Leow. Many of them were infected by parvovirus, a canine disease that is preventable with adequate vaccination.
One of the dogs was dead and was taken for a post-mortem examination, testing positive for the virus. It had a body condition score of 1 out of 9, meaning it was severely emaciated, court documents stated.
Leow admitted that she had not taken this dog for prompt veterinary treatment at an early stage when it first showed signs of infection.
"The accused had too many dogs to look after and she had trouble keeping an adequate lookout on all of them," said the prosecutor.
"The accused claimed that she had tried to apply her best efforts to save it with a home remedy and treatment, with some improvements initially, but the dog was too weak by the time she sought veterinary treatment for the dog."
The judge said the prosecution also acknowledged that this was "not a case of really someone abusing the animal, but it comes with being very overwhelmed and having to deal with so many animals under your care".
She told Leow to follow the rules and to go back to authorities to check on how to rehouse her dogs. She granted Leow her request to pay her fine in instalments.