SINGAPORE: A 53-year-old woman who was allegedly "brandishing" a knife outside St Hilda's Secondary School in Tampines on Monday (Sep 19) evening was arrested for possession of an offensive weapon, said the police.
Police told CNA that they had received a call for assistance at about 6.30pm regarding the woman who was near Block 840 Tampines Street 82, opposite St Hilda's Secondary School.
"When police officers arrived, the woman was uncooperative and refused to comply with police's instructions," they said.
"The woman then stabbed herself in the abdomen and threatened to further harm herself. For her safety, one of the police officers then discharged a Taser to prevent the woman from further injuring herself." 
Police said the woman was also apprehended under the Mental Health (Care and Treatment) Act and for suspected drug-related offences. 
She was taken to the hospital conscious and in a stable condition. Investigations are ongoing.
When CNA arrived at the scene at around 7pm, the woman was seen screaming in pain. At least two police cars and about 10 police officers were there. At least four officers were seen carrying what appeared to be submachine guns.
An ambulance arrived shortly after and paramedics tried to calm the woman down. The woman wore a green shirt, which was stained with what appeared to be blood around the torso region.
Eyewitness Fuad Mohammad said he was on his way out with his father in a car when he saw police vehicles and about six policemen trying to take control of the situation. 
He said he saw the woman swinging and waving around what "looked like a knife". 
He told CNA that the woman started panicking when more policemen approached her. He added that she was alone at the scene.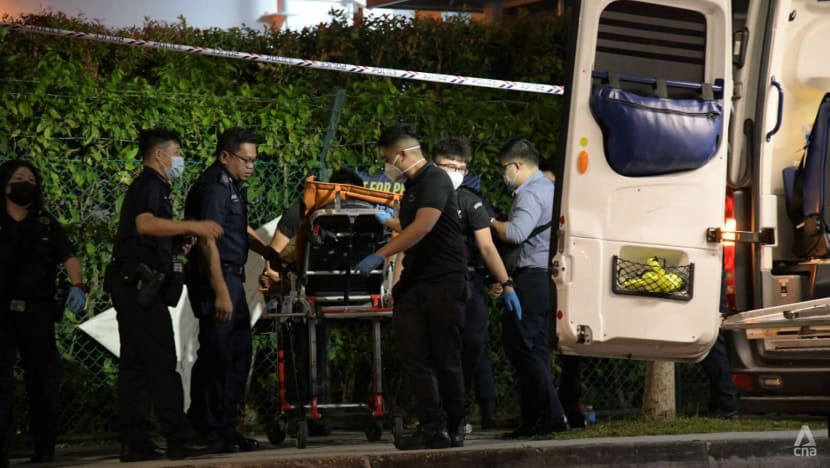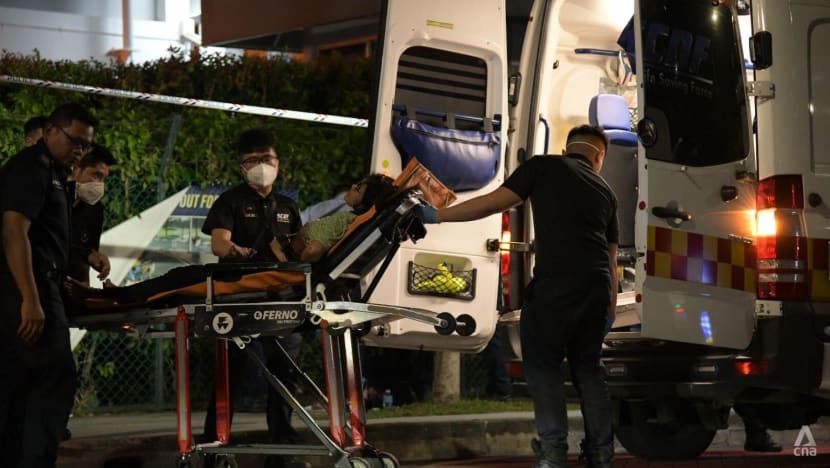 In a video sent by Fuad, a woman in a green shirt carrying a bag can be seen waving her hands and speaking to police officers.
At least 20 people had gathered across the road, watching the scene unfold. 
One person, who did not want to be named, told CNA that he saw a woman holding a knife and pointing towards the officers. He said he heard officers telling the woman to put the knife down. 
"I think maybe it was a commotion (for about) 15 minutes. And then she dropped her penknife down and that's when one of the policemen pinned her against the fence as you can see over there and then they managed to pin her down," the onlooker said, who added that the woman said she wanted to call her husband. 
Another witness, Karina Vennard, 30, told CNA that the road had been blocked off and she had to alight from the taxi she was in and walk. In her account, she said the object in the woman's hand appeared to be a pair of scissors.
"When I walked past, I saw her standing there with scissors. She was on the phone. She was shouting at (the police) and they were telling her to drop her weapon.
"And then she dropped her scissors accidentally and she reached over to pick it up. And then that's when the cops kinda panicked and jumped (on) her and handcuffed her."
Shortly after at 7.40pm, the woman was put on a stretcher and taken into an ambulance.
This story came from a reader tip-off. If you would like to send in information, photos or videos about something newsworthy, submit your news tips on CNA Eyewitness.