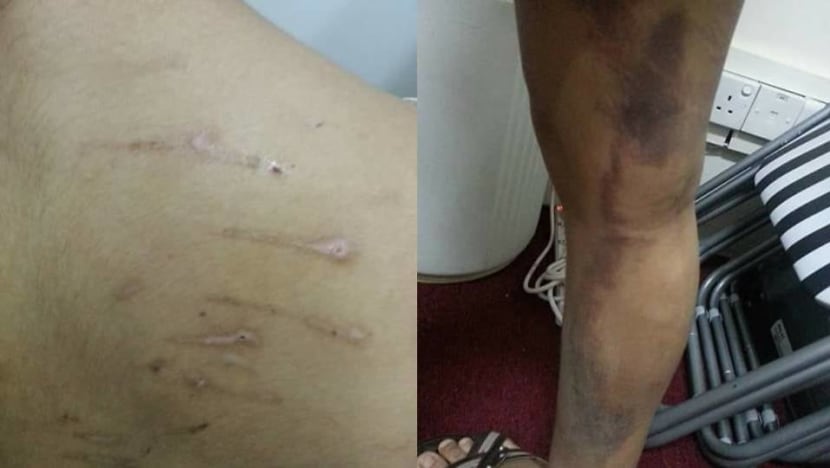 SINGAPORE: A Myanmar national who hired a maid from her home country to work in Singapore, only to abuse her shortly after, was on Tuesday (Jul 17) sentenced to jail for two years and one month.
Chan Mya Aye, a 39-year-old Singapore permanent resident, had hired Ms Ei Phyu Tun in April 2015. 
This was done without going through a maid agency, as Aye got to know her through a friend of Ms Tun's relative. 
Ms Tun, then 22 years old, came to work in Aye's Choa Chu Kang flat where she lived with her mother, husband, baby daughter who was born in March 2015 and a tenant. 
A month after the employment, Aye started scolding Ms Tun for making mistakes in her household chores and for taking too long to complete them. This turned to physical abuse towards the end of June 2015.
MAID HIT WITH METAL ITEMS
Sometime after Aye's daughter was discharged from hospital for gastroenteritis in early July, Aye started assaulting the maid with items such as metal poles, the metal handle of a duster and an improvised metal hanger.
In September 2015, while Ms Tun was washing the dishes, Aye used a metal hanger to hit her multiple times on her face, neck and chest, leaving a 2cm-long laceration on her face.
A few days later, Aye was unhappy with how Ms Tun did her chores. She slapped the maid multiple times on her face, before using a metal pole to hit her on her back, hip, arm and legs.
Ms Tun would self-medicate by applying traditional Burmese ointment on herself after the beatings, but this angered Aye. After discovering that Ms Tun had used the ointment on Sep 21, 2015, Aye again used a metal pole to hit her multiple times. 
After this incident, Ms Tun fled the unit when she saw that her employer was busy. She took a taxi to the Manpower Ministry (MOM) with some help from passers-by.
Ms Tun reported the abuse and an MOM officer called the police.
INJURIES INCLUDE FRACTURED RIB, LACERATIONS AND BRUISES
She was taken to Tan Tock Seng Hospital, where a medical report showed that she sustained multiple injuries, including bruising on her forehead, swelling on her cheek, laceration on her ear and back as well as bruising on her legs. She also had a rib fracture.
Aye pleaded guilty to two charges of voluntarily causing hurt by dangerous weapons or means and one charge of voluntarily causing hurt in January last year. Three other charges were taken into consideration for sentencing.

On Tuesday, District Judge Sarah Tan sentenced Aye to 25 months' jail, saying that she took cognisance of the fact that Aye suffers from major depressive disorder, as established by two doctors.
"However, I will not be able to agree that her culpability is diminished to the extent that is sought by the defence," she said. "The accused was not suffering depression at the most severe end of the scale."
"For each incident, she dealt not just one strike. For each proceeded charge, she had struck the victim multiple times on various parts of the body," said the judge. "Some were in vulnerable parts, such as the face, neck and chest. There were at least six incidents over a three to four month period."
The judge also noted that the law allowed for enhanced penalties for offences against domestic maids, with the sentence going up to one-and-a-half times the amount of punishment that the accused would have been liable for.

For voluntarily causing hurt by dangerous weapons, Aye could have been jailed for up to seven years, fined, caned, or given any combination of the three penalties.

After Aye was sentenced, Ms Tun burst into tears outside the courtroom. She told reporters that she felt "very sad" as she had to relive what happened in the courtroom. She had flown in from Myanmar to attend the sentencing, and now works at a garment factory in her home country.