Woodlands murders: Man sentenced to death for killing pregnant wife and 4-year-old daughter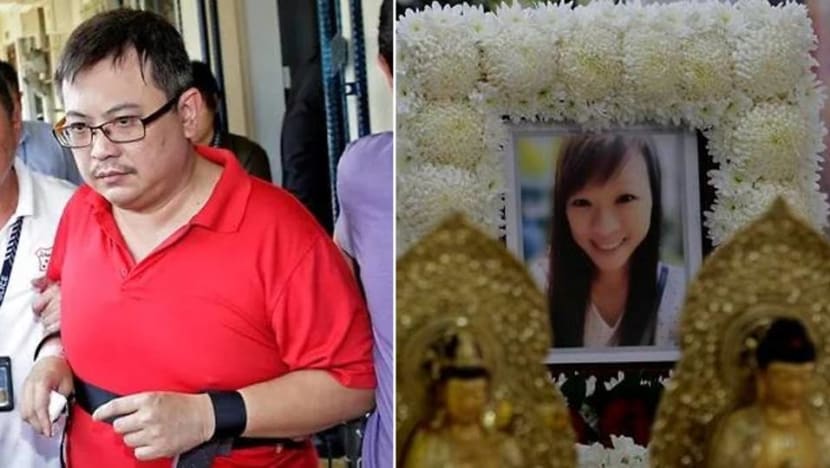 SINGAPORE: A man was sentenced to death on Thursday (Nov 12) for murdering his pregnant wife and four-year-old daughter in their Woodlands flat three years ago.
The judge called it a "tragic case" of lives lost and "a family torn asunder".

Teo Ghim Heng, 45, was convicted of two counts of murder for killing his wife, Choong Pei Shan, who was six months pregnant, before doing the same to their daughter.
He strangled his 39-year-old wife with a towel after quarrelling with her about finances. She purportedly insulted him in front of their daughter, calling him a useless father and husband, and he strangled her with a towel before using his hands to finish the job.
The girl was in the room playing and watching television while this went on. After killing his wife, Teo decided to kill his daughter and himself to "reunite the family" in death.
The girl cried as she was strangled, and Teo placed the two bodies on a bed and slept beside them for seven days.
He tried to kill himself repeatedly but failed, eventually setting fire to the bodies and tried lying next to them but "chickened out" because of the heat.
They were found on the first day of Chinese New Year in 2017, when Teo's brother-in-law came knocking at the door and detected an acrid smell coming from the window slats.
He had gone to look for his sister after she did not turn up for their usual Chinese New Year festivities and did not respond to phone calls and messages.
When Teo finally opened the door to a group of police and Singapore Civil Defence Force officers, he appeared "shocked", before going close to his brother-in-law's face to tell him that his sister was dead.
Teo's motive for the killings was not disputed by both sides – he was previously a top property agent earning about S$20,000 a month, before the industry shifted and he faced financial difficulties, struggling to pay the bills as an employee at a renovation firm.
He also racked up gambling debts, credit card bills and school fees for his daughter's school, which he was unable to pay and kept putting off.
The money issues led to frequent quarrels with his wife, and Teo started to suspect that his daughter was not his after finding his wife with another man in the master bedroom in October 2014.
The couple also quarrelled over moving their daughter to a less expensive school, and over Teo asking his wife to find a job.

The prosecution argued that Teo lied to the police and defence psychiatrist to support a defence of diminished responsibility, where an accused person is suffering from a specific abnormality of mind that substantially impaired his mental responsibility for causing the deaths.
The prosecutors also said Teo retained his mental capacity at the time, as he could describe in great detail how his wife had supposedly scolded him, as well as how he killed his wife and daughter.
Defence lawyers led by Mr Eugene Thuraisingam asked the court to convict Teo of culpable homicide not amounting to murder instead, saying that Teo had been suffering from major depressive disorder and had been gravely and suddenly provoked.
JUDGE'S REASONS FOR REJECTING DEFENCES
Justice Kannan Ramesh highlighted Teo's behaviour after the killings. He made up multiple excuses to people who were looking for him, his wife or his daughter, and logged into his wife's Facebook account to change the cover photo to give the impression that she was alive.
He also left the air-conditioning on in the room to slow the rate of decomposition and shut the windows to prevent the smell of decomposition from spreading, said the judge.
Teo fabricated suicide notes and told the police that his wife had agreed on a suicide pact with him, but the notes were later found to have been written by Teo.
Justice Ramesh rejected all three of Teo's defences: That he suffered from diminished responsibility, that he suffered grave and sudden provocation, and an argument on the constitutionality of the offences.
He found that Teo did not fulfil the criteria for major depressive disorder at the time of the offences, pointing to several factors, including his performance at work.
"I'm not satisfied that he suffered depressed mood (most of the day and almost every day)," said the judge. "I accept he was upset with his financial circumstances and the acrimony that had been building between him and his wife. But being upset is not the same as being depressed."
Messages between Teo and his wife did not show that he was depressed, but depicted a "loving husband constantly showering his wife with affection", said Justice Ramesh.
Teo also indicated that he would "fight to the end" and not give up, and his behaviour in general showed an uplift in his mood and positivity towards his difficult financial circumstances.
Teo's behaviour after the offences was also "telling", said the judge. He spent a significant amount of time surfing the web, watching videos and looking at pornography.
He slept regularly, left the house for food and did not appear to show any despondency over the deaths of his wife and child, said Justice Ramesh. 
Such behaviour was not one of a person labouring under depression almost every day, said the judge.
He also found inconsistencies in Teo's evidence. Teo claimed he had no interest in sex with his wife since 2015, as loss of pleasure is one of the indicators for depression, but he clearly had sex with his wife as she conceived around July 2016.
Teo's account of insomnia also could not square with his strong performance at work, and there was no loss of weight. Instead, he visited porn sites "constantly" before and after the offences.
In the immediate aftermath, he was able to fashion multiple lies, which is behaviour "demonstrative of shrewd cognitive ability", said the judge.
He also rejected Teo's defence of grave and sudden provocation - that he had suffered a sudden and temporary loss of self-control that made him so subject to passion as to not be the master of his mind. 
"I'm prepared to accept that what Pei Shan said to the accused made him angry. A person in his shoes would arguably have felt incensed," said the judge. 
The judge pointed out that Teo had said in his account that a red mist that had descended upon him and made his mind go blank cleared within five minutes.
His wife was still alive at this point, but he decided to continue strangling her with the towel, and later with his hands to finish the job.
Justice Ramesh added that Teo knew exactly what he was doing when he strangled his daughter, who did not provoke Teo.
"(She) was not at fault for Pei Shan's behaviour," he said.
The maximum penalty for murder is death. A third charge against Teo of causing the death of the unborn foetus was withdrawn after the conviction on Thursday.
The defence intends to appeal against the conviction and sentence.