SINGAPORE: The defence in the landmark Aljunied-Hougang Town Council (AHTC) trial argued on Tuesday (Oct 9) that there was also conflict of interest at a company which served as managing agent of other town councils in Singapore.
CPG Facilities Management was Aljunied Town Council's managing agent when it was under the People's Action Party (PAP). The company also serves Ang Mo Kio Town Council.
According to defence lawyer Chelva Retnam Rajah, the managing director of CPG Mr Jeffrey Chua had shares in CPG's holding company. Mr Chua was also secretary of Aljunied Town Council.
In his cross-examination of the first plaintiff's witness, KPMG executive director Owen Hawkes, Mr Rajah asked if he knew of Mr Chua's interests in CPG.
Mr Hawkes admitted that he did not.
"Without knowledge of what proportion of the shares this equates to, it's difficult to determine degree of conflict of interest," Mr Hawkes said.
"Large or small, it would give him a profit motive," the defence countered. Mr Hawkes agreed.
In his answers to Mr Rajah, Mr Hawkes also explained that "there are conflicts of interest in practically every area of business". 
"The question is not whether there is a conflict of interest. The question is how severe is it and what are the steps taken to manage it," he said.
WHAT CONSTITUTES CONFLICT OF INTEREST?
The question of what exactly constitutes "conflict of interest" was raised at length on Tuesday, and why two of the defendants were considered "conflicted persons" as listed in KPMG's October 2016 report.
Ms How Weng Fan and her late husband Danny Loh both held dual roles in AHTC as well as its former managing agent FM Solutions and Services (FMSS), which allegedly received "improper payments" from the town council.
Ms How was AHTC's deputy secretary and a shareholder of FMSS at the same time.
Her husband, who died in an accident in 2015, was AHTC secretary as well as the owner of both FMSS and its service provider FM Solutions & Integrated Services (FMSI).
Mr Rajah represents Workers' Party (WP) Members of Parliament Sylvia Lim, Low Thia Khiang and Pritam Singh, as well as AHTC councillors Chua Zhi Hon and Kenneth Foo Seck Guan.
They, along with Ms How, Mr Loh and FMSS itself, are being sued by AHTC and Pasir Ris-Punggol Town Council (PRPTC) for breaching their fiduciary duties and for the alleged improper payments worth more than S$33 million.

When asked by Mr Rajah about what would and would not constitute a conflict of interest, Mr Hawkes refrained from defining it within what he called "a binary".
Instead, he explained that "there is a spectrum between not having a conflict (on one end) to the final end where you may have conflicts that are so severe that no controls can manage the conflicts of interest involved". 
"If you are a direct shareholder in a company, you are slightly further on the spectrum than the spouse of a shareholder," he said.
In a hypothetical situation posed to him by Mr Rajah, Mr Hawkes explained why Ms How being the spouse of Mr Loh, a shareholder of FMSS, in this context would create conflicts of interest: "If Mr Loh owned 100 per cent of FMSS and (Ms How) was his wife, then as a single family unit, the money that goes to him ... also goes to her."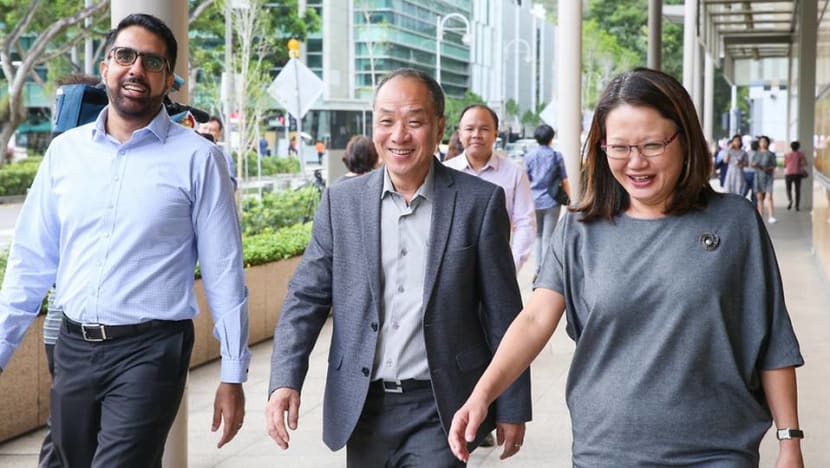 According to the KPMG report, there was "an unacceptably high degree of abdication of control to the conflicted persons" in AHTC. This also involved what KPMG said was "an absence of meaningful oversight by the town councillors over FMSS' running of the town council's management function". 
This, in turn, "exposed public funds to the risk of improper use and application", the report charges.
RETAINING CPG WOULD HAVE SAVED TOWN COUNCIL ABOUT S$1.2M: KPMG
After it won Aljunied GRC in the 2011 General Election, WP assumed management of ATC, whose managing agent then was CPG.
ATC later merged with Hougang Town Council to become AHTC.
It is the claim of the defendants that CPG wanted to be released from the managing agent contract as "it would be bad for CPG's business to be serving PAP town councils as well as a town council run by the opposition party".
However, the plaintiffs charge that WP MPs Sylvia Lim and Low Thia Khiang "decided that CPG would be released from its contractual obligations", despite having two more years on its contract, "so as to make way for FMSS".
In its report, KPMG had estimated "conservatively" that AHTC paid S$1.2 million more than it would have, if it had held CPG to its contract. 
In his cross-examination of KPMG's Mr Hawkes, Mr Rajah questioned "the assumption that CPG was prepared to take on the Hougang division at the same rates that it was operating (at) for the other units in Aljunied town".
In addition, he said: "If CPG did not wish to take on Hougang division, then you can't force CPG to accept it, correct?"
Mr Hawkes replied that CPG was under a contract that AHTC could have held them to.
Mr Rajah's response: "We don't accept that CPG would have been willing to take over this contract."
The trial goes into its fourth day on Wednesday, with Mr Rajah expected to wrap up his cross-examination of Mr Hawkes.