Hard for opposition town councils to find managing agents, AHTC's previous vendor an 'unwilling horse': Defence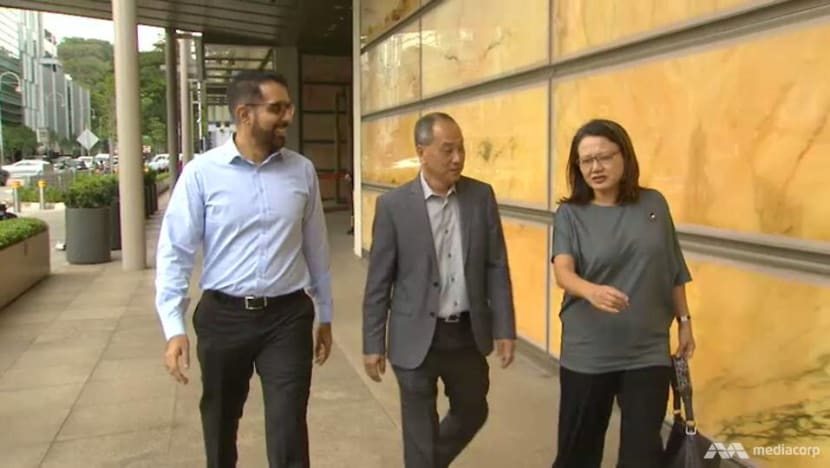 SINGAPORE: Opposition town councils face difficulties finding managing agents that are willing to do the job, which is why the Workers' Party (WP) turned to FM Solutions and Services (FMSS) to manage Aljunied-Hougang Town Council, said the defence on Monday (Oct 8).
FMSS was a new managing agent with employees that had experience serving Hougang Town Council (HTC). 
The landmark civil lawsuit alleges that "improper payments" were made to FMSS, and that three WP MPs – Low Thia Khiang, Sylvia Lim and Pritam Singh - breached their fiduciary duties in appointing FMSS as the town council's managing agent.
"Opposition town councils can't find managing agents prepared to run their town councils," alleged Senior Counsel Chelva Retnam Rajah, noting that HDB township management is a "very niche" and "relatively closed" market.
He pointed out that all PAP town councils - with the exception of Bishan-Toa Payoh which is directly managed - are managed by one of three companies, namely EM Services, CPG Facilities Management and Cushman & Wakefield. 
In cross-examining the first witness, Mr Rajah asked auditor KPMG's executive director Owen Hawkes if he knew about the circumstances surrounding the "withdrawal" of CPG Facilities Management, the previous managing agent of the former Aljunied Town Council (ATC).
WP assumed management of ATC after it won Aljunied GRC in the 2011 General Election. It later merged with HTC to become AHTC.
Mr Rajah went into some detail about Mr Low's previous experience running HTC when he was first elected as a Member of Parliament for Hougang SMC in 1991. He explained that some of Mr Low's past experiences had a "strong bearing" on how the town council approached the formation of its new administration which would run the WP's Aljunied Town Council.
"Based on his past experience with HTC, Mr Low believed and was proven right when none of (the managing agents) placed a bid in the open tender called for the second contract," said Mr Rajah.
"As managing agents of People's Action Party (PAP) town councils, it was disadvantageous for them to work for opposition town councils," he added.
When asked if he agreed with this, Mr Hawkes answered that he was not in a position to say what the managing agents felt.
When it came to taking over ATC, Mr Low "expected and was again proven right that CPG would not be willing to serve WP", Mr Rajah alleged.
"CPG was and still is managing Ang Mo Kio Town Council, the prime minister's ward."
CPG FACILITIES MANAGEMENT AN "UNWILLING HORSE": DEFENCE
Mr Rajah said that less than a month after Mr Low took over HTC in 1991, he received a notice from a division in the Housing and Development Board (HDB), saying that they were going to stop providing managing agent services to his constituency.
HTC, he added, would also have to leave the premises it occupied within three to four months of notice, and Mr Low's request for an extension of time was rejected. The newly elected opposition MPs from Bukit Gombak and Nee Soon Central also faced similar challenges when they took over, said Mr Rajah.
"So he knew the challenges would be huge if the WP was elected in Aljunied GRC," he said.
"And all his fears and concerns did in fact come to pass, didn't it?" he asked, referring in particular to CPG's "withdrawal" as AHTC's managing agent, and the removal of AHTC's access to the town council management computer system (TCMS). 
"Would you agree with that?" he asked Mr Hawkes.  
"I agree that the TCMS was removed … but I don't entirely agree with CPG, because they remained contractually obligated to Aljunied," Mr Hawkes responded.
"And you know what they say about an unwilling horse?" Mr Rajah said. "Don't ride it."
To that, Mr Hawkes said that there is a difference between corporate entities such as CPG and a horse. "A horse is a personal service. It may buck you and throw you. CPG is a corporate entity that has legal obligations."
He added that CPG was contractually obliged to provide managing agent services to the town council, and they could have been made to do so. Hence, it was the town council which gave up the right to receive these services, he said.
MAIN CRITICISM IS OF THE CLASSIFICATIONS OF THE PAYMENTS: KPMG
Mr Rajah referred to KPMG's October 2016 report on alleged improper payments made by AHTC to FMSS, its service provider FM Solutions & Integrated Services (FMSI) and third parties.
He began first with detectable improper payments to FMSS and FMSI, as listed in KPMG's report. 
According to the report, these payments amounted to S$1.5 million, with the total determinable amount that ought to be recovered being about S$624,000.
Of these, the bulk of the "improper" payments were "wrongly classified" as project management fees.
The issue KPMG had with the payments was that the classification of the fees was improper. For instance, instead of classifying the fees as basic services fees, AHTC classified them as project management fees, Mr Hawkes explained.
The projects that were categorised under project management fees but should have been classified under basic services fees, according to KPMG, include reroofing works, repairs and redecoration of HDB blocks and proposed painting and redecoration works.
Mr Rajah argued that both predecessors of AHTC and FMSS - ATC and their managing agent CPG respectively - had considered these services project management services instead of basic services.
In response, Mr Hawkes said that "it won't be the first case where I reviewed it where everyone was … (labelling it otherwise)".
"We were appointed as independent accountants. The point of being an independent accountant is that we don't simply accept what we are told (by AHTC or FMSS)," said Mr Hawkes. "I don't think we can simply accept that just because AHTC and FMSS say it is so, that we shouldn't get an independent opinion."
The trial, which is into its second day, resumes on Tuesday.