An 'egregious, cavalier misuse of public funds': Town council lawyers rip into Workers' Party leaders
Solicitors for the Aljunied-Hougang and Pasir Ris-Punggol town councils describe key opposition members as showing "a complete and reckless disregard of their duty to protect the residents' and public's monies".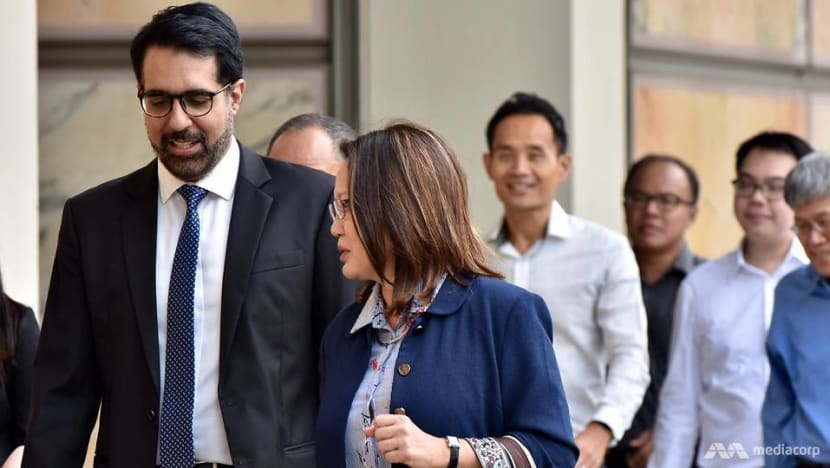 SINGAPORE: Leaders of the opposition Workers' Party (WP) on Friday (Oct 5) were accused of an "egregious and cavalier misuse of public funds" and "a complete and reckless disregard" of duty to protect residents' monies, as the hearing for two multimillion-dollar town council lawsuits against them kicked off.
In the first case of its kind, the WP-run Aljunied-Hougang Town Council (AHTC) - here led by an independent panel - and Pasir Ris-Punggol Town Council (PRPTC) - operated by the ruling People's Action Party (PAP) - are suing WP Members of Parliament Sylvia Lim, Low Thia Khiang and Pritam Singh over an alleged breach of fiduciary duties.
There are five other defendants: AHTC councillors Chua Zhi Hon, Kenneth Foo and How Weng Fan; the town council's former managing agent FM Solutions and Services (FMSS); and its owner Danny Loh who died in 2015 and will be represented by his wife, the aforementioned Ms How.
AHTC wants them to account for over S$33.7 million paid to FMSS and its service provider, as well as any improper payments. Ms Lim and Mr Singh have also been asked to pay S$2.8 million in damages for the allegedly wrongful appointment of the same architects for seven out of 10 construction projects.
PRPTC, meanwhile, is claiming equitable compensation - with quantums yet to be determined - for Punggol East constituency. The single seat was formerly held by WP from 2013 to 2015, as part of the Aljunied-Hougang-Punggol East Town Council (AHPETC).
"The system of checks and balances in the town council was so lacking and flawed that it allowed conflicted persons to enrich themselves almost at will," said PRPTC lawyer Davinder Singh of Drew & Napier in his opening statement.
"There is no honourable acknowledgement of wrongdoing. Instead of using the occasion of this inquiry to show remorse for what they did with public monies, they have come ready to use the witness stand as a soapbox to score political points.
"They and FMSS must account to the real victims, that is, the residents who have been made to bear the consequences of their town councillors' misdeeds."
"REPREHENSIBLE ENTERPRISE"
Earlier, David Chan of Shook Lin & Bok, which is representing AHTC, recalled how FMSS was set up by husband-and-wife duo Mr Loh and Ms How in 2011 to take over from CPG Facilities Management as the town council's managing agent.
CPG had been contracted for about two more years, and Mr Davinder Singh later pointed out that "there is nothing in any contemporaneous document to show that CPG would have disputed or challenged" its obligations, until expiry or until AHTC called a tender to appoint a new agent.
But instead an "unjustified and unwarranted" waiver of tender was decided upon, with Ms Lim and Mr Low "the key individuals behind this decision", said Mr Chan in his opening statement.
"The 'urgency' which was used to justify the waiver of tenders was entirely self-created," added Mr Singh, referencing statements by Ms Lim in Parliament. "That reprehensible enterprise was undertaken to achieve collateral and improper purposes.
"Why were residents, and Parliament, and the public, misled?" he asked in the Supreme Court chambers.

Mr Chan echoed these remarks, noting that Ms Lim and Mr Low had "pre-judged the issue and simply wanted to appoint Loh and How, their loyal supporters".
Mr Loh was appointed as AHTC secretary and Ms How deputy secretary and general manager "even though they held shareholding interests" in FMSS, which was paid to manage and oversee the town council's day-to-day operations, said Mr Chan.
He added that their ownership of FMSS was not disclosed to other town councillors prior to their appointment as managing agent.
"A company that had no track record in managing town councils of this size, a company which apart from its directors and a few management staff had no (other) staff at all, was given this contract - on the quiet," said Mr Singh.
"Worse, they got carte blanche to engage new staff as necessary, for the preparation of taking over the town council, and were able to claim such costs on full reimbursement basis. So: 'A blank cheque to hire whoever you want, however many you want, and we will pay'."
AN "OPAQUE" SYSTEM LACKING OBJECTIVE PROCESSES
More "mismanagement" of AHTC financials was to follow, in a manner "so flawed and so deficient that it allowed conflicted persons to approve payments to themselves", Mr Chan noted.
The circumstances were such that FMSS would raise invoices and the likes of Mr Loh and Ms How would certify that work had been done for those same invoices, he described.
"The opaque nature of the system was further exacerbated by the fact that the town councillors did not implement any protocols, doctrines or processes to independently and objectively assess the service of FMSS," Mr Chan stated.
He also commented that Ms Lim, AHTC chairman then, was unable to scrutinise payments as she would only enter at the final step - to sign off on sets of documents already "checked" or "certified" by the conflicted persons.
Mr Chan then recapped a report by auditor KPMG, which listed overpayments to FMSS - beginning with how the additional cost compared to retaining CPG was nearly S$516,000.
After FMSS' appointment as managing agent, S$23.3 million of payments made by AHTC were approved by conflicted persons, and S$10.4 million approved by other FMSS employees - totalling S$33.7 million.
There is "however a real and reasonable prospect that there are further instances of improper payments … of which detection by an independent review is not readily achievable", said KPMG in its report.
The auditor also observed: "FMSS' overall proposed fee, when compared to the town council's operating expenses, was at the high end of the range when a similar analysis is performed for other town councils."
For instance, if AHTC had persisted with CPG, adjusted for inflation, it could have saved S$746,000 between 2012 and 2015.
Ms Lim and Mr Low "had deliberately embarked on a course of action to arrange for FMSS to take over the profit-centric role" of being managing agent, said Mr Chan.
"THE DEPTH OF DENIAL"
The Shook Lin & Bok partner stated: "The system is so pervaded by conflicts of interest and so irrational that no sensible town councillor with full knowledge of the facts could have approved this lawfully."
Ms Lim and Mr Low "cannot be said to have an honest belief that they acted reasonably or in good faith", declared Mr Chan. "They had expressly disregarded the issues of conflict and pressed ahead with the de facto appointment of FMSS and waiver of tender.
"(They) did not act in good faith with the best interests of AHTC's residents at heart – their motivation was to advance or prefer the interests of long-time supporters of the Workers' Party and/or the political interests of the Workers' Party."
He also slammed Mr Loh and Ms How for "failing to make full and frank disclosure of the conflicts created by their shareholding in FMSS".
"To excuse Loh and How would be to allow them to retain through FMSS any potential gains made from improper payments; and sanction their complicity in a system which put public funds at risk by its very nature."
Said Mr Singh: "There is simply no room for doubt that town councillors and officers of town councils receive and are custodians of residents' and public monies. Those monies are given to town councillors and officers not to benefit friends and supporters but to carefully and prudently spend for the benefit of the residents and the estate.
"Values of homes are dependent on how town councillors and officers behave. Misconduct therefore does not just affect the pockets of the residents and drains public funds, it can cause property values to diminish. For many, their homes are their most valuable assets. Town councillors and officers are therefore duty bound to protect their value."
He blasted the defendants for possessing "an agenda that subordinated the interests of the residents to highly improper purposes".
Mr Chan said Ms Lim and Mr Low's defence that "sufficient oversight and scrutiny was exercised over FMSS' work … speaks to the depth of denial that the town councillors demonstrate in these proceedings".
Mr Singh agreed. "Knowing that they have breached their duties, they have resorted to denying those duties," he said. "The litany of excuses simply will not do. These are public monies. The defendants had a duty to safeguard them.
"Unfortunately, they failed miserably."
Lawyers for the defendants delivered their opening statements after the plaintiffs', saying that the WP MPs and AHTC town councillors "acted in good faith and in the best interests of the residents".
Mr Low, Mr Pritam Singh, Ms Lim, Mr Chua and Mr Foo are represented by Tan Rajah & Cheah's lead lawyer Chelva Retnam Rajah, while Leslie Netto of Netto & Magin will speak for Ms How and FMSS.