Worker dies after falling four storeys at Bedok condominium while painting building facade
This is the first workplace fatality reported in 2023.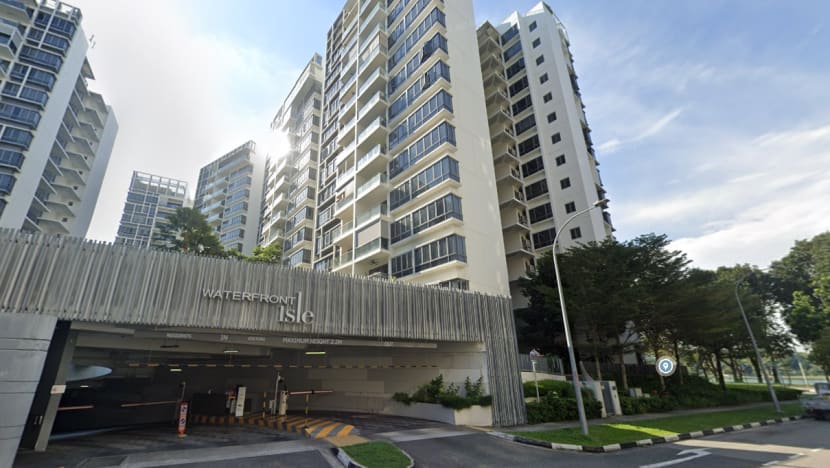 SINGAPORE: A 37-year-old worker died on Thursday (Jan 12) after falling four storeys while painting the facade of a condominium block in Bedok. He was wearing a body harness but it was not anchored.
The incident happened at around 3.50pm at 738 Bedok Reservoir Road, the Ministry of Manpower (MOM) said on Saturday. That is the address of Waterfront Isle condominium.
The worker who died, a Myanmar national, was painting an apartment block with a co-worker using a gondola, said the ministry.
"However, both workers had climbed out of the gondola to paint parts of the wall that were out of reach," it added.
"The deceased was standing on a concrete ledge when he fell from the fourth level to the ground."
The worker was pronounced dead at the scene by a paramedic.
This is the first workplace fatality reported in 2023.
According to a Workplace Safety and Health (WSH) alert on Jan 19, the worker stepped out of the gondola at the third level and climbed over the parapet wall to use the stairs to reach the fourth level. He then climbed onto the open ledge on the fourth level.
"While working on the ledge, he fell and landed in the basement," said the WSH council.
"The worker was wearing a body harness but it was not anchored."
The council called on all companies involved in facade painting or cleaning works to undertake an "urgent assessment" of their safety measures to prevent falls from height.
MOM said it is investigating the incident and has instructed the occupier and employer, ISOTeam C&P, to stop using the gondola and all work-at-height activities on the premises.
The ministry added that ISOTeam C&P will also be barred from employing new foreign workers for three months due to its poor risk controls. Its managing director will be required to personally account to MOM and take responsibility for rectifications.
"MOM will not hesitate to prosecute those responsible if wrongdoing is found," said the ministry.
"Under the law, no person should enter or leave the gondola unless it is at rest on the ground or at any level which allows safe access," it added.
"Workers should also be given appropriate safety equipment to prevent falls when working at height."
Who is responsible for safety at the workplace?