Worker dies after being crushed between pillar and moving bus in Kranji; 32nd workplace fatality in 2022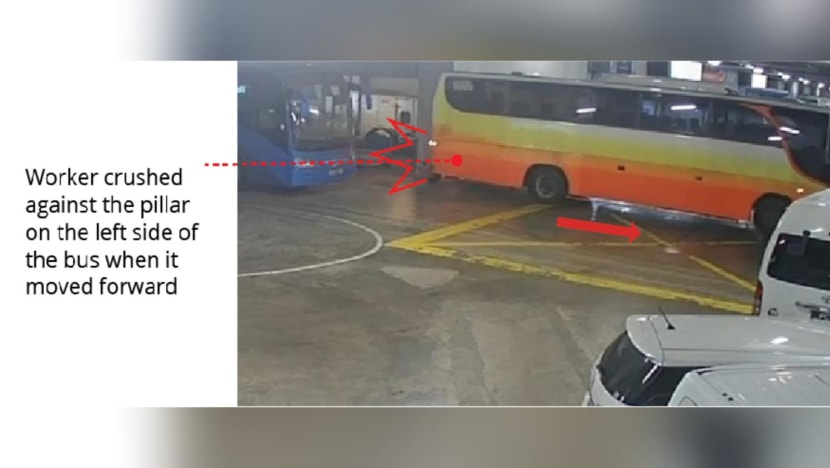 SINGAPORE: A 43-year-old worker died on Aug 3 after he was crushed between a pillar and a moving bus in Kranji, the 32nd workplace fatality reported in 2022 to date.
In an alert posted by the Workplace Safety and Health (WSH) Council on Wednesday (Aug 10), the incident happened on Aug 3, when a worker was guiding a bus to reverse into position while he was standing next to a pillar. 
"After reversing, the driver moved the bus forward to reposition it but crushed the worker against the pillar," said the WSH Council.
Responding to CNA's queries, the Ministry of Manpower (MOM) said in a statement that the accident happened at 60 Jalan Lam Huat at about 11am on Aug 3. The address is where automobile mega hub Carros Centre is located. 
According to the Manpower Ministry, the deceased was a 43-year-old Chinese national who was employed as a driver. He had been guiding the bus into position at a bus interchange that was occupied by Comfortdelgro Bus. 
The worker was taken to Khoo Teck Puat Hospital where he succumbed to his injuries, said MOM. 
The ministry added that it is investigating the accident and has instructed the employer, Singapore Towing Equipments, to stop all towing of vehicles from non-public roads and building premises. 
"As a general safety measure, when guiding the movement of vehicles in tight spaces, employers and supervisors should carry out safety assessments and communicate safety pointers clearly to the workers performing the task," said MOM. 
They should also put in place a traffic management plan with "clearly demarcated" parking areas and management of blind spots using convex mirrors, road humps and signs. 
Earlier this month, Member of Parliament Melvin Yong (PAP-Radin Mas) highlighted the alarming increase in workplace fatalities and injuries post-pandemic. 
Speaking in Parliament during an adjournment motion he tabled, Mr Yong said that while workplace safety improved in the years before the COVID-19 outbreak, there has been a spike of deaths, accidents and injuries as "companies rushed to clear the backlog of work caused by the pandemic".
Having minimum rest hours for workers in high-risk industries and making it easier to report safety lapses were among the suggestions made in Parliament to improve workplace safety. 
Mr Yong, who is also assistant secretary-general of the National Trades Union Congress (NTUC), acknowledged that MOM has moved to address the issue, but asked for more to be done.