SINGAPORE: The Housing and Development Board (HDB) on Thursday (Oct 21) revealed key features of the upcoming Yew Tee Integrated Development, the next "vertical kampung" after Kampung Admiralty.
Located beside Yew Tee Point shopping mall, it will integrate housing for seniors with facilities such as a polyclinic, kidney dialysis centre, community club and retail shops, as well as the first hawker centre in Choa Chu Kang town.
The project will occupy about 0.7 hectares and comprise a 10-storey residential block linked to a six-storey commercial block. The two blocks will be linked with low-rise open-air landscaped decks with green spaces in a "valley-like set-up", said HDB.
Announcing the details at an HDB forum, the board's chief executive officer Tan Meng Dui said: "The Yew Tee integrated development marks another milestone in the future of HDB living, where our future residents will be able to live well, live green, live connected, all at the same time, in one location."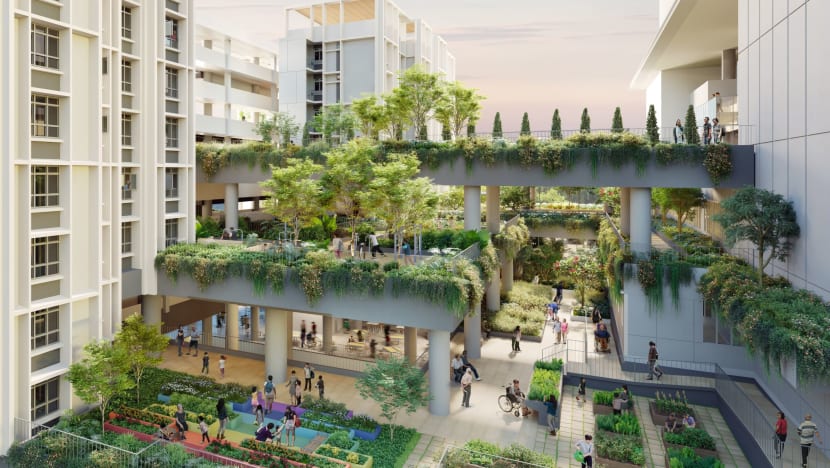 68 TWO-ROOM FLEXI FLATS
The housing block will have 68 two-room flexi flats of 36 sqm and 46 sqm with elderly-friendly fittings. The 46sqm flat layout incorporates a flexible space which can be used as a dining or study area or for an extra bed.
They will be launched for sale in the next Build-to-Order sales exercise in November, and are expected to be completed in the first quarter of 2027.
The common corridors selected floors (levels 3, 5, 6, 8, and 10) of the residential block will extend into landscaped gardens, interconnected by open staircases.
"Besides bringing greenery to residents' doorsteps, these terraced green spaces also encourage residents to take an invigorating jaunt to visit their neighbours within the block," said HDB.
FACILITIES UNDER ONE ROOF
The Yew Tee Polyclinic, located on levels 1 to 4 of the commercial block, will play a "crucial role in shifting healthcare beyond hospitals to the community", HDB said.
To be operated by National University Polyclinics, it will provide services such as treatment for acute conditions, chronic disease management, women's and children's health services and psychological services.
The dialysis centre on level 4 will also provide subsidised haemodialysis services.
The development will also include Choa Chu Kang town's first hawker centre, located on the second storey, and about six shops providing retail options and commercial services.
A community club will be located on the fifth storey of the commercial block, containing classrooms, multi-purpose rooms, dance studios and an outdoor area.
HDB added that the planning and design of the new development gleaned learning points from Kampung Admiralty, which was opened in 2018.
For instance, the project will include a "generous provision" of shared community spaces, alongside sustainable features that lower energy consumption, thermal load and carbon footprint.
A focal point will also be a spacious community plaza to bring people together for various events and activities.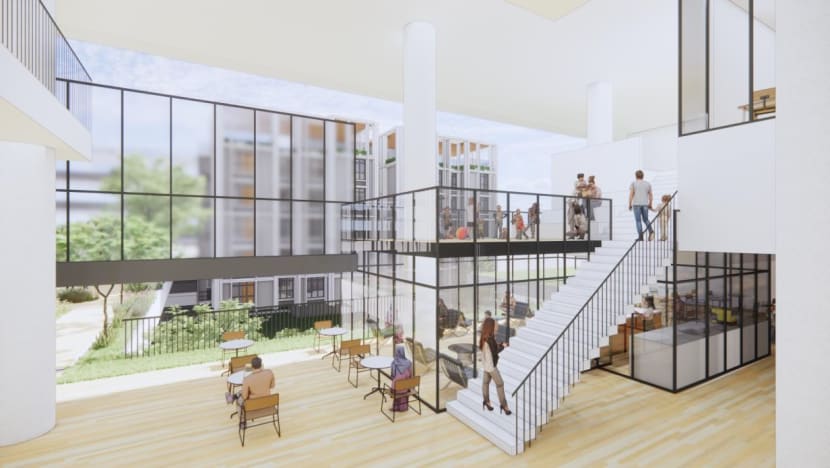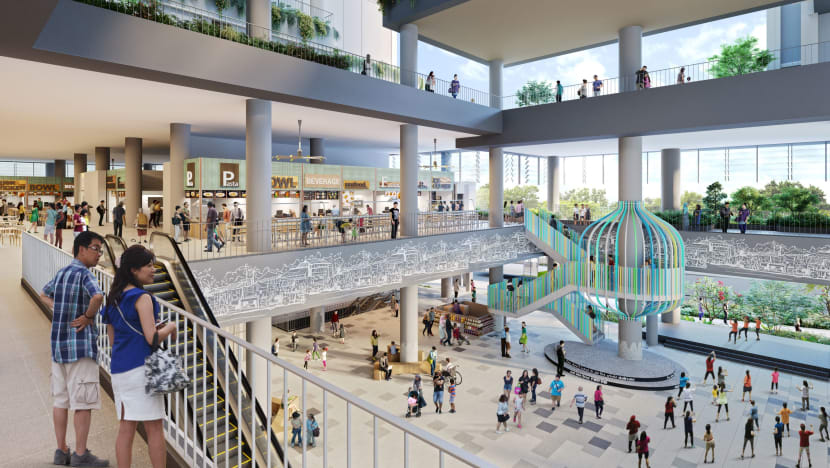 GREEN COVERAGE
The Yew Tee Integrated Development will be designed with multiple layers of landscaped decks and skyrise greenery, in addition to other green features.
"When completed, the development will have a green coverage of more than 100 per cent, meaning that the total amount of greenery on site will cover a larger area than the site area itself," HDB said.
"Verdant greenery will offer residents ample green views and provide visual relief from the surroundings."
Numerous gardens will be woven into the development, including a community garden for residents to grow their own edible plants and fruit trees.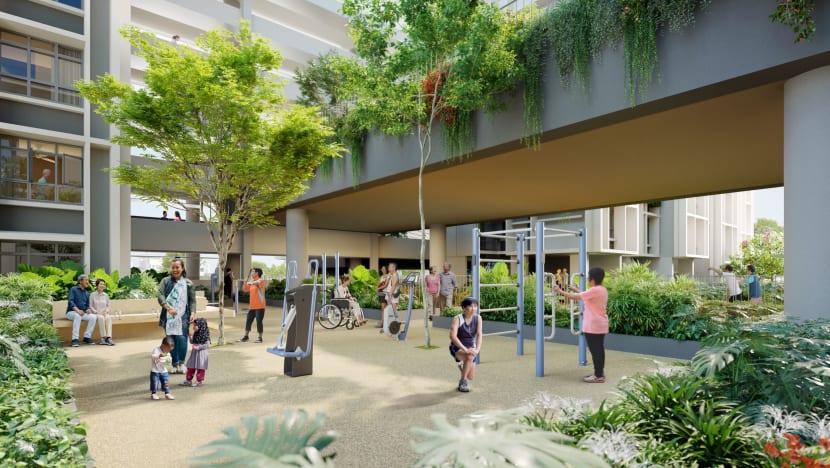 "A specially curated planting palette consisting of kampung plants such as dwarf mango, ornamental banana, and nutmeg as an ode to the history of Yew Tee as a farming village," said HDB.
"The interlace of gardens/landscaped decks in the heart of the complex, connected by open stairways, will offer residents a good view of the activities going on in the communal spaces.
"This will hopefully inspire more residents to join their neighbours in exercising, gardening, or simply keep active and engaged while enjoying all the benefits that nature has to offer."
Construction of the Yew Tee integrated development is expected to start in the third quarter of 2022 and be completed in the first quarter of 2027.