Delays, illness and a 10-day trek: A 6-year-old's journey as the youngest Singaporean to reach Everest Base Camp
"We flew the Singapore flag!" says Om Madan Garg after reaching Nepal's Everest Base Camp with his parents in October.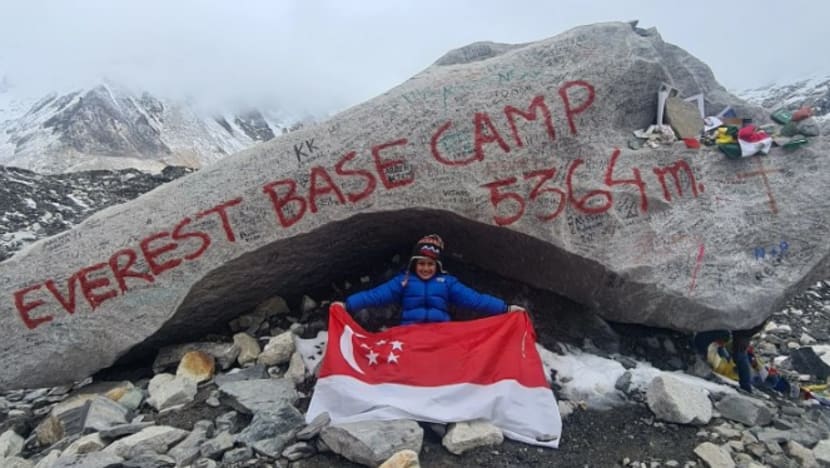 SINGAPORE: At just six years old, Om Madan Garg is celebrating an achievement most Singaporeans could only dream of. 
The boy is the youngest Singaporean to have made the trek to Everest Base Camp, at an altitude of 5,364m.
Om made the 10-day journey with his parents in October, reaching the south base camp in Nepal after a trek of 65km - all despite a stormy delay at the start and a brief health scare. 
And the first thing he did when he got there?
"I threw my hat in the sky and caught it and we climbed on the top of Mount Everest Base Camp rock and we took a photo," he told CNA during an interview at his home.
"We flew the Singapore flag!"
After returning to Singapore later that month, the pre-school student was awarded a certificate from the Singapore Book of Records in front of his friends at Canossaville Preschool. 
His schoolmates asked if he had seen penguins and minions, while his teacher asked if he saw stars. In response, Om exclaimed: "We will not bother to go outside or else we would freeze to death!" 
Interjecting with a laugh, Om's mother, 39-year-old physiotherapist Gayatri Mahendram, said: "That's not the right way to say, I would say that we didn't really go outside because it was so so cold. The minute we would come and reach our lodge we'd all hide out in the little tea rooms and that's where they have heaters." 
CHALLENGES ON THE JOURNEY
Cold temperatures were not the only thing the family of three had to contend with. The altitude, weather and difficult terrain presented challenges to each family member, even with a guide and porters accompanying them.   
The family's troubles began even before the hike. Their journey was delayed by three days when they were unable to fly from Kathmandu Airport to Lukla to begin their trek. 
Their original flight, set for Sep 25, was axed due to stormy weather. They then decided to switch to a helicopter, but everyone else had the same idea and choppers were in short supply. 
They spent 10 hours the next day waiting at the airport to no avail. After nine hours of waiting on Sep 27, the "magic happened" and a helicopter became available, said Om's father, 38-year-old business analyst Mayur Garg.
"My plan was to do only 5km to a village before and similarly every day small, small distances, but since we lost those three days what we actually did was, the first day we did 12km. 
"Instead of stopping at a normal place where people stopped, we went even ahead of that to the next village. Just because of the reason, we have limited days, we have a flight to catch back home," he recalled. 
But the next problem came soon after - Om began vomiting and had diarrhoea on the second day of the hike.  
His mother said: "So then we're all like, oh my gosh, what's going on? We went to the local doctor, got some medication, rested a lot, just stayed hydrated and the next morning ... he started to feel better already." 
Not only did Om bounce back, but the bubbly boy also breezed through the longer treks, making up for the lost time. 
"My favourite part was about seeing the mountains, yaks crossing all the bridges and seeing all the mountain goats, seeing baby yaks," he told CNA.
He also recalled making friends during the journey, including with a group of Singaporeans.
"While we were walking, we found this whole Singaporean group and then I made friends with them and then they gave me a Singaporean T-shirt," he said excitedly.
"And people come to me and said great job, keep on going, keep on going you can do it!" 
NEARING THE BASE CAMP
Whenever they came to a tea house, the family would massage each other's legs to alleviate tension and soreness. 
As they neared the base camp, the high altitude began to take its toll, with each family member taking turns feeling unwell. Om and his father had trouble sleeping, while Ms Gayatri suffered bouts of breathlessness. 
It struck her one night after returning to her bed from outdoors.
"I'd forgotten that I was at such a high altitude and I was moving quite quickly. So that's something that ... can hit you anytime. So I had to remind myself after ... move slowly, go calmly," she recalled.
"Even with Om, I'm reminding him multiple times don't run. I know you're excitable and you want to like go quickly and get stuff so constantly reminding ourselves and him to move cautiously." 
By Oct 7, the family reached the base camp and Mr Mayur, an avid mountaineer, could breathe a sigh of relief. 
"For me, I have been through these things, so it was okay you know, hard things are okay, I've been through them. But for them, it's not. So I was very stressed, whether they are able to take it or not, we get so tired after walking for like seven hours in a day, right?
"I get very stressed whether they are coping, they can continue, because I know how much (more) still to go."
The family was prepared to abort the journey and fly back if things went south. 
"But overall we kept going and it worked out fine," Mr Mayur said. 
PREPARING A SIX-YEAR-OLD
The family's home in the Hougang area is decorated with souvenirs from their many travels.
When he was two-and-a-half months old, Om had already gone travelling overseas - strapped in a carrier on his father's back.  
The family's first holiday was in Vietnam and Om has since visited Taiwan, India, Sri Lanka, Malaysia, Thailand, Cambodia and Laos. 
"Lately wherever we go, anywhere, we do this off-the-beaten-track (vacations) ... like visit ethnic tribes, eat local food," said Mr Mayur, who documents the family's adventures on YouTube channel The Brave Tourist. 
Even in Singapore, the family often hikes at Fort Canning, Bukit Timah Hill and MacRitchie. Eventually, Om outgrew the baby carrier and began doing short treks with his parents. 
The decision to visit Everest Base Camp was mooted by Mr Mayur, who had himself visited the site in November last year.
"He thought 'Oh my god, this is beautiful and we could possibly do this'. He kind of analysed it in that sense, like it's something that we could do together as a family to go," said Ms Gayatri. 
"So it was about six months before our climb, we started training, we started being a little bit more serious about it."
As it was hard to confine a child to a routine, Om's parents found alternative ways to get him to exercise, by taking him swimming, walking and to different playgrounds where he would play tag with other children. 
"Sometimes we'd just wake up one day and go, come on, let's go for a walk and we're just randomly walking so we could start from here and end up in Sports Hub," Ms Gayatri. 
"So just a lot of walking and insidious exercise if you like. We do love running, cycling, insidious exercise without any kind of structure because we had to keep him motivated in that sense. So that's that's how we trained him, basically." 
To prepare Om mentally, his parents would show him YouTube videos or even his father's own video of the base camp. 
Mr Mayur said: "I go to so many places. So he's aware of that, he knows what Everest is, how many base camps they have, how people fly in ... (we asked) do you want to go because many kids have also done? Do you want to do that?
"He said yes to everything."
With Everest Base Camp under his belt, Om is still raring to go. The family is flying to Vietnam next Friday for another romp in nature.  
And it is clear Om loves his travels. Asked if he missed anything about Singapore while on vacation, the boy firmly said "no".  
"I just forget about Singapore. Wherever I go, I just want to stay there forever!"