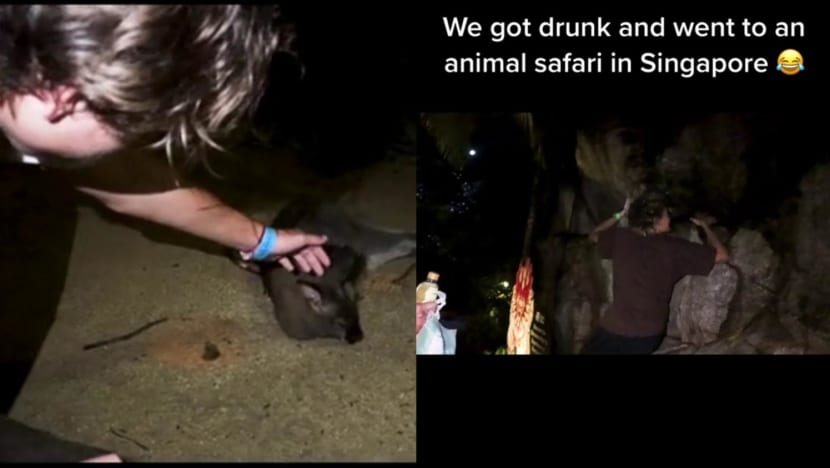 SINGAPORE: A police report has been lodged after four youths were seen in a TikTok video purportedly entering Night Safari and its animal enclosures after operating hours. 
The video has made its rounds since it was posted in late October.
Mandai Wildlife Group, which manages Night Safari, said it made a police report in December. 
"Mandai Wildlife Group has been following the incident since the video was first published and reviewed the matter internally before lodging the police report in December," it said in response to CNA's queries on Tuesday (Jan 3).
"Acts of trespassing and the intent to disrespect or endanger the animals in our care are viewed seriously and we will not hesitate to take action."
The police said they are looking into the matter.
The TikTok video shows four youths buying alcohol before heading to Night Safari. It was captioned "We got drunk and went to an animal safari in Singapore."
Another caption read: "2am. Jonny jumps off tram." 
The Night Safari is open daily from 6.30pm to midnight. 
One of the youths was seen in the video stroking an animal. Another boy in the group was filmed attempting to climb a rock feature in the park. 
"The welfare of our animals featured was our first priority when this video began circulating, and they are all well," said Mandai Wildlife Group.
"At the close of operations, we sweep our parks to clear all guests from our premises. We will also verify that our animals retire for the night to secure off-exhibit rest areas while the lights in our parks are switched off after operating hours."
Mandai Wildlife Group expressed concern about potential copycats, adding that the video could lead to irresponsible behaviour.
"We thank the many TikTokers out there who have called on the sensibilities of the social community and discouraged copycat acts which can put lives in danger," it said.