Singapore's Loh Kean Yew not getting carried away with Hylo Open win, says he still has more to prove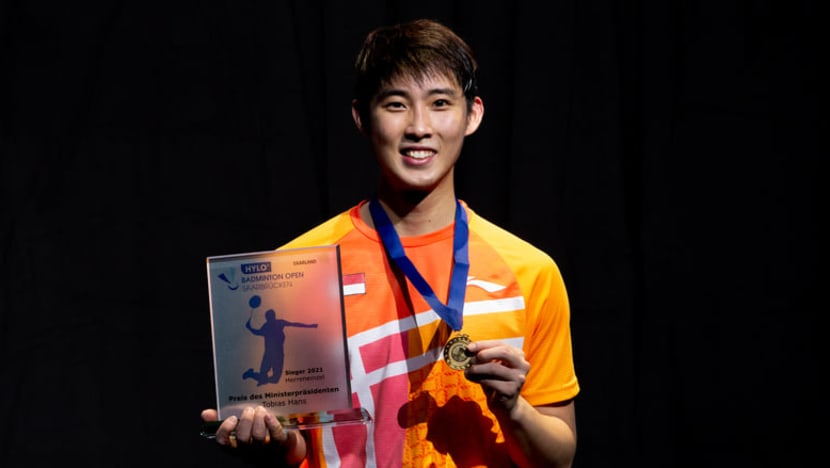 SINGAPORE: His knuckle is bleeding, his knees are bruised and he is down a game against a higher-ranked opponent.
But these are the moments that Singapore badminton player Loh Kean Yew lives for. The 24-year-old loves to be the underdog. In fact, he absolutely relishes it. 
To be precise, the word is "shiok" (pleasing), he told CNA.
"Playing higher-ranked opponents is more shiok. It's always good to upset (others)," said Loh, following his first career BWF World Tour Super 500 title at the Hylo Open on Sunday (Nov 7). 
"Being the underdog is always better because there are no expectations."
No expectations, no fear, no holds barred badminton. This is where he thrives. 
"The pressure is on them, not me," he explained simply.
And throughout the US$320,000 (S$431,000) tournament in Saarbrucken, Germany, Loh – then ranked 39th in the world – claimed scalp after scalp with smash after smash.
First, he shocked world number 4 Chou Tien-chen, and then beat world number 35 Toma Junior Popov. In the quarter-finals, Loh edged past Dane Rasmus Gemke in three games. 
A familiar face awaited him in the semi-finals in the form of India's Lakshya Sen. Loh beat the world number 21, exacting some revenge for a French Open elimination the week before in the hands of Sen.
Awaiting him in the finals was world number 8 Lee Zii Jia. Loh had recently beat Lee, the All-England champion, in straight games in the opening round of the French Open last month. 
A big name opponent.
Shiok.
A BOWLER TRYING TO HIT A STRIKE 
Down 19-21 in the first game against Lee, Loh was up against it.
"The first game is always a crucial one, and losing the first game definitely affected me a bit. But at that time, I didn't really think about anything else. I can't remember much but I knew that I wanted to keep going," he said.
He pulled off a number of brilliant defensive returns to thwart his Malaysian opponent, and more significantly, turned them into rapid replies of his own.
Take for instance, his backhand smash when down 11-12 – a shot so precise it left Lee sprawled on the court and the commentators raving.
This ability to absorb pressure was finessed through sweat-drenched sessions in Dubai with Olympic champion Viktor Axelsen in September, said Loh.
"When you play with Axelsen, you'll need to work on your defence. His attacks are so strong that if you want to play with him, you've got to take his attacks."
Lee eventually retired in the third game, with Loh leading 17-12.
"Whether I won this title or not, the thing I am happy about is being able to overcome what I couldn't do last week," said Loh.
"Last week was a lesson (elimination from French Open) and this week it was a must that I learnt from it.
"(At the French Open), I upset Zii Jia (in the opening round) and then I lost the next game. That's what I didn't want. This time, after I upset Chou Tien-chen, I continued to perform throughout the tournament. This is what I want."
Loh was not the only one who made the finals of the Hylo Open, with compatriot Yeo Jia Min finishing runner-up in the women's singles event.
This was the first BWF World Tour Super 500 finals that both Singaporeans have qualified for.
Describing it as a "breakthrough", Loh said he hoped it would grow more interest in the sport locally and show Singaporeans that playing badminton for a living is not an impossible dream.
Loh said: "It's not just about the prize money and all. It's also the honour of representing Singapore."
As of the latest rankings on Tuesday, Loh jumped eight spots to 31st in the world. He will next compete in the Indonesia Masters and Indonesia Open later this month.
He is not getting carried away after the win in Germany.
"This is only one tournament, it is important to do this every tournament," Loh said.
He was keen to point out that the likes of Viktor Axelsen and Kento Momota did not participate in the Hylo Open.
"A win is a win but not all the big names are here, only a few," he said. "(At) this tournament, the big names didn't come so I didn't prove myself enough ... It's not a tournament where everybody is there and you win it, like for example, the Olympics."
The Hylo Open win is a reminder that the Singaporean, who won the Dutch Open last month, can mix it with the best. 
And as he tries to climb up the rankings, Loh faces an arguably bigger challenge – being consistent.
"To be consistent means to perform at every match to a certain level," he said.
"It's like a bowler trying to hit a strike every time – they have trained so many years to do so. It's only at that point of time how they think and all that affects their play ... It is mostly mental."
Should he continue on this trajectory, there is a possibility that Loh might one day become the one to beat.
But for now, the Singaporean is still the underdog. And he doesn't mind one bit.