Singapore footballer joins Borussia Dortmund women's team, puts studies on hold to pursue career
Danelle Tan, 18, says she had to move overseas to pursue her footballing dreams - and reach her fullest potential in her prime years.
SINGAPORE: Singapore's first female footballer to play in Europe has now joined one of the biggest names in the global game.
At 18 years old, Danelle Tan is set to sign for German team Borussia Dortmund, after playing for the London Bees in England for about three months.
Her move to the Borussia Dortmund women's team, Borussia Dortmund Frauen, takes her another step closer to her dream of becoming a professional footballer.
She will join the club for its pre-season fixtures from July.
AMONG SOUTHEAST ASIA'S BEST
Danelle is the German side's first female signing from Asia.
Having been formed just two years ago, the club currently sits in the fifth tier of German football, after securing back-to-back championships.
Danelle wants to be the main striker of a team that eventually breaks into the top tier, helping her secure a full-fledged professional contract.
"I think I can really grow and thrive as a player. The professionalism at the club is something that is really attractive to me, and so it's definitely somewhere that I want to be in the long term," she said. 
"Hopefully when they are promoted to the Bundesliga in four years' time, hopefully then I'll be the number nine," said Danelle, referring to the top-tier German league and the jersey number typically worn by a team's main striker.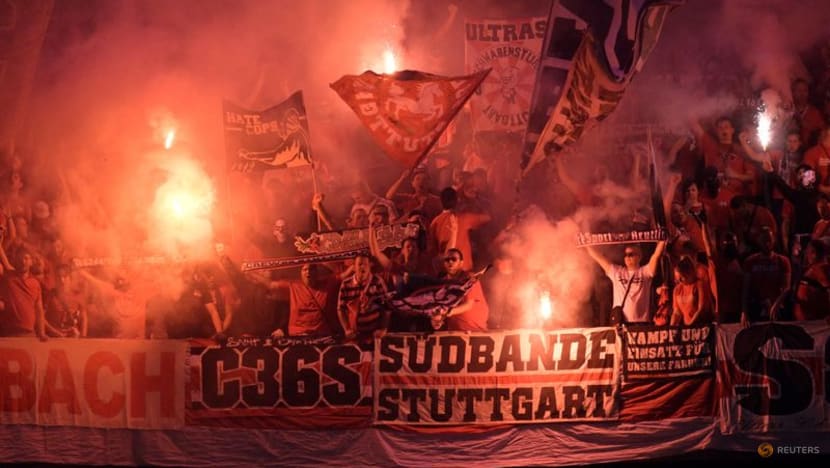 Dr Suresh Letchmanan, Borussia Dortmund's managing director in the Asia Pacific, told CNA that Danelle is regarded as one of the brightest talents in women's football both in Singapore and Southeast Asia.
She had impressed during a trial which came about from a youth development partnership between the German club and Singapore Premier League club Lion City Sailors.
"Danelle is like an ambassador, not just for Singapore, not just for Asia, but generally for women's football. The Women's World Cup is happening this year. It just shows how immensely popular the game has evolved," said Dr Suresh.
He said she gained valuable experience from her stint in London, such as adjusting to the weather and the level of European football.
It gave her a "necessary advantage to play in Germany because … in Asia and Europe, we are all built differently", noted Dr Suresh.
"I think she's got that tenacity and the build and the talent to play at that higher level in Europe."
MOVING OVERSEAS FOR FOOTBALL
Danelle told CNA she had to move overseas to pursue her footballing dreams, and also put her education on hold so she can reach her fullest potential in her prime years.
"My dream is to play football professionally. It's something that I'm working towards and it's one of the big factors why I've moved overseas," she said, adding that it was "not viable" to pursue that career path in Singapore.
She said that the level of coaching, along with the speed and intensity of play, is different in Europe.
"I think just the fact that there are so many more girls playing football here, the level of competition is a lot higher. And so you're pushed constantly because you know that if you're not performing or if you're not training at 100 per cent, someone else is going to take your spot, on the first 11 and on the roster," she said.
Danelle added that the environment abroad also allows her to be fully focused on pursuing her footballing dreams.
"When I moved here, a lot more of my time could be spent focusing on football and training rather than at home, where I would be juggling exams and school and a lot more other things," she said.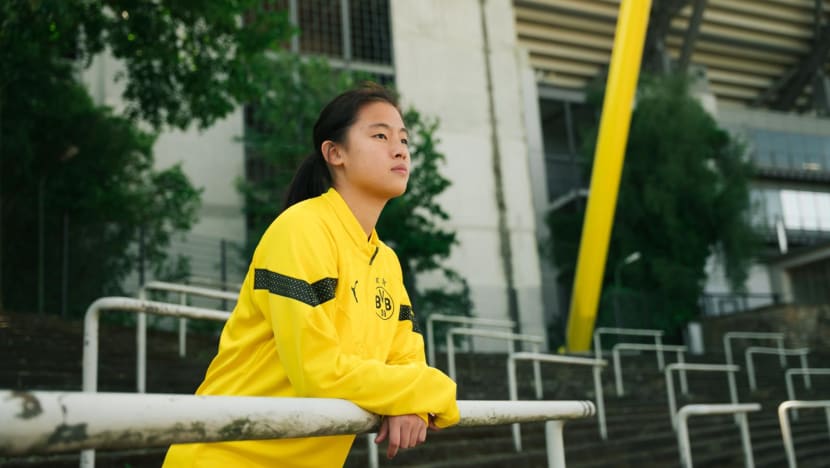 DEVELOPING YOUTH TALENT
One advantage Danelle has is that she will not have to return to Singapore to serve her national service, which gives her a chance to play longer and without any disruption, said Dr Suresh.
He said Borussia Dortmund has always been a bedrock of youth development, citing German World Cup winner Mario Goetze, Manchester City star Erling Haaland, and newly signed Real Madrid player Jude Bellingham, as products of its talent pipeline.
Dr Suresh added that the same ethos is applied to its foreign talents.
"You saw it with Shinji Kagawa when he joined Borussia Dortmund. What a talent, and still one of the most impressive and most successful Asian players," he said, referring to the Japanese midfielder who won the league with the club and later moved to Manchester United.
Currently in the midst of her A-Level examinations, Danelle will put her studies on hold after that, and go all in to pursue her footballing career.
"The thing about school and education is that when I'm 40 years old (or) 30 years old, I can still go back to school. But my playing career, there's a lifespan to it," she explained.
"And so I'm trying to, maybe after I retire or when I'm done with my playing career, then go back to education. I think that's always still viable. But now the focus will be football."
CHALLENGES REMAIN FOR FEMALE FOOTBALLERS
Female footballers still face massive challenges around the world, with many without professional contracts or earning a fixed salary from playing.
Coach of the Singapore women's national team Karim Bencherifa told CNA that they deserve "a lot of respect", as they have to juggle between training and also their jobs or studying.
"So you should just admire and respect the fact that these players are living their passion, despite the difficulties at the international level as another step," he said.
He commended Danelle's attitude and ability to step out of her comfort zone and adapt to playing in another country, something which he says is "more demanding". He noted that her family has also been very supportive.
Her move to Borussia Dortmund is a good one, he said, as it gives her the right support for her development.
"Look, it's Borussia Dortmund," said Dr Suresh.
"It doesn't matter if you're in the women's team, youth team or men's team. She gets access to the professional set-up (and) training methodology. She's got access to expertise. She's in a very, very professional environment in that sense.
"She's there to learn as well. So those are the plus points that obviously will benefit her in terms of training (and) to get to that next stage."