Childhood dream come true: Li Ling Yung-Hryniewiecki is first Singaporean woman to swim across English Channel
37-year-old Li Ling Yung-Hryniewiecki completed her 34km swim across the English Channel in under 13 hours.
SINGAPORE: For the first Singaporean woman to swim 34km across the English Channel, the battle was as much mental as it was physical.
Arriving in Dover in England 10 days before her scheduled window, Li Ling Yung-Hryniewiecki watched as others took advantage of calm weather while she acclimatised to her surroundings.
But when it was her turn, the 37-year-old could not take to the water due to unfavourable conditions.
"You have a tight window and you're assigned a slot ... Because I was assigned first slot, I assumed maybe that I was going to go early but obviously it all comes down to the weather," she told CNA in an interview on Wednesday (Sep 14).
"The Channel is so exposed so you actually need very, very little wind to swim it."
On the one day she thought she would be able to start the swim, her hopes would be dashed.
"It was a bit of a letdown. But again, it is the weather, no one can control it. That got to me a little bit and I could see that the weather was not good for the next few days," she said.
"During that time when I was waiting, I was already starting to think, 'Maybe all of what I've been doing this year is going to go to waste and I'm going to have to wait for next year'."
But eventually, Yung-Hryniewiecki would get her shot.
"I was so happy. The only thing I was worried about was that I've already waited for four or five weeks since my last big swim. I hope I'm fit enough!" she recalled.
"People don't really understand (the) mental stuff there is leading up to the swim ... The swim itself, the physical part I'm not saying it's easy, it's not. But you can get through it if you train, you can prepare for it. But the waiting and other stuff, it's hard. You have to just roll with it."
FOR A GOOD CAUSE
Yung-Hryniewiecki began her swim under a full moon off the coast of Samphire Hoe (near Dover) at 1am on Sunday morning.
She was accompanied by a boat with her husband and coach among others on board.
"When I first jumped into the water, I was a bit nervous because it was dark," she recalled. "Then once I started ... I felt comfortable, settled into my pace. I knew what I was doing because I've done so many long training swims before. So I just settled into a rhythm."
Prior to the swim, the biggest obstacle that Yung-Hryniewiecki knew she had to conquer was not the distance, but the cold.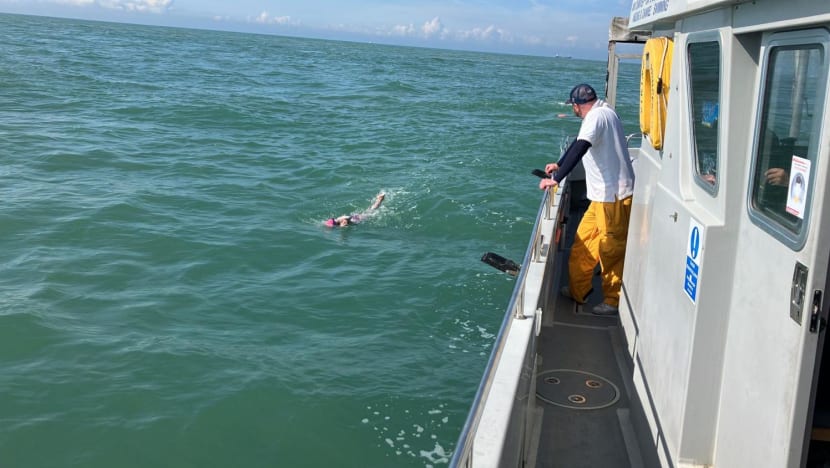 To prepare, she would take hour-long ice baths weekly and regular cold showers, as well as training over the winter in Hong Kong waters. Yung-Hryniewiecki also put on an extra 10kg for the swim.
The water she would eventually swim in was 19 degrees Celcius - still chilly, but warmer than she had trained for.
"I was always not very tolerant of the cold, so I spent quite a few years building it up," she explained. "For me, I felt that was the bigger challenge, but I had enough experience and training now to be able to handle it."
Over the last few months, she would also clock swims of about 30km to 35km every other week.
As a child, Yung-Hryniewiecki swam competitively till she was about 10. Back then, crossing the Channel was something she could only dream about. 
"It's kind of like a childhood dream, it was at the back of my head ... I'd heard people swim the Channel, it would be really cool to be able to swim that. (But) I never really gave it serious thought until maybe five years ago," she recalled.
"At that point, it was just like a dream. It's like, oh wow, that's like incredible. It just sits in your head."
But the swim was not about getting her name in the record books.
Instead, Yung-Hryniewiecki was swimming to raise funds for Splash Foundation, which provides free learn-to-swim lessons and water safety skills to low-income communities in Hong Kong, where she has been based since 2019.
The Singaporean, who works in the finance sector, has been a volunteer coach with the non-profit organisation for about three years.
Her goal is to raise HK$250,000 (S$44,750) to help with expansion plans to Singapore, and she has raised about 70 per cent of that amount so far.
Historian Thum Ping Tjin is the first Singaporean to swim across the Channel in 2005. Thum is a former national swimmer and Olympian.
INSPIRING OTHERS
Every 30 minutes during the swim, Yung-Hryniewiecki would get a liquid "feed" via a bottle attached to a rope. The "feed" - a carbohydrate drink, flat Coke with extra sugar, dissolved sports gels and Milo - helped to fuel her swim.
"I need to have them all but my favourite's the Milo," she recalled with a laugh. 
"Most of the long-distance swimmers will tell you swim to the next 'feed', swim to the next 'feed'. You look forward to your 'feed' and a little bit of interaction."
Hours into her swim came a sunrise which marked another milestone during her swim to France.
"You could see it slowly coming up. It was beautiful - orange, red and you could see the clouds. It was really nice," she recalled.
Things got challenging towards the last two hours, when Yung-Hryniewiecki found herself getting swept off-course
"In my mind, I thought I wasn't gonna make it. I had a bit of a meltdown," she said. "I thought ... I'm not going to make land. I've swam this far and I've done all this prep and I'm not going to land in France. That was probably in my mind for like an hour."
But she would pick up the pace and under the guidance of her husband and coach, she would complete the distance.
Said Yung-Hryniewiecki: "I was really happy (and) I was really relieved ... I was cautiously optimistic (before), I knew that my training will get me through and it was a very calm day. I wasn't as emotional as I thought I would be."
Yung-Hryniewiecki, who had swum the Channel as part of a three-person relay team in 2018, would clock a time of 12 hours and 54 minutes.
"It was quite funny, I got on the dinghy after the swim and I said to my coach, 'I'm never doing this again'.
"But you always say that on the first day ... There (are) many, many swims in the world that I would like to do. So I may plan a big one again next summer," she added.
Ultimately, Yung-Hryniewiecki hopes that her achievement will send a message that such feats are not limited to professional athletes.
"I'm not an elite swimmer and I managed to do this," she said.
"I want to show people that it's possible if you put your mind to it, and you prepare for it, and you're patient, you can do it."