IN FOCUS: From determined teen to badminton world champion - Loh Kean Yew's journey to the top
While Loh Kean Yew's victory in badminton's World Championships took some people by surprise, those close to him say his talent and determination have always shone through. CNA spoke to his family and coaches about his path to sporting glory.
SINGAPORE: While his exhausted peers were stretching after a long, hard training session, a shy, skinny, sweaty teenager wasn't done just yet.
Instead, Loh Kean Yew would cajole a teammate or two back on to the badminton court as he ironed out aspects of his game.
Whatever his coach had pointed out previously, he would work on. Rest could wait, improvement could not.
"From time to time he would ask the coaches for feedback. But that's not the most impressive thing. The most impressive thing is something that a lot of people wouldn't do. It was that he would then take action," recalled Singapore Sports School badminton academy general manager Desmond Tan.
"He would call a friend along and say: 'Hey, help me. After that I will also help you.' After every training session, he will do it. That's where you could see that the desire to want to improve was there," he said.
"When he makes the extra effort, he knows what he is doing through the extra effort."
It is this spirit of dedication and determination that those who know Kean Yew, Singapore's newly-crowned world champion, say sets him apart from others.
"Talent is not enough. You have to go the distance," said Tan. "He has the talent, but the difference between him and others is the commitment he has."
'HE HAD IT VERY TOUGH'
At the age of 13, Kean Yew moved away from his family in Malaysia and took up a scholarship from the Singapore Sports School. 
"The first two weeks were very fun because there were no parents," he told CNA in 2019. "But I missed home - I cried by myself for a few nights before calling my mum and crying some more.
"But after that night where I let my emotions out, I stopped crying and calling - until my mum had to call me!"
Part of Tan's role was to help foreign students at the academy assimilate and he was aware of Kean Yew's struggles through the transition.
"He didn't have any friends (at first), he was lonely and didn't know a single person in the school and the rigour of the education system would get to him," explained Tan. "He had it very tough."
"Singapore's culture and environment is different from Malaysia's so we needed to adapt," added older brother Kean Hean, who ​​secured a scholarship at Montfort Secondary School and arrived before Kean Yew. 
But Kean Yew would eventually settle down and make friends, said Tan, as his easy going personality meant that he would get along well with teammates, who were also student athletes.
"All of them (at the academy) had a common goal, which was to chase their sporting dreams," said Tan. "That bonded all of them together because they were all chasing for the same thing."
And in particular, there was one thing that always seemed to bring a smile to Kean Yew's face - playing badminton.
"When he first came (to Singapore Sports School), his happiest times would be at the badminton hall, because that was something that he was most comfortable with … Every time he holds the racquet, he is always happy," said Tan.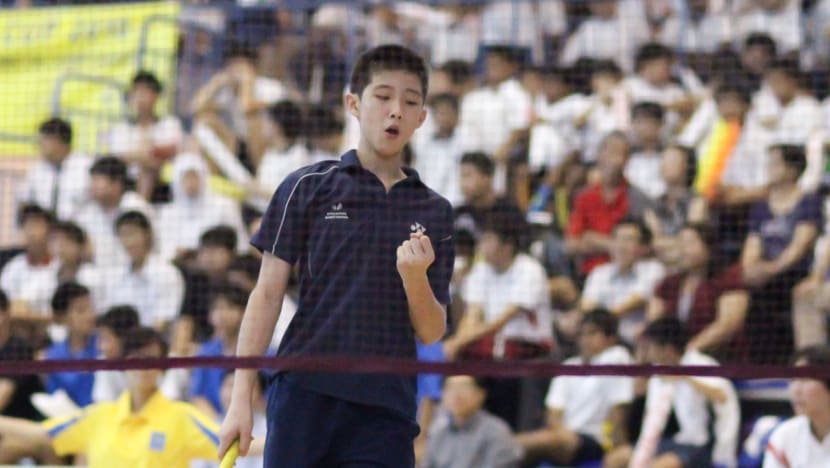 "It was very obvious. And after a while when he settled down, you could always see his desire to improve."
And even in his teenage years, Kean Yew always relished a challenge, noted Tan. 
In the spirit of friendly competition, there were always those who wanted to take him on and Kean Yew always was up for it.
"The older boys would want to play with him … they would always be challenging him like (short games of) five points, seven points," said Tan. "He knew that he would lose for sure, but he took it in his stride … He just took it as a challenge."
And very early on, it was clear to Kean Hean that his brother had the skills needed to play at the highest level.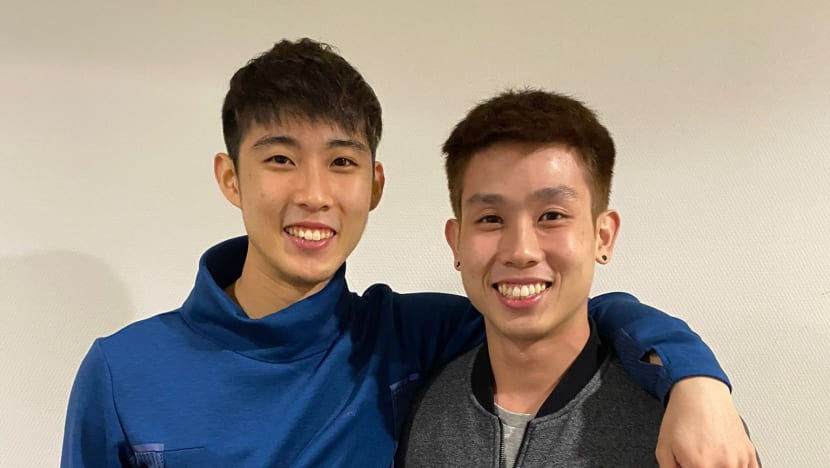 "He has the quality, not just physically but in terms of skill … He is different from me. He knows what he wants and he is more disciplined in his attitude and his lifestyle," he explained.
"For him to be mature in an environment where our parents were not with us most of the time was not easy. It requires a lot of mature thinking and decision making."
Kean Yew always had his own way of thinking, said Kean Hean, who is also a national badminton player for Singapore, with several SEA Games medals to his name.
"He's different from three of his brothers (in that aspect) … Let's say we stay up to midnight to watch soccer, (but) he would just go and sleep. But that's a very crucial decision that not many people can make because it requires a lot of determination and self-discipline. He knows what he wants," Kean Hean added.
After completing his studies at Singapore Sports School, Kean Yew went on to further his education at Republic Polytechnic. But it was then he decided that he would need to quit school to focus on badminton full-time.
"Initially, we were shocked that he came to this decision, but after he explained to us (we understood) that he was mature enough and believed and trusted that he could do it," Kean Yew's mother Mdm Grace Gan told CNA in an interview this week.
"He was such a good boy who was disciplined and knew what he wanted to do, so we just trusted him and supported him all the way."
National singles coach Kelvin Ho first met Kean Yew when he was a national youth coach about ten years ago. Then, the youngster was still a Singapore Sports School student but training with the national youth team.
"His training attitude was marvelous … he was quite special," recalled Ho. "The hunger to win (was there)."
And while many youngsters shared the competitive fervour, Kean Yew pushed harder. 
"Others wanted to win but he wanted to win even more. He would dare to challenge the seniors and would ask the seniors for sparring while some of the other kids might have seen seniors and been scared."
Having been a part of Kean Yew's journey for almost ten years, Ho has had a front-row seat to witness his growth as a player.
"He has become more stable … in his thinking. And when you are clearer on the court, you become better," he added.
This change was observable after Kean Yew clinched a bronze medal in his debut 2015 SEA Games.
"He played the senior players there while he was still quite young. You could see that … he was daring to challenge them and execute his game well," Ho explained.
"He wouldn't be scared by the situation, in fact he would challenge it."
And his gung-ho spirit was clearly clear when he trained, said Ho.
"For example, (for a drill involving) 20 shuttlecocks, others might be tired after 14 and slow down. But the more tired he is, he would push."
'HE HAS THE WEAPONS'
For Singapore Badminton Association (SBA) technical director Martin Andrew, there has been no question that Kean Yew has the ability to play with the world's best.
This was showcased at this year's Tokyo Olympics where the Singaporean stretched then world number 7 Jonatan Christie, he said. Kean Yew, who was then 42nd in the world, went down 20-22, 21-13, 18-21 in a closely fought match.
"There were parts ... of that match which were absolutely high level from Kean Yew. So the challenge was how we could get that on a more consistent basis," Andrew explained.
With a training stint with world number one Victor Axelsen under his belt, time spent competing in various competitions, and guidance from SBA coaches, Kean Yew began to sustain consistent performances in matches after the Olympics.
Next up, he needed to be consistent - not just in one tournament, but across many competitions.
This was displayed in his win at the Hylo Open in October, a top 16 finish in the Indonesia Masters in November, and a second-place spot at the Indonesia Open in the same month.
Going into the World Championships, the pressure was off for Kean Yew, his brother said.
"I had the expectation of him going on (an early holiday) instead of being champion. After all, it was still Viktor and his standard is there," said Kean Hean, with a laugh.
However, he knew that Kean Yew had a chance and would give it his all.
"(But while) we didn't know if he (Kean Yew) was going to win or lose, we knew he was going to put up a good fight."
And his brother upset the odds and the Olympic champion.
After wins against Austria's Luka Wraber, Thailand's Kantaphon Wangcharoen and India's HS Prannoy, Kean Yew beat world number three Anders Antonsen to book his spot in the men's singles final and seal his place in the history books.
Then came the thrilling triumph in the final where he overcame the experienced veteran Srikanth Kidambi.
"The two benchmark players for men's singles … are Lin Dan and Lee Chong Wei. If you look at Kean Yew, he's got a lot of the strengths of both put in together," said Martin Andrew.
He also pointed out that Kean Yew's confidence has soared since the Olympics.
"He's walking onto the court with a real belief that he can play badminton at a high level … He believes that he can challenge anybody else."
However, Kean Yew is far from the finished product, Andrew emphasised.
"He's still got some development to do. (But) I personally have him in my mind, right up there with the very best in the world at the present time," said the SBA technical director.
"He has the weapons, and he has the development within him still to absolutely make a massive impact on the game."
Ho's belief in Kean Yew is evident. Along with coach Mulyo Handoyo, Ho is an integral part of Kean Yew's coaching set-up.
In a 2019 interview with CNA, Ho noted that Kean Yew along with Singapore's top women's singles player Yeo Jia Min had the potential to be "world class".
"In terms of his ability, his fighting spirit, his never-give-up attitude, you can see that he can match the top players," Ho explained. 
BRINGING OTHERS ON THE JOURNEY
While the journey to the top is lonely, Kean Yew is and has always been a team player, said Tan.
"He really brought positive energy to people when he was at the academy," he explained.  "He not only wants to win but to bring people along in the journey with him and to show this is what it takes."
This was no better exemplified through a text message which Kean Yew sent to Tan the night before the victory over Chinese badminton legend Lin Dan that first catapulted his name into Singapore's collective consciousness.
Before that 2019 Thailand Open final match, Kean Yew wanted to encourage those in the SBA's National Intermediate Squad.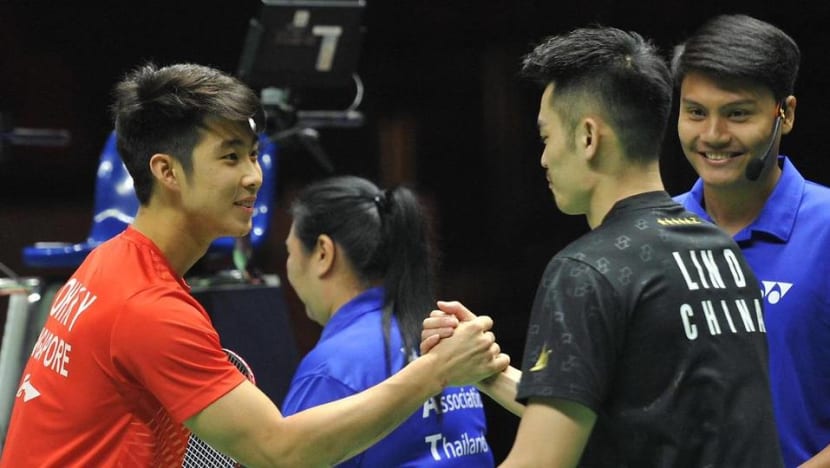 He wanted them to dream bigger.
"Set a goal, big enough for people to laugh at. They laugh because it's impossible for them. They're the weakling, not you. Work hard towards it," he said.
"I really must add that the key word is discipline. It is a word that should be applied in everything you do, be it training, studies, time management etc. 
"Discipline is not something that should be reflected only in badminton. Discipline should be applied in every aspect of your life. This truly reflects the character of a true champion."
Fast forward two years, and Kean Yew has followed his own advice and has become just that. 
A true champion.