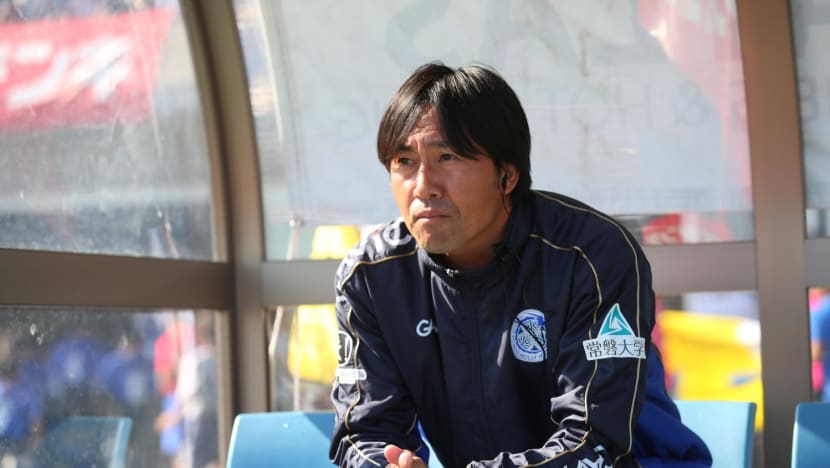 SINGAPORE: Just as was the case three years ago, it was an unfamiliar face who found himself in front of the media, albeit virtually, at the Jalan Besar Stadium on Monday (Apr 25).
Back then, Tatsuma Yoshida and the Football Association of Singapore (FAS) faced a number of questions at a press conference over the appointment of Yoshida and his credentials. 
But scepticism was eventually quelled as Yoshida led the Lions to the AFF Suzuki Cup semi-finals for the first time after nine years in last year's edition of the regional tournament.
Fast forward to 2022, it is now turn for another Japanese coach, former J-League player Takayuki Nishigaya, to take over the hot seat as head coach of the Singapore men's national team.
Nishigaya's appointment on a two-year deal was announced by FAS at a press conference on Monday.
A former defender who made 100 J-League appearances, Nishigaya started his coaching journey in 2004 as a youth coach in Tokyo Verdy. He became youth head coach before leaving in 2009.
He went on to become assistant coach at Albirex Niigata (2012) and Mito Hollyhock (2013 - 2015) before being promoted to head coach at the latter. Nishigaya also was head coach of SC Sagamihara before moving on to Matsumoto Yamaga where he was under-18 head coach, before becoming first-team assistant in 2020.
The 48-year-old, who is currently finalising the necessary paperwork to travel to Singapore, will officially assume his new role in May.
The former Japan Under-22 international will be supported by assistant Nazri Nasir as well as staff coach and analyst Koichiro Iizuka, both of whom were part of Yoshida's backroom staff.
Yoshida resigned from his post last year, a year before his contract with Singapore's national football team was due to end in December 2022.
Yoshida said then he was returning to Japan to be closer to his family. He is currently coach of J2 League's Ventforet Kofu.
Following Yoshida's departure, Nazri led the team as caretaker during international friendlies in March this year. Under Nazri, the Lions managed two wins from two - beating Malaysia 2-1 and the Philippines 2-0.
THE "RIGHT" ATTRIBUTES
"I would like to thank the Football Association of Singapore for giving me this opportunity, and I will do my best for the Lions," said Nishigaya.
Similar to Yoshida in 2019, Nishigaya has no prior experience coaching at the international level.
Said FAS president Lim Kia Tong: "The experience of producing results at the international level, that itself may not be enough to help Singapore football move forward."
Instead, he stressed the importance of getting a coach who could build up the local football scene. Mr Lim noted that the coach needs to "galvanise" the nation's belief in the team, like how Yoshida did through the Lions' showing at last year's Suzuki Cup.
"We do not believe simply because a person is internationally acclaimed or has international exposure, it must and it will necessarily produce this type of scene, this type of environment. It is this type of environment that will trigger the progress of the football (in Singapore)," he added.
FAS general secretary Yazeen Buhari noted that the announcement of the head coach had been delayed from March this year mainly due to the fact that the selection panel wanted to be "thorough" in their assessment, with a large number of candidates applying. 
"We had to ensure that we made the right decision, taking into account all the attributes of the candidates, not just ... the results from the field of play, but the attributes of who that person is," he explained.
Mr Lim said that the panel was guided by a "set of principles" before even analysing candidates. The aim was to find someone who could inject belief into the players like Yoshida did.
Nearly 50 candidates applied for the post, and the number was cut down to 20 at the first stage of evaluation, said Mr Yazeen. 
"When we got to the 20, we did a lot of checks, we had background checks, we had a lot of discussion, some with the candidates, some with people that worked with the candidates to be entirely sure who we are dealing with," he added.
Mr Yazeen confirmed that former India head coach Stephen Constantine, South Korean Lim Lee Saeng and current Albirex Niigata head coach Kazuaki Yoshinaga were among those considered, but there was no "preferred candidate".
"It was a strong line-up of final candidates which made the decision making a lot harder in a positive way," he added.
Mr Lim said that there was a "vigorous assessment" of all candidates and an "extensive" deliberation process.
He added that Nishigaya's strengths lie in his ability to identify players' strengths and utilise them to suit the tactics and style of play that he has in mind.  
"During the interview process, it was apparent that Nishigaya fits the profile that we were looking for," he said.