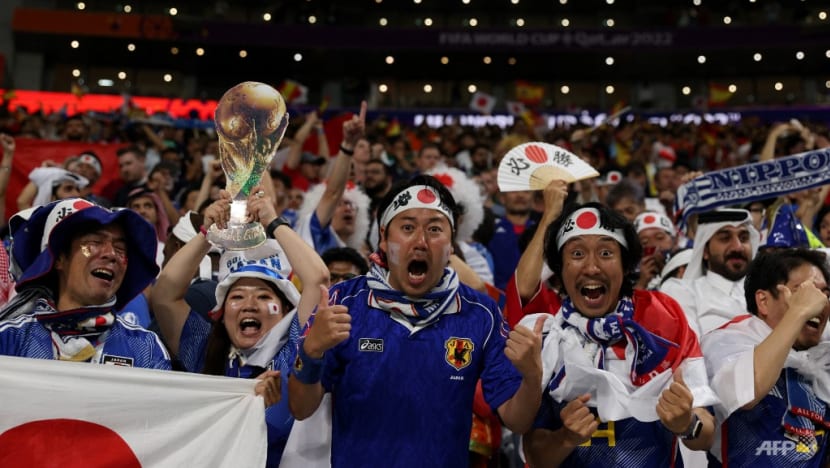 SINGAPORE: Japanese football fans in Singapore have been thrilled by the World Cup exploits of their national team, who came from behind to stun former champion Spain on Thursday (Dec 1).
Hajime Moriyasu's side won their final group stage match against Spain 2-1, finishing top of their group and booking their place in the round of 16.
The result also meant the shock elimination of former champions Germany, whom Japan had earlier seen off in a 2-1 upset.
Japan, who face Croatia on Monday, have never progressed beyond the first knockout stage. This is the first time they have qualified for the round of 16 in back-to-back World Cups.
The Samurai Blue's performance despite the odds is giving their supporters' hopes a boost.
Mr Norihito Hirose, 49, kept his craft beer bar SG Taps open for about 20 Japanese friends so they could watch the match together, with kick-off at about 3am Singapore time on Friday.
He was surprised at the victory, having not expected Japan to do well after their "very terrible, very miserable" match against Costa Rica, which they lost 0-1.
"I know how people estimate the strength of Spain," he said, adding that there was a "quite big gap" with Japan. He thought that a draw would be "very lucky" for his team.
So he was not surprised when Spain took the lead in the 11th minute. But when Japan equalised in the second half, and then quickly scored again moments later, he was "really shocked, stunned".
Cheers and shouts erupted in the bar. These were followed by fervent prayers in the last 20 minutes of the match that Spain would not stage a comeback of their own.
Albirex Niigata head coach Kazuaki Yoshinaga, who watched the game at home in Singapore, said the first half of the match was difficult.
"But I believed that Japan could win from behind in the second half by changing tactics and members, just as they did against Germany," the 54-year-old said.
He felt that Japan eventually defeated Spain because all the players "played harder" than their opponents.
"The game was a hard match, but being top against Germany and Spain is a historic accomplishment, and I think it is due to the cumulative efforts of everyone who has been involved in Japanese football up to now.
"I hope that we will give dreams and hopes to all people, especially children, by winning the top eight and beyond, which is our goal."
Japan's Ambassador to Singapore Hiroshi Ishikawa told CNA: "Watching the game from pre-dawn, I could not get my eyes off the TV.
"Not to mention Ritsu Doan's equaliser (again since the game with Germany!), Kaoru Mitoma's unyielding attitude, and Ao Tanaka's timely goal, all the players demonstrated persistence and spirit of unity.
Mr Ishikawa said he was "immensely proud" of the national team for their "stunning victory".
"Their accomplishment is remarkable, as we all know that the Spanish team is a superpower in the world of football."
Another supporter who marvelled at the team's performance was Mr Tsuyoshi Nagao, 58, who coached local youth football club FC Jepun Hitam for 15 years.
"It's the second breakthrough to (defeat) Spain after Germany and really amazing!" he enthused.
Mr Nagao praised attackers Mitoma, Doan, Tanaka and Junya Ito for "very hard running" during the game and the "well-organised" defensive line-up.
"Japan won (through) the feeling or spirit of not giving up against the Spanish players. I hope the next game versus Croatia will change Japan's soccer history," he said.
He also expressed hope Japan would make it to the final, but conceded there was "little" possibility of this. He is expecting Brazil to face off against France or England for the title.
"We thought it would be difficult to win this match, so we are quite happy," said Mr Frank Kobayashi, 54, a coach at Shoot Football Academy.
On Monday, a squad from the children's football academy was on its way to Thailand to compete in the Bangkok International Supercup.
Mr Kobayashi said that Japan's victory had become a source of motivation for the youngsters, a majority of whom are Japanese.
Catch free highlights and moments from the FIFA World Cup Qatar 2022™ at mewatch.sg/fifaworldcup