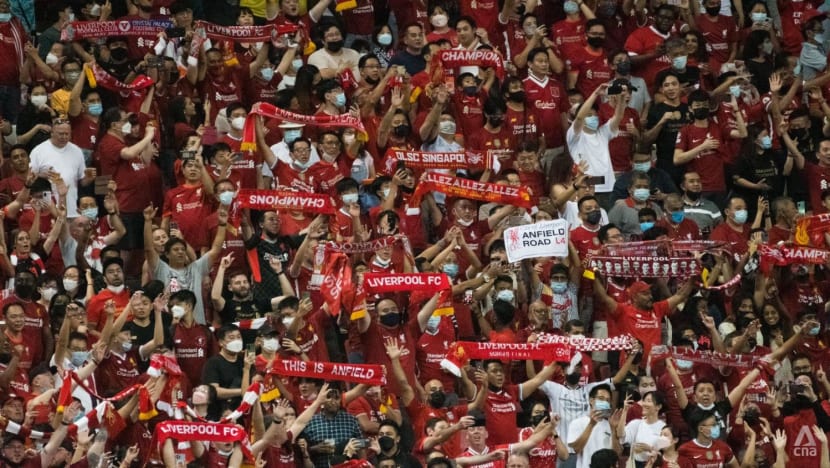 SINGAPORE: A restaurant along a busy Geylang street was rocking – it was 3.30pm on Friday (Jul 15) and the beats from a live and the unmistakable strains of Liverpool fan anthems wafted through the door.
The Reds faithful were in full voice.
At The Cavern which also doubles up as a bar, close to 200 Liverpool fans have gathered. Some have travelled from across the region – Malaysia, Thailand, Australia – united by their love for their club.
They were thousands of miles away from Anfield but it did not matter. 
Their team was in Singapore for the Standard Chartered Singapore Trophy friendly match against Crystal Palace and they were loving every moment of it.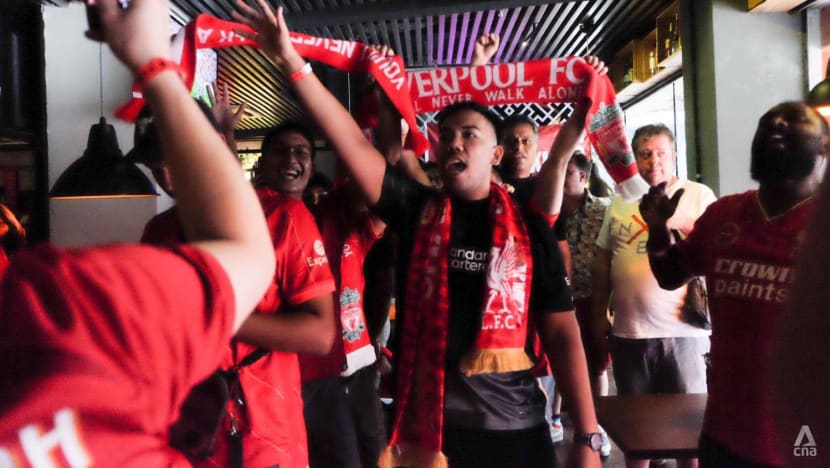 'A DREAM COME TRUE'
The pre-match party was organised by local Liverpool fan club Spion Kop Singapura, and mingling with guests was its president Rajpal Singh. 
Having supported the club for 41 years, Mr Singh regularly flies abroad to watch his team live. A season ticket holder, he watched his beloved Reds 17 times last season.
But not everybody may have such an opportunity, he noted.
As such, having the team in Singapore is always a special feeling, explained Mr Singh, an in-house legal counsel. He also runs a matchday experience company that aims to provide local fans with football tickets to overseas games and merchandise.
"The magic never diminishes. The magic always grows. As a proud Singaporean, having the team you love in your own backyard, it is nothing short of magical," he said.
"And it's a dream come true. Not only just for everybody else, myself included. I got excited when I heard the news (that Liverpool was coming)."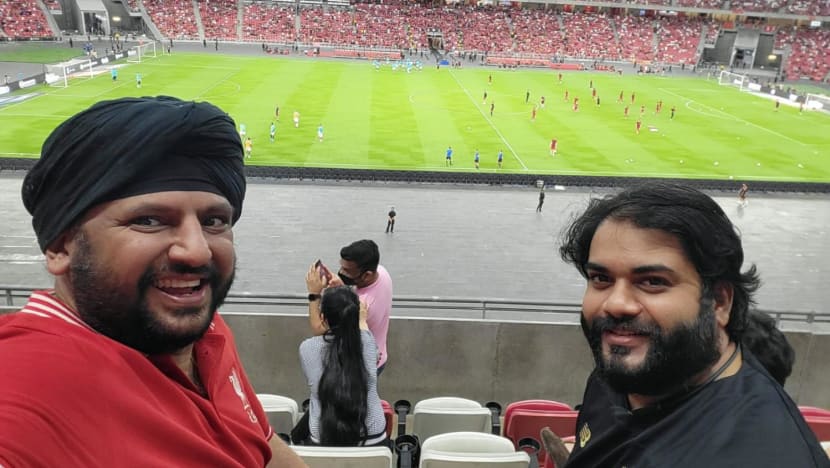 'IT'S OVERWHELMING'
As a sea of red flowed into Singapore Sports Hub on Friday evening, Mr Abdul Aleem made his way to his seat behind the Crystal Palace goal.
An ardent football fan, his love affair with the beautiful game began decades ago in the heydays of the Malaysia Cup.
Back then, his family could not afford to buy tickets. Instead, Mr Aleem would scramble up pillars at the old National Stadium to peer at the stars of the Singapore national team.
But his other love has always been Liverpool.
While he has never watched a game in Anfield, he has caught them in action in Singapore on two previous occasions in 2001 and 2009.
When it was announced that they would be visiting once again, there was only one thing left to do – ring up his fellow Liverpool-loving nephew, and snap up tickets.
Mr Aleem soaked in the atmosphere and sang along with his fellow diehard fans, applauding the players as the line-ups are read.
"It's overwhelming – look at how many red jerseys there are. It's the next best thing to watching the game at Anfield so you have to take the opportunity," he said.
Mr Aleem's two favourite players Roberto Firmino and Luis Diaz started for the Reds.
"I'm just here to enjoy the game, win or lose (it doesn't matter) as long as I get to enjoy," added Mr Aleem, who also brought his 12-year-old son Zachary Iskandar to the game.
To the breathless delight of most fans on the night, it took just 12 minutes for the ball to hit the back of the net. 
A Harvey Elliot cut back found the stride of Jordan Henderson and the Liverpool captain scored past Vicente Guaita.
Hugs and high-fives all round for the Liverpool players, but in the stands, pandemonium ensued. Mr Aleem pumped the air in delight, and the Reds fans ahead of him bounced up and down in their seats.
Things simmered down after the strike but the crowd remained heartily entertained. 
The inevitable Kallang wave broke out later in the half, with loud cheers reserved for substitute Mohamed Salah as he appeared on the big screen. 
The Crystal Palace fans also kept things lively - there were but a sliver of them in the stands but they serenaded their side with song.
"Harvey Elliot was impressive," said Mr Aleem at the break. "Joel Matip was another one that really stood out, (Jordan) Ayew couldn't really do anything."
And as Liverpool took a slender one-goal cushion into the interval, Mr Aleem eagerly awaited the appearance of a different substitute.
"I'm now waiting for Thiago (Alcantara). He is a small guy but intelligent player," he explained. "Salah you don't need to mention, he is a superstar. But I want to see Thiago."
A LEGACY CARRIES ON
At half time, Mr Aleem and his son were held up in a queue at the concession stand. As they waited in line for their drinks and fries, the stadium erupted again. Just one minute into the second half, substitute Salah got his goal.
"We never expected that they would score the second goal so fast!" said Mr Aleem.
The instant replay on the big screen would have to suffice.
"Salah has the impact on the team. Even if they are having a downer of a game, and he comes on, it's electric," said Mr Singh, who was watching the contest alongside his brother-in-law Mr Rajesh Prakash.
Eventually, Mr Aleem got his wish to watch Thiago in action, as the Spain midfielder took to the pitch for about 25 minutes in the second half.
"It was quite short, but a few of his deft touches (I was) very impressed with," he noted.
Along with nine other players, Thiago was taken off by Liverpool coach Jurgen Klopp as the game petered to a close. In their place came a host of youngsters who helped see off the 2-0 victory.
Their prize? A pre-season trophy and the majority of 50,217 fans belting out You'll Never Walk Alone one more time.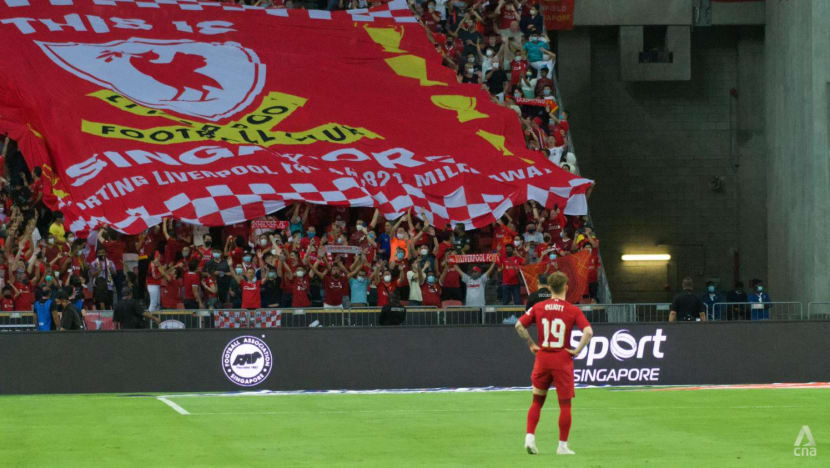 "The atmosphere today was definitely above average for sure. The noise factor was there ... It felt like a home game," said Mr Singh. "It was as good as we could have expected it to be."
The game, he added, "100 per cent" lived up to expectations.
And the concluding anthem was a special moment for Mr Aleem, who admitted that he was close to tears.
"This time I managed to bring my son here. Last time our parents couldn't afford these sorts of things. Now, I managed to be here despite the price .... and can even bring my son," he explained.
"It is the continuity of this legacy."
Catch the Premier League Clubs' pre-season friendlies LIVE on meWATCH and get into the action with Mediacorp. Or catch highlights on Mediacorp Entertainment on YouTube.