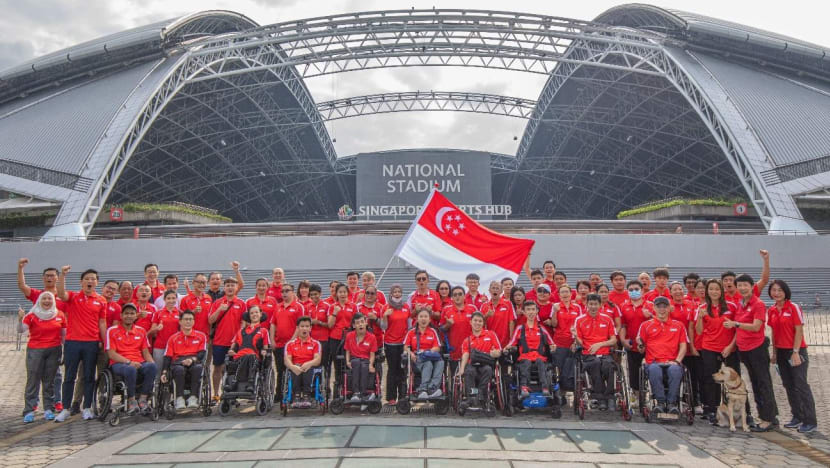 SINGAPORE: Singapore para-athletes who win medals at most of the major Games can soon expect higher cash rewards, the Singapore National Paralympic Council (SNPC) announced on Saturday (Jul 2).
The revised incentives under the Athletes Achievement Awards (AAA) scheme will start from the upcoming ASEAN Para Games, which will be held this month in Indonesia's Solo City.
For the 2024 Paralympics in Paris, the cash reward for a gold medal has been raised from S$400,000 to S$500,000. 
Announcing this during a flag presentation ceremony for the Solo ASEAN Para Games, SNPC president Teo-Koh Sock Miang thanked the Tote Board and DBS Bank for their sponsorship of the awards.
She added that the council has continued its efforts to push for greater and better recognition of its athletes.
With the revision, individual athletes in Solo will be awarded S$5,000 per gold medal for up to three gold medals, up from S$4,000 each. Gold medallists in the team events will be awarded S$8,000, up from S$6,000. 
For the Asian Para Games, individual athletes who bag a gold medal will be awarded S$85,000, up from S$70,000. The cash reward for a gold medal in a team event will be raised from S$100,000 to S$125,000, while a gold in team sports comes with a reward of S$170,000, up from S$140,000.
The cash rewards for medals at the Commonwealth Games remain the same.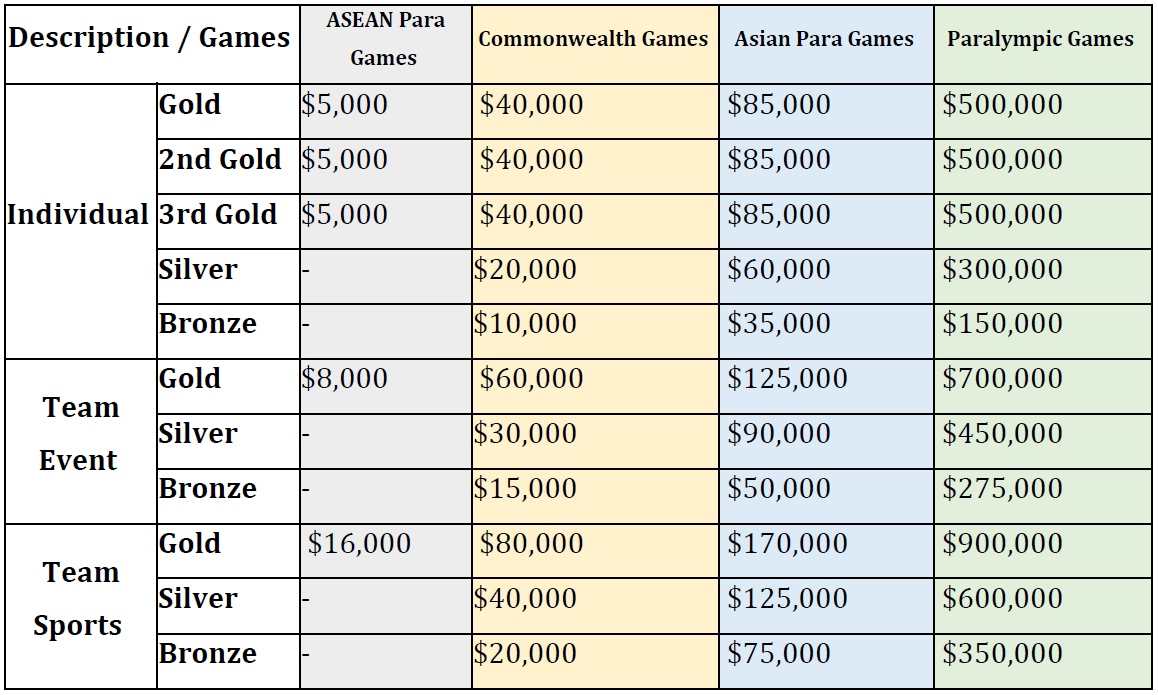 Last October, the cash reward for a Paralympic gold medal was doubled to S$400,000 after swimmer Yip Pin Xiu won two gold medals at the Tokyo Paralympic Games.
The sum was raised after a public debate over the disparity in cash rewards for Olympic and Paralympic athletes. 
The reward for an individual Olympic gold medal, under the Major Games Award Programme (MAP), is S$1 million. That is double the revised payout of S$500,000 that was announced on Saturday for a Paralympic gold.
Speaking in Parliament in October last year, Minister for Culture, Community and Youth Edwin Tong said that efforts were being made to raise the cash rewards for para-athletes in major Games.
Mr Tong explained that MAP and AAA are private award schemes managed by the Singapore National Olympic Council (SNOC) and the Singapore National Paralympic Council (SNPC) respectively.
Since their inception, the awards have been funded entirely by private sponsors, said the minister, adding that the difference in cash prizes does not reflect how the Government values able-bodied athletes and para-athletes.
"The award amounts offered under both schemes are raised and determined by the SNOC and SNPC respectively, along with their sponsors. Individually, the awards under each scheme are tiered based on the standard, size and field of competition for each major games," Mr Tong explained on Oct 5.
"The difference in cash quantum does not reflect how Government values our para-athletes vis-à-vis our able-bodied athletes. In our eyes, they are all Team Singapore athletes, and each athlete, abled or disabled, has his or her own intrinsic value, which we value, recognise and appreciate."
ASEAN PARA GAMES
The biennial ASEAN Para Games has not been held since the 2017 edition in Kuala Lumpur due to the COVID-19 pandemic.
Singapore swimmer Sophie Soon, who competed at the Tokyo Paralympics, has been named as the flagbearer and will lead Team Singapore at the opening ceremony on Jul 30. 
A total of 37 athletes across nine sports will take part in the Games. Sixteen of them will be making their ASEAN Para Games debut.
"The number of young, up-and-coming athletes in this team is a clear sign that our para-sport ecosystem – from talent identification at grassroots level onwards – is on the right path," said Dr Teo-Koh.
"I am confident that the contingent will do Singapore proud, inspiring others to pursue sports and follow in their footsteps."