Not just for seniors: Pickleball growing in popularity among younger people in Singapore
Pickleball, which combines aspects of badminton, tennis and table tennis, has more than 1,500 active players in Singapore.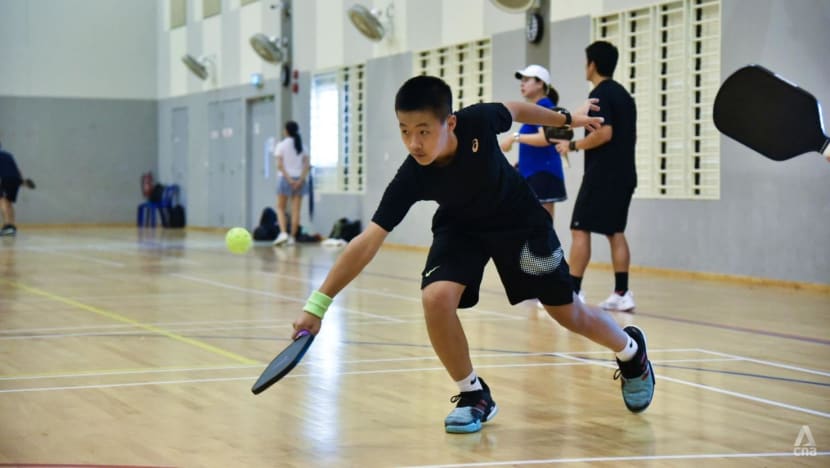 SINGAPORE: A perforated plastic ball whizzes across the court as I flail a desperate forehand hoping to make any sort of contact.
Somehow, I do. Making a "pop" sound as it rebounds off my paddle, I manage a weak return across the court to Mr Chong Siew Tan, my coach for the afternoon and president of the Singapore Pickleball Association.
We started with the basics. The forehand, the backhand and the dink – a delicate and controlled shot.
As someone who played table tennis and badminton competitively, picking up the composite paddle and playing those shots was not too tough.
"The barrier to entry is not high. It's also very easy to have rallies, to sustain to and fro," Mr Chong explained. 
"On a skill level of 0 to 100, you can reach 30,40 very fast. But, to go beyond (that level takes a while more)."
At the end of 15 minutes of returning a venomous serve, a thin film of sweat caked my face. And it dawned on me just what he meant. 
Pickleball is not as easy as it looks.
GETTING "HOOKED"
Invented in 1965, pickleball is a sport that combines aspects of badminton, tennis and table tennis. It can be played in both the singles and doubles format.
Pickleball can be played both indoors and outdoors – usually at badminton courts – with participants using a paddle to hit a plastic ball across a net about the same height as a tennis net.
The sport has exploded in popularity in the US in recent times, where it has been the fastest-growing sport in the country for the last three years, according to the US-based Sports and Fitness Industry Association.
A number of big-name athletes have also invested in professional pickleball teams, such as seven-time Super Bowl winner Tom Brady, former tennis world No 1 Kim Clijsters, and NBA stars LeBron James and Draymond Green.
Pickleball was introduced to Singapore in 1990 but only grew in popularity mostly over the last few years. There are currently between 30 and 40 interest groups who play pickleball regularly in Singapore, said Mr Chong, with 1,500 to 2,000 active players.
Mr Chong said the Singapore Pickleball Association has programmes to introduce the sport to schools and encourages people to give it a try. 
"Once they come in, they like the sport and they get hooked. It's very easy to pick up, so everybody thinks that they are very good. (But) you will find that the next person is also quite good."
The COVID-19 pandemic also sparked interest in the sport with the temporary closure of some indoor sports venues, Mr Chong added. People were limited to outdoor multi-purpose courts and some decided to pick up pickleball.
Association vice-president Lim Ee Kiong said the younger generation is more interested to try out alternative sports.
"We can see this in the introduction of new events in the most recent Olympics. The typical mainstream sports are no longer enough to satisfy the diverse interest of the people. In terms of racquet sport, there is pickleball, padel, racquetball, in addition to squash, badminton, table tennis, tennis," he said.
But it was the characteristic sound of the paddle hitting the ball that piqued Mr Chong's curiosity more than two decades ago.
"I heard the sound 'tok, tok, tok' as I was passing by a community centre where quite a few people were playing," he recalled. "They were very friendly people ... and introduced me to the game."
One of the advantages pickleball has over other sports is that it is less likely to cause serious injuries, added Mr Chong.
"Tennis, you have tennis elbow. Badminton, it is usually your knee (that can get injured). This is more friendly for the body and hence we think it is a good sport for everybody," explained Mr Chong, who has competed in pickleball abroad.
"Not everybody will become a national player … but this allows you to play for a very long time."
NOT JUST FOR SENIORS
On a Saturday afternoon at Yangzheng Primary School, all four courts are being used for pickleball. Among the ranks are a host of teenagers, including 14-year-old Lin Hantao.
Introduced to the sport by a friend, Hantao now has hopes of representing Singapore in pickleball one day.
"I felt that it was pretty easy to get started because of my background in tennis ... During the holidays I had more free time and I started playing it more often," he explained. 
"When I tell my friends about pickleball, they most likely have heard about it or maybe they have seen it. But their reaction is like: 'Oh, isn't it a sport for old people?'"
This is a misconception that many have, added Mr Chong. It is a sport open to participants of all ages, and can be played by everyone, not just seniors.
"When I show my friends videos of singles matches which are played at a high intensity, they also get very curious and start asking me questions about it," said Hantao. "Pickleball is actually a sport for people of different ages, from young to old … As you get to higher levels, where many young people play, it starts to get faster."
"You can see for yourself, it is not a slow game," added Mr Chong.
And as I bent over to wrangle another errant return wrapped up in the net, I cannot help but agree.