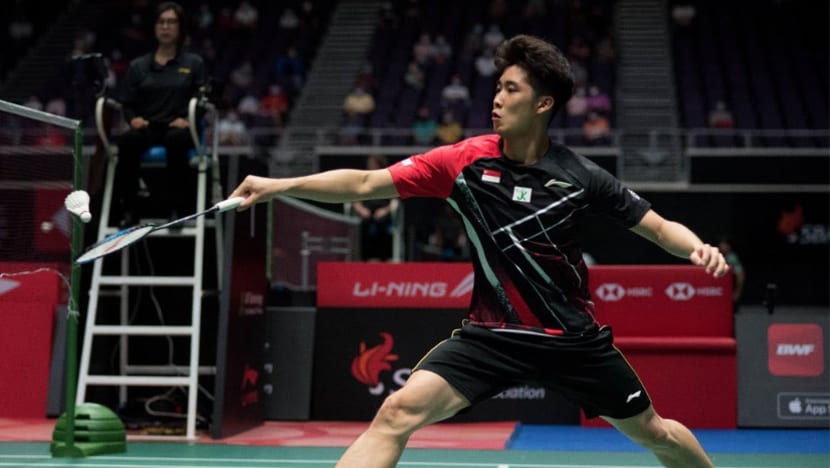 SINGAPORE: World champion Loh Kean Yew's run at the Singapore Badminton Open came to an end on Saturday (Jul 16) when he was defeated by Indonesia's Anthony Ginting in the men's singles semi-finals. 
Ginting, who is world number 6, beat Loh 21-17, 21-14 in 37 minutes. 
The 25-year-old Loh was on his way to becoming the first Singaporean to clinch the men's singles title at the badminton tournament in 60 years. Wee Choon Seng was the last Singaporean to win the event in 1962. 
On Saturday, world number 9 Loh took the lead in the first game and went into the interval 11-7 up. But his higher-ranked opponent turned it around and proved to be the stronger player. 
The two players were neck to neck in the second game as Ginting led 11-10 at the break. The Indonesian went on to build an unassailable lead to take the final victory. 
This is Ginting's first career win over the Singaporean, who beat him on two previous occasions. 
Ginting will face Japan's Kodai Naraoka in the finals, which will happen on Sunday at the Singapore Indoor Stadium. 
Earlier in the day, Naraoka defeated China's Zhao Jun Peng in the semi-finals, taking 21-18, 25-23 in 50 minutes. 
Loh was the last local player at his home open after he defeated China's Li Shifeng 21-15, 21-18 in 49 minutes in the quarter-finals on Friday.