IN FOCUS: What does Singapore football need to raise its game?
With an ambitious national project among other developments, a new chapter could be in store for Singapore football. CNA looks at what the game needs to reach the next level.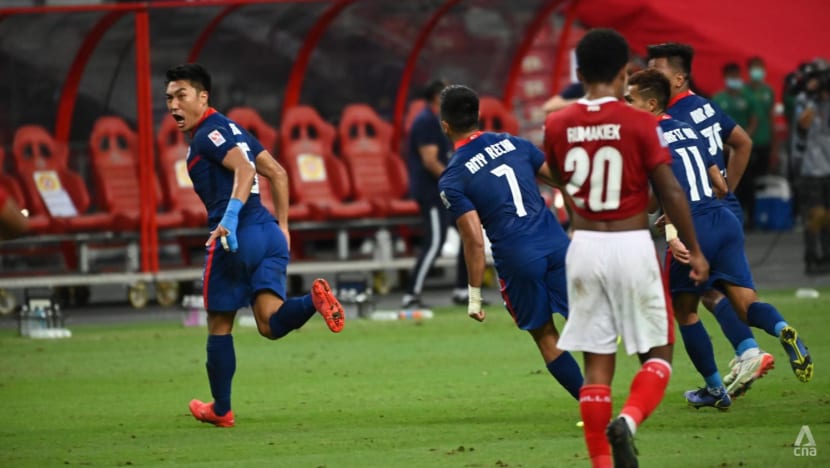 SINGAPORE: Under the watchful eye of instructors, the teenagers are put through their paces.
Some take on the sprint station, where timing gates with light beams help capture information such as top speed and acceleration. 
Others leap through the air to flick vanes and record scores, as part of a vertical jump test to assess their lower limb power. There is also an agility test to measure one's ability to change direction.
Information is collected, data will be analysed and adjustments made.
As the klaxon of the lightning warning system sounds, the boys reluctantly stop what they're doing to seek shelter.
Their training will have to wait for another day, but one of Singapore's newest initiatives to grow football is well underway at Assumption English School.
As one of the ten pilot schools under the School Football Academy (SFA) programme, the last two months have seen a change for Assumption English School's footballers.
"It has made me improve my footballing skills and I really enjoy it," secondary 2 student Ethan Dorett told CNA.
And for those who dream of a career in professional football, the new programme has been beneficial.
"I was over the moon when I heard that national coaches would be coming to coach us," said secondary 4 student Valerio Ong.
"Coaches here will definitely help us increase our knowledge and will definitely help me reach the level where I can play in the Singapore Premier League (SPL)."
THE NEED FOR 'LIFE COACHES'
A sport long under the microscope in Singapore, a new phase could be beckoning for local football.
Against the backdrop of last year's brave AFF Suzuki Cup campaign, with Singapore making it to the semi-final, an ambitious project called Unleash the Roar (UTR) is now underway.
The national project was announced by Minister for Culture, Community and Youth Edwin Tong in Parliament during his ministry's Committee of Supply debate in 2021.
Aimed at galvanising the local football ecosystem and bringing sustainable success, the project's central long-term goal is raising the standards of local football across all levels.
It also hopes to create a structured football development system that can fuel the dreams of young players.
Speaking to CNA, Parliamentary Secretary for Culture, Community and Youth Eric Chua described the project as one for the "long haul".
"We are not talking about harvesting or reaping results this year, next year, or even in the next couple of years," said Mr Chua.
"In terms of actual results that we see on the pitch, on score-lines and all that, I think we're talking about a few years at least, but I think chiefly we want to focus on a few things."
One of these things is creating a youth development pipeline.
"We want to make sure that we have a healthy pyramid coming up to the high performance level," he explained.
And this is where SFAs like Assumption English School come in.
Aiming to develop young players, SFAs are an important component of UTR, and are part of the second pillar of the project, called "Let Them Soar". This pillar is aimed at improving the elite training structure, including establishing multiple pathways to the top of the youth game.
UTR has eight pillars, covering areas such as scholarships, national service, as well as infrastructure. Objectives have been set for each pillar in the hope that they produce outcomes to support the project.
A key component of the SFA will see students train on average four times a week, up from the average of two in most football programmes at secondary schools. The youths will also play competitively throughout the year, with a tournament planned among SFAs, AFA Development Centres, and possibly private football academies from 2023 onwards.
The SFA programme will encompass on-field training, complemented with sports science support.
Speaking to CNA, FAS head of methodology Philippe Aw said that the process of setting up the various SFAs is ongoing, as are discussions with schools on how to operationalise them.
The pilot programme will include ten schools. In general, the SFAs will begin at the Secondary 1 level this year and progressively expand to include all four years in each SFA by 2025. 
Each of the schools will feature a boys' SFA and UTR is currently working with the Ministry of Education to establish SFAs for girls. It is expected that about 1,400 boys and girls will be a part of the programme eventually. 
But even as these blueprints are being executed, football must not come at the expense of education, Aw was keen to stress.
"This programme is not just about football, it is about (providing) a holistic education for these boys. As much as yes, we say we want to groom them in football, but our training includes character and leadership training as well," he explained.
"What we are trying to tell our coaches is we are not just football coaches, we are also life coaches … The coaches need to think about: 'Okay, in my training today, yes, I want to teach the boy how to dribble. But what is the life value that I want to teach?' 
"It could be resilience, it could be commitment. It is something that we have to put in, then the coaches need to think about, and it has to be deliberate. You can't leave it to chance."
Under the SFA programme, coaches gather twice a week to discuss and share best practices so they consistently deliver the National Football Curriculum, said Aw.
This curriculum aims to establish a style of play that is representative of Singaporean culture – fearless, resilient, exciting, proactive and organised, the FAS said previously. It will advocate for a pro-active, possession based, high tempo style of play.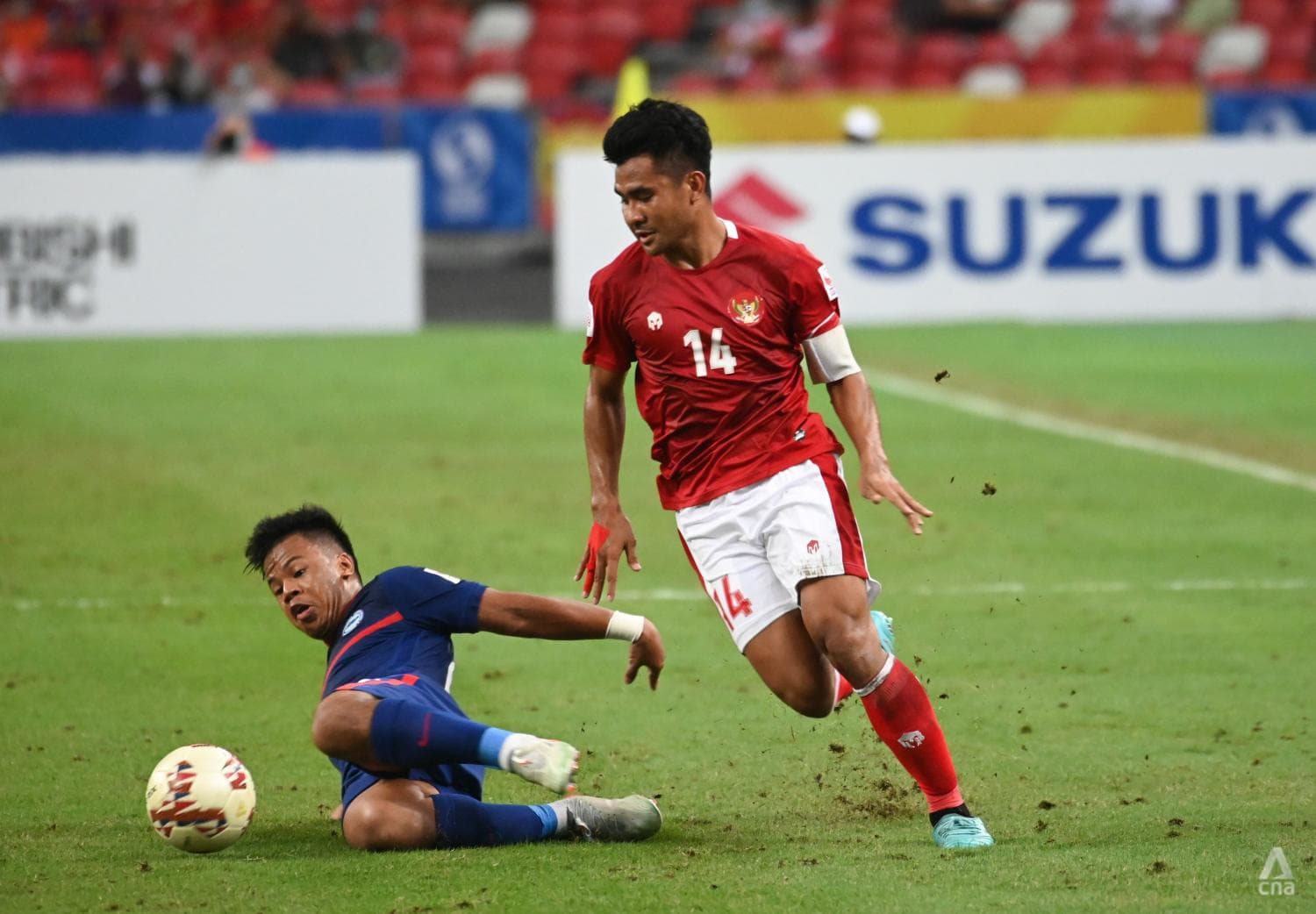 The announcement of partnerships with German football club Borussia Dortmund and Spanish football's top league LaLiga has also been a shot in the arm for UTR.
Both Dortmund and LaLiga will provide expertise in the areas of youth development, coach development and sports science, it was announced last year.
LaLiga coaches will help helm "key positions" alongside local coaches in the 10 SFAs while Dortmund will lend their expertise and jointly develop a coach development programme with UTR, said SportSG and FAS previously.
ALLOWING FOOTBALLERS TO BE STUDENTS FIRST
Another challenge SFAs will aim to address is the balancing of football and academics.
Having seen many promising talents hang up their boots to focus on their studies, Aw is aware of the need to address this.
"We always remind them that they are students first, and it is something that this programme (is addressing), where our coaches are working together with the teachers to help the student athlete," said Aw.
"We are in Singapore and we know that studies are so important. If we don't help them manage this, in the end we will lose these boys because the parent will say: 'Stop, enough'. And therefore, (with) this SFA program, we create (an) elite training environment where we also control studies and we control football."
One possibility for SFAs is for coaches to be at schools several hours before training begins, said Mr Aw.
Players can then make use of this window between the end of the school day and the start of their training session to gather in the classroom and study or revise their schoolwork. And all this will be supervised by the coach.
"Football excellence does not come at the expense of academic excellence," added Mr Chua.
"Parents do come from the point of view of caring for the future of their children. So is football a viable career, is football something they can do? And I think we need to answer a key question in their minds when their children are schooling and that is - is it a zero sum game?" 
The need to focus on studies is keenly recognised by youngsters in Assumption English School's SFA.
"What we need is a little self-discipline and time management," said Valerio, who's ambition is to be a goalkeeper at an SPL club. "I just have to put in the next hours that I have missed (while training) so that I will be on par with my peers, and not lag behind.
"So far I think I've been managing pretty well." 
Speaking to CNA, local football observers say that UTR's overall blueprint bodes well for the future, albeit with some questions about its implementation.
"The plans mentioned have been good to see. It shows there is a plan and direction that we want to head in. But what is more important, is the execution," said Mr Nazhan Achmad, who is one of the two co-founders of popular local podcast "The Football Whistle" (TFW)
"So far, we have all heard the talk. We are waiting with bated breath to see the plans being executed. We would love to see them being put in place. The public will gain confidence when they see things set in motion."
'WHAT DO YOU DO WITH THE BIG BUCKS?'
While UTR has been mapping the way forward for the local game, the Lion City Sailors (LCS) have also contributed in their own way. 
Formerly known as Home United, LCS became Singapore's first privatised football club just over two years ago. This means that it no longer has to depend on revenue streams such as subsidies from FAS to operate.
The club is owned by Singapore technology firm Sea, with the company's group chief executive officer Forrest Li currently chairman of the club.
And the Sailors have not been shy to rock the boat. 
Last year, they made the first multi-million dollar signing in SPL history when they signed Brazilian midfielder Diego Lopes from Portuguese Primeira Liga side Rio Ave for S$2.9 million. The club then went on to clinch the SPL title, becoming the first local club to win the league since 2014. They will compete in the Asian Champions League this season.
Last April, the Sailors held a groundbreaking ceremony for a S$10 million training facility which is expected to be completed later this year.
While club success is important, LCS's CEO Chew Chun-Liang noted that it is important that they also contribute positively to the wider football fraternity and the community. 
"We want to reinvigorate Singapore football. So that's our vision and our mission," said Mr Chew.
This is demonstrated in a number of ways, most notably through the investment in the club's academy.
"You must have a pipeline of talent in order to sustain success. And no professional team can operate without an academy. So it's important that we focus on nurturing, and developing our young talent, (and) develop structured pathways for them …  And, of course, as we develop them, we make sure that they are exposed, and they are benchmarked with the best academies in the world," said Mr Chew.
"Youth development is absolutely important and crucial so that you can constantly have talent, and these players can eventually turn professional and play for our first team."
The LCS football academy was launched in June 2020, with the goal of creating a platform so that its players can aspire towards as high a level as possible and dream big, said academy manager Tan Li Yu.
One of the academy's key initiatives is its Elite Development Programme.
Among other benefits, footballers under the programme do not have to pay for their training, and get opportunities to travel abroad to compete with high quality opponents, said Mr Tan. They also can learn from the various performance and skills coaches that LCS has hired.
These moves have started to bear fruit, as highlighted during a 42-day stint where the club's youth footballers traveled to Germany and the Netherlands at the end of 2021. They played a total of 11 matches, finishing with a record of six wins, four losses and one draw.
"I would say that we are not very far off from the top academies in Europe. So that's very encouraging," added Mr Chew.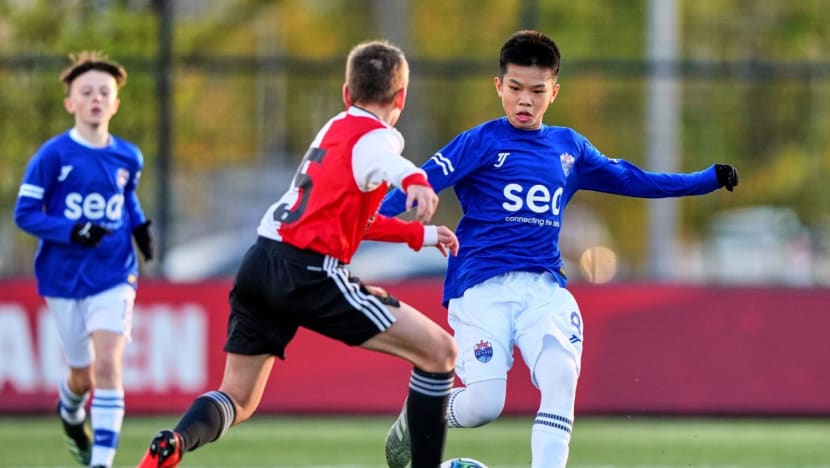 One of the youngsters who is part of the LCS academy is Victoria School student Rae Peh.
A central midfielder, his dream is to play professionally in Europe.
"I feel that the platform we have here is comparable to those top youth clubs. I think it is going to help me develop more as a player. For example, the physio(therapist) we have, the nutritionists who teach us what we should do off the field … This all helps us for our body and how we should cope with our intense training, and will help me reach my ultimate goal," said Rae, who was part of the team which went overseas last year.
At the same time, opportunities to excel at football are not just limited to those in the programme. LCS' development centre and football school also help to cultivate a broader base of youth involved in football.
Youngsters who are talented and committed can also move through the various levels, said Mr Tan.
After completing their secondary school education, the cream of the crop in the programme are offered professional contracts.
Under this framework, they have the option of continuing at the Academy until they enlist or take the recommended option of enlisting early for National Service (NS).
Should they proceed with the latter option, their contracts begin after they complete their NS.
Such a move also frees up such players to explore the option of overseas trials at a younger age, said Mr Tan.
"The earlier you go, the more time you're giving yourself to establish a name for yourself there," he added. "The later you go, the less time you have."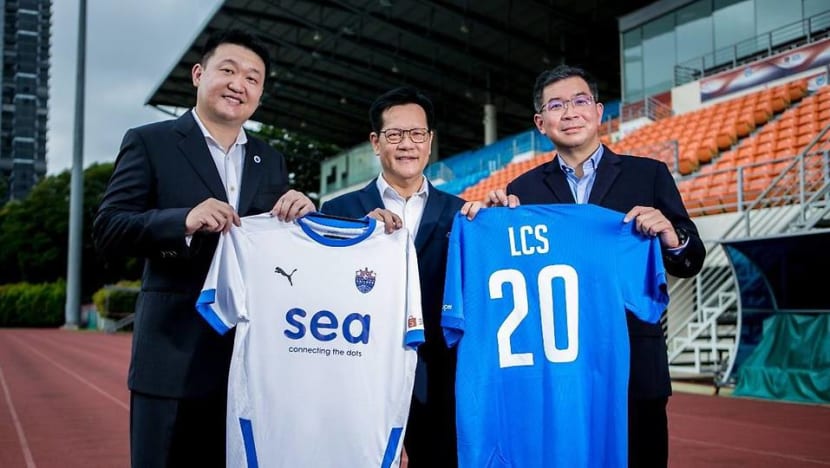 At the SPL level, the club is also amassing talent.
LCS' latest eye-catching foreign signing has been South Korean international Kim Shin-wook, who joined them on a free transfer from Chinese Super League side Shanghai Shenhua.
The towering Kim has already scored three times for the Sailors in his first three games.
When it comes to foreigners, it is important to bring in players who are hungry, stressed Mr Chew.
"Beyond just the stats and also the skills, we also want to bring in foreign players who are hungry, (who) still want to push themselves further," he said.
"Of course, if you want to reinvigorate Singapore football, getting more people to watch the games, you could bring in a star, a football star, but if the player is not at a level that that can help raise the standard of football, that can help be a role model for local players, then we are just wasting our time." 
There have been big names who previously graced the domestic league, such as former Arsenal and Liverpool midfielder Jermaine Pennant in 2016.
However, Pennant's stay in Singapore lasted just nine months, before he returned home to England.
Along with Kim and Lopes, former Standard Liege winger Maxime Lestienne and Brazilian Pedro Henrique currently make up the Sailors' foreign contingent.
LCS' squad is also arguably the deepest in the domestic league, consisting of more than ten national team players.
"For local players to want to be part of our team it is not just about the salary, the remuneration packages. Because when they join LCS, they join and they can train with the best and train under the best. By staying with LCS, they know that in terms of their personal development, they can grow to be even better players," said Chew.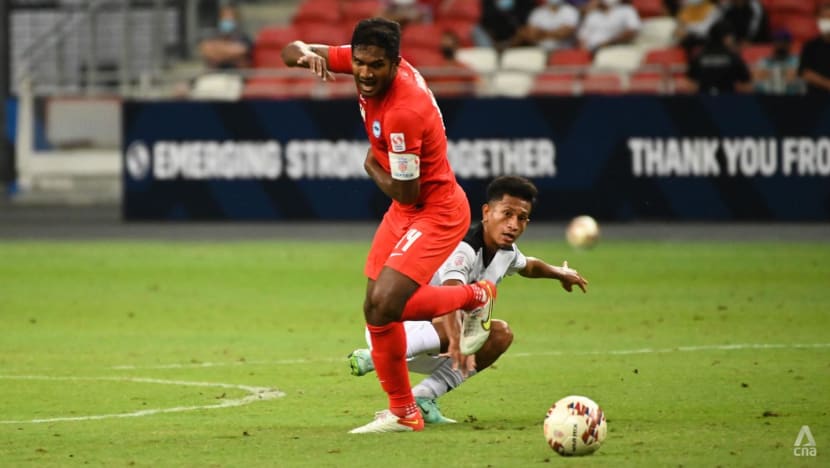 One of the biggest stars in the LCS squad is Singapore skipper Hariss Harun.
Hariss is no stranger to ambitious projects, featured as a key player and captain for Malaysian side Johor Darul Ta'zim (JDT) for more than half a decade.
During his time at the club, JDT was transformed into a regional giant under the ownership of Johor Crown Prince Tunku Ismail Sultan Ibrahim.
And there are parallels between both projects, observed Hariss.
"They had an interesting project, nobody knew at that time whether it would take off, what would happen but obviously we all know what JDT is today, and how fast that project moves on and it is still advancing and getting bigger at the same time," said Hariss.
One of the things that the project addressed was his desire to help Singapore football, added the Lions captain.
"It's something I felt was missing from our game; a club to take that lead to follow what is being done in modern day football," he said. 
"Everybody is going to talk about the big bucks, but what do you do with the big bucks? That's what matters and what counts. So this project kind of appealed to me, and actually reminded me of the time when I signed for JDT."
Privatised clubs like LCS are a boost for local football, noted TFW's Mr Nazhan.
"Privatised clubs have more resources and hence they are able to tap on these to improve the profile of their club. They have carried out their business with the sole focus of improving the team and you can see the results," he explained.
"If more clubs are able to draw on better investment, we will see better quality players come into the league and local players will also be better paid hence leading to a better, competitive league. This can only bode well for local football."
FAS president Lim Kia Tong told CNA that LCS' privatisation has led to other clubs raising their level of "aspiration and competition".
"We hope that Sailors' example will encourage other clubs to similarly be privatised, which we believe will further raise the standards of the league as Singapore football looks to grow to a higher level."
A 'WIN-WIN-WIN'
As Singapore football aims to take the next step forward, the SPL's growth is seen as key. And those who spoke to CNA generally noted that the league has taken steps forward in recent times.
For one, there has been increased interest, noted Mr Nazhan.
"We do see more engagement from locals in terms of Singapore football. We have had people who have come to watch local football for the first time in recent years. What is important for us, is that we continue to push the personalities involved in local football," he said.
"I do think the league has improved in the years I've watched it. Incrementally there are gains, and I think it's telling, with the big money signings that are coming in, the sort of names they are coming into the league, I do think that speaks volumes in itself," said Mr Zia-ul Raushan who along with former Singapore footballer and pundit Rhysh Roshan Rai, runs local football podcast Rated RR.
"Obviously, you have your lesser teams who struggle to compete against the big boys, but I do feel there is a lot of improvement in style of play, in terms of levels of coaching."
Foreign signings for this season include former Japanese international Lee Tadanari (Albirex), former Crystal Palace and Bolton midfielder Andre Moritz (Hougang), and Geylang's Vincent Bezecourt, who previously turned out for New York Red Bulls.
"This year you can see very exciting signings in clubs. Moritz in Hougang, Lee Tadanari in Albirex. These are players that probably we have not seen previously, they are now joining the Singapore Premier League. And it's so good," said Chew.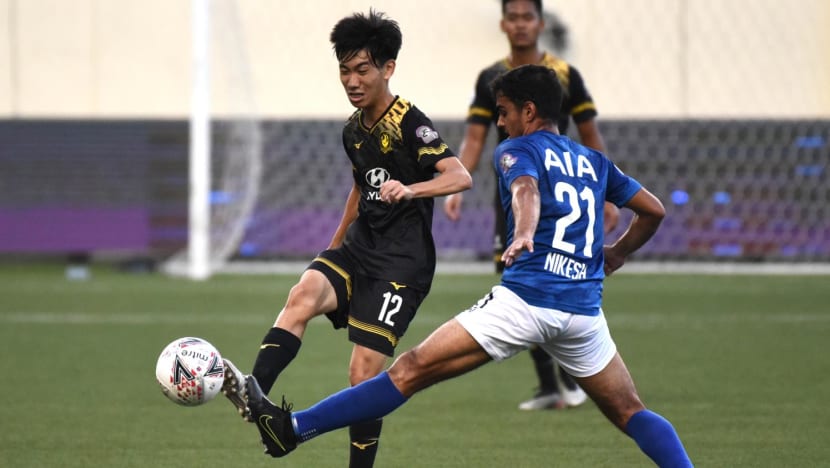 Beyond the headline-hogging signings, other clubs like Tampines Rovers are making moves in their own way.
Speaking to CNA, club chairman Desmond Ong stressed the importance of stability in the form of offering players longer-term contracts.
"We've always been a big believer in having longer term contracts. So one of the first things that happened when I took over at the club in late 2017, was we sat down and looked at the contractual position of various players," said Mr Ong.
"It was not unknown then that players had 10 or 11 month contracts. And so you had a slightly goofy situation where the player wouldn't know where he was going. And speaking as a father, husband and a breadwinner for my family, it's no way to plan your life."
Since Mr Ong became chairman, Tampines has offered players contracts of between two to three years. This year, the Stags took the unprecedented move of agreeing five year deals with three of its players, a first in local football.
"I take a sort of a business approach to this whole matter. So in business, I feel that there are two drivers - either money, or time. LCS has bags of money, there's no way I can go into the market and compete with them," Mr Ong explained.
Instead, what the Stags can focus on is time, he added.
"We have some players on our books, who all things considered, are probably ... either at the top or very near the top of where they should be in terms of their age group," he explained.
"So the idea was to sit down and commit a few of them to these long term contracts, wherein we will then plot, strategize, (and) build our team around these three, four, five or six building blocks."
This gives the club a longer runway to work with them in the coming years and with clauses in contracts to allow players to leave should an overseas club make an offer, it is a "win-win-win situation" for club, player and country as well, Mr Ong noted.
The emergence of LCS has forced other clubs to evaluate and evolve, said Mr Ong.
"LCS has come in and sort of changed the landscape. And clearly we either have to evolve or die out," he said.
However, this does not mean that the SPL is no longer a competitive league, stressed Mr Ong.
"They've won the league once last season … And it wasn't by any means a walk in the park for them. If they start winning every game five nil by halftime, then you can say okay, the league has lost its competitive nature. Or if they win the league six times in a row," he said.
"But until and unless that happens, I think let's be fair to everybody concerned."
FOOTBALL NOT 'A LOST CAUSE'
In recent years, Singapore's men's national team has been through numerous ups and downs.
Most recent were the events of Dec 25 last year, a date which will live long in the memories of Singapore fans. 
Battling hard in the second leg of their AFF Suzuki Cup semi-final, the embattled Lions were ultimately reduced to eight men in extra time and succumbed to Indonesia 4-2 on the night, 5-3 on aggregate.
While Singapore did not lift the trophy, the team's performances did win over the hearts of many, and brought back belief amongst fans, said Mr Lim.
"We may have lost the game that night, but the players won over the hearts of the Singapore fans with their fighting spirit and never-say-die attitude," he noted.
"Three months on from the second leg of the semifinals against the Indonesians, people are still talking about it … You can feel their emotion, they are emotional about it. They speak in very emotive language about that night on Christmas day last year," added Mr Chua.
"It was mixed feelings, to be very honest. A bit of disappointment. A bit of agitation. But I think the underlying emotion I felt that night was really about hope, because it actually shows that Singaporeans could come together and band around or rally behind our team, our Lions."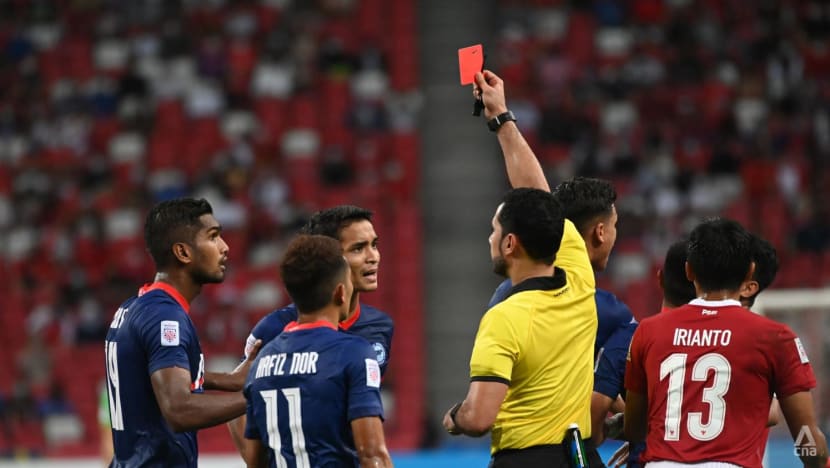 And what is important now, is that momentum is not lost, he added.
"That gives me a lot of hope because it then shows that we can all get around football. Singapore and Singaporeans can get around football and rally around our Lions," said Mr Chua.
"It's not that football is a lost cause. So to me, we can revive football but it will take time. We will take some years to do so."
"I do think winning the tournament would have provided a different so-called kick up the backside for football," said Mr Raushan.
"But what went down in terms of the drama, in terms of how people felt hard done by result, and by the circumstances, I think that did a lot to galvanise (people), even those naysayers who felt like Singapore football will go nowhere." 
And as a result, there has been a lot more social media chatter about local football, he noted.
"I feel more than ever, with the rise of social media as well, I think that chatter has increased a lot. That is what is giving me hope that a lot more people are interested in the game," he added. 
This is a sentiment shared by TFW's Mr Nazhan.
"There is definitely a positive momentum that was garnered during the AFF Suzuki Cup. We must accept the fact that football is a sport that can unite like no other - it is undoubtedly the most popular sport in the world. So as a result, most become an armchair critic. But what I recognised from the reaction post Suzuki Cup is that Singaporeans want one thing - players to show heart," he explained.
"That is what we got from the Lions. And that was why we saw such a positive reaction. Clearly, there are Singaporeans who love football and can relate to a team that shows defiance and grit. The question is, how do we make that long term and let the effect trickle down into our local league? We have yet to find that answer."
However, while Singapore's performance at the Suzuki Cup was celebrated, the man behind it - head coach Tatsuma Yoshida - is no longer around, after leaving his post a year before the end of his contract to be closer to his family back home in Japan.
A replacement for Yoshida, who had been head coach since 2019, has yet to be announced. 
"Overall, the senior national team has shown progress," said Mr Nazhan. "But that cannot be said about Singapore football as a whole. Eleven men (or the senior squad) do not define where we are. As much as there was progress, we took a step back because of a lack of long term planning. Suddenly the national coach departed and there was no contingency plan," he explained.
"Our neighbors have appointed a national coach despite the fact that their post became vacant later than ours. We also have no technical director at the moment. For all the momentum gathered, there is no one at the wheel to drive us forward at the moment. There have been too many changes in the last few years."
FAS president Mr Lim noted that it is "not unusual" for coaching personnel to change over time due to an array of reasons.
And with the COVID-19 pandemic, there is an added consideration to be near loved ones when coaches consider staing on in an overseas posting, he added.
"We have benefited from the foundation laid by Tatsuma during his time here and the key thing now is to ensure that we continue to attract the right talent that will improve the team further," he said.
In the background of the UTR is the aspirational goal set by FAS in 2019 to have the national team qualify for the 2034 World Cup.
This aspirational goal has been met with skepticism in certain quarters, following the Goal 2010 project, which was announced in 1998, and set a target for Singapore to qualify for the 2010 World Cup.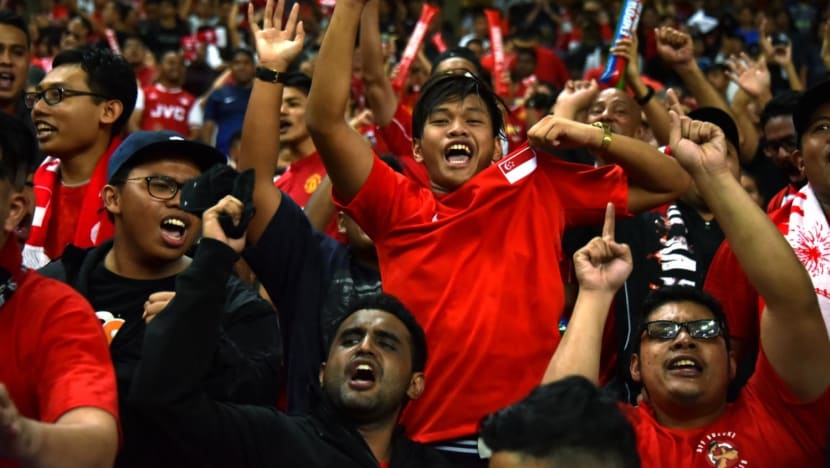 "Certainly, there have been lessons to be learnt from previous attempts to set competitive goals for our football landscape," said Mr Lim.
"When Goal 2010 was announced it did have some measure of success. In the period from 2004 to 2013, we were crowned Asean champions three times, won three SEA Games medals, came within a point of qualifying for the AFC Asian Cup Finals and performed creditably in World Cup and Asian Cup Qualifying."
Looking back at the past and reminiscing on what could have been does not serve Singapore any good, added Mr Lim.
"What is vital is that we need to keep looking ahead to the future and strive to do better. This is the main principle behind Unleash The Roar, which is a holistic take on how we as a collective, can work together to raise the standards of Singapore football by each playing a part, be it the public, private or people sectors," he said.
"This is why in order to do this effectively; the FAS has been in constant engagement between various stakeholders within the football fraternity so that constructive criticism and feedback can be taken on board for the betterment of our sport."
BEING A LOVING CRITIC
There remain signs that Singapore football is headed in the right direction, according to those interviewed for this article.
But to ensure it reaches the next level will require time, commitment and consistency.
"Ultimately, we are fans of local football. If we are not optimistic, we would not be putting in our efforts each week. We want to continue to produce content to get more fans onboard. This is how we aim to contribute to the scene. More people must step forward to support us and the league," said Mr Nazhan.
And while there will always be critics, Mr Chua noted that such conversations are important to further improve projects like UTR.
"What I really worry is when we put our plans out there and then nobody says anything. Even critics, if you're a loving critic, I think that's okay," he added
"The one thing I hope people can do is suspend any sort of cynicism or disbelief, because for a long time, we've just been sort of like, this sick man of local sport … We just need to suspend that for a while. Try and get united … and just try to make something happen," said Mr Ong.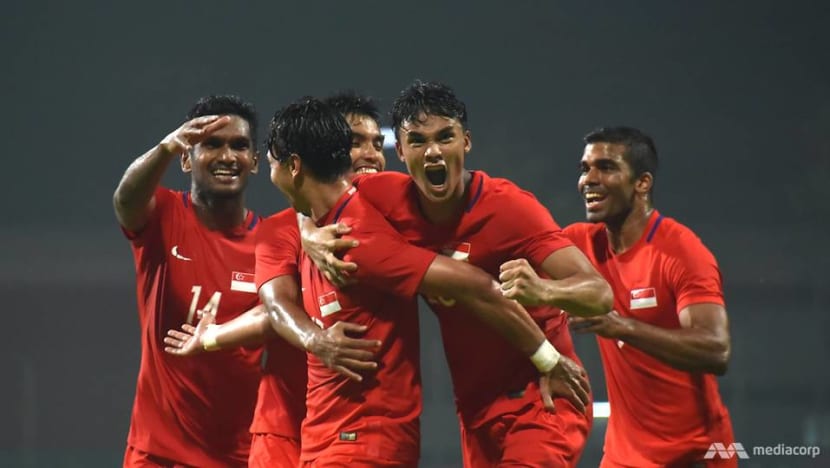 At the same time, transparency in the years ahead will be important.
"When you want your stakeholders - which essentially is the whole of Singapore  - to be with you on board a national project like this, communication is key," said Mr Chua.
"So we will at every step of the way try our best to keep everyone as updated as possible … It's not just about us, huddling up in a basement cobbling about plans. we will have to get all the different stakeholders involved."
And what is important is not giving up on Singapore football, emphasised Hariss.
"It's a non-stop process, we have to keep going and try to find success. But it is only if we don't give up that we will find success."