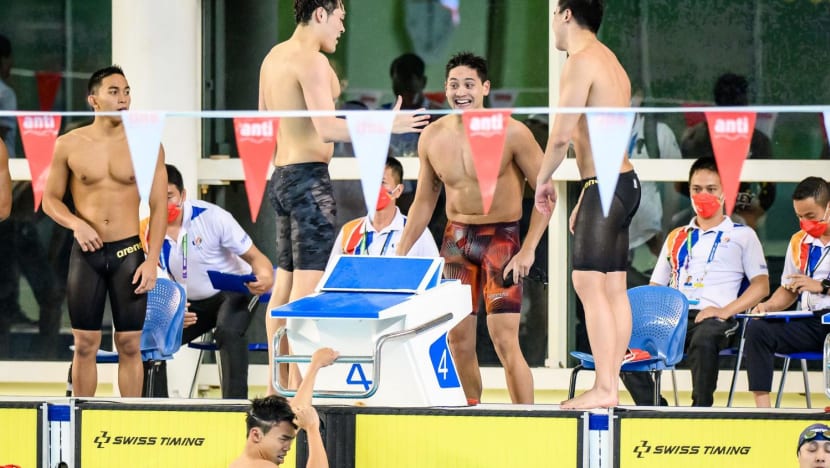 HANOI: There would be no disqualification, no controversy and no doubt who won the men's 4x100m medley at the 31st SEA Games on Monday (May 16) as Singapore cruised to victory at the My Dinh Water Sports Palace in Hanoi.
The quartet of Joseph Schooling, Quah Zheng Wen, Jonathan Tan and Maximillian Ang won in 3:37.69 ahead of Vietnam and Thailand.
This was Schooling's second gold of the night after he clocked 52.22 to defend his SEA Games gold in the 100m butterfly; he is unbeaten in that event since 2013. Quah would also clinch a silver in the same event.
Schooling, Quah and Tan were part of the 4x100m freestyle relay team that won their race on Saturday ahead of Malaysia and Vietnam. But official results later disqualified Singapore and Malaysia, leaving Vietnam to take gold, Indonesia the silver and Thailand the bronze.
"I think we all know how good we are and where we can be and this time we just got up and did it for the second time in my opinion," said Quah after Monday's race.
"And so yeah, nothing changed. We were ready for it. And we'll only get better from here."
Along with Schooling's 100m fly win and the relay gold, there were two other golds for Singapore on Day 3 of competition.
Earlier in the evening, Gan Ching Hwee clinched her second gold medal of these Games after winning the 200m freestyle. She had won the 800m freestyle event previously.
Thailand's Kamonchanok Kwanmuang took silver and Singapore's Chan Zi Yi the bronze with a personal best time.
There was also a gold for Letiita Sim in the 50m breaststroke as she clocked a personal best time of 31.43.
Speaking to reporters after the day of racing, national head coach Gary Tan praised his charges.
"First off as a team, I'm very, very happy with how it went. We came in here on a couple of events, the kids are tired, especially someone like (Schooling), with his (National Service) and everything and even with Zheng Wen, to swim back-to-back events is really a big, uphill task," he said.
"And to see them actually just do it for Singapore, it is something very admirable and I think we are really proud of them for doing that."
Tan also praised Schooling for being a leader in the swim team, especially in the aftermath of the relay team's disqualification.
"He really stepped up as an individual to really talk with the guys, the younger guys as well, about how to move on from here. And just go out there and race even harder," he said.
Tan noted how Schooling has "transformed" since the last edition of the Games in 2019.
"This guy has transformed and he's been a leader. His character is something that I am very proud of. I really think that he's gone through a lot especially with his dad passing on. (I'm) so amazed at how he has been as a person."