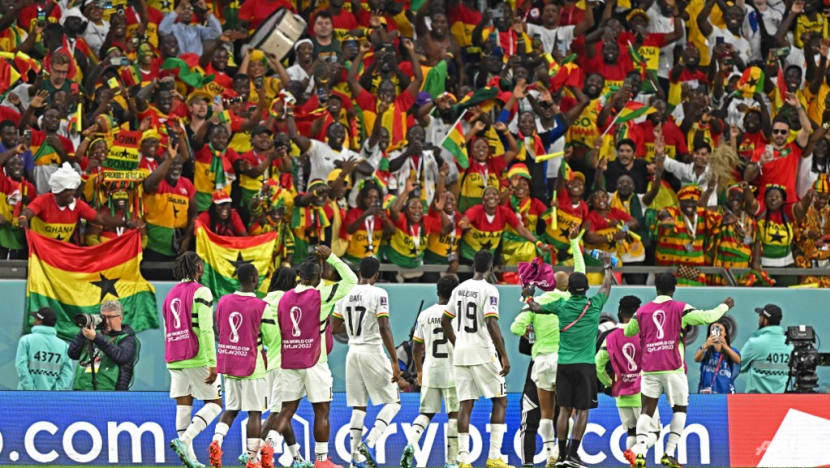 AL RAYYAN, Qatar: The party started early.
It began as the Ghana players trooped into the ground and spilt into the stands as the Black Stars' exuberantly spirited and extravagantly dressed supporters basked in the occasion.
And their team gave them even more reason to celebrate on Monday (Nov 28), after a 3-2 win over South Korea in a must-win clash.
At Education City Stadium in Al Rayyan, Ghana took a first-half lead courtesy of goals from Mohammed Salisu and Mohammed Kudus.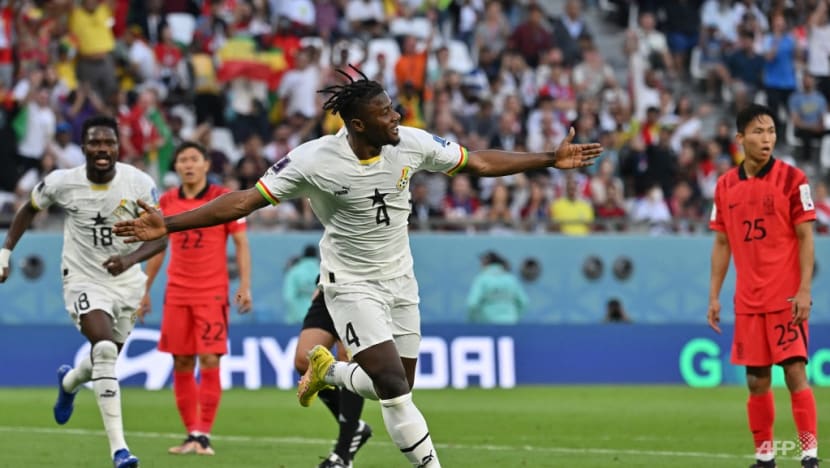 But for three minutes in the second half, South Korean striker Cho Gue-sung played party-pooper as two textbook headers dragged his side level.
Then came the winner, a 68th-minute curling Kudus effort tucked into the bottom corner.
Paulo Bento's side controlled things early on, spreading the play smartly and pulling their opponents all across the pitch.
Such was the extent of their dominance that they had amassed seven corners to Ghana's zero by the 20th minute.
South Korea gained a creditable point in their opening game against Uruguay, who are 14th in the world and were semi-finalists in 2010 and quarter-finalists in 2018. 
Ghana on the other hand were beaten 3-2 by Portugal in their opening match.
But with one free kick and one swing of the foot in the 24th minute, Ghana's Jordan Ayew caused mayhem at the back for South Korea.
In the thick of things was Salisu, who swept home.
Even a nerve-wracking wait for VAR would not sully the joy of the Ghana fans who raised the decibels throughout the game.
Ten minutes later, Ayew provided more magic as his cross only needed the faintest of touches from Kudus for the net to bulge.
One of the Black Stars' shining lights was Brighton's Tariq Lamptey. 
The speedy fullback kept tabs on star player Son Heung-min throughout the game, and even found an opportunity to bomb forward early in the second half, only to shank his shot.
Twisting his neck to thump a header on target, Cho would come close, but Ghana goalkeeper Lawrence Ati Zigi parried clear.
But South Korea were not to be denied as Cho ghosted in past a napping Salisu to pull one back in the 58th minute.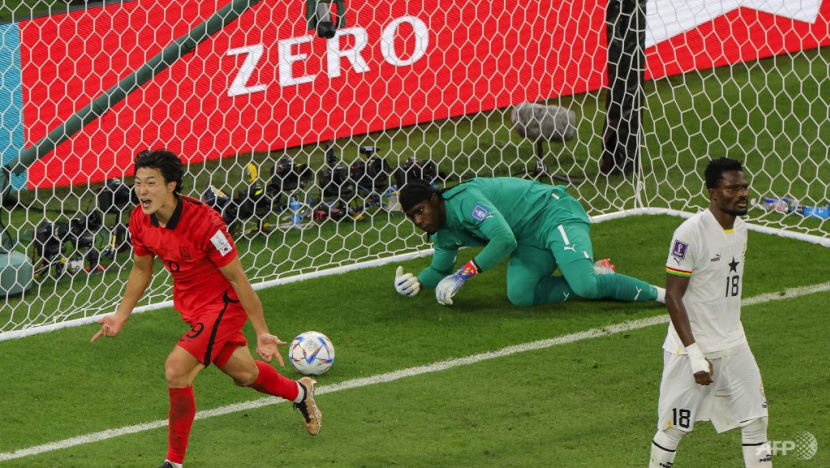 Three minutes later, Cho was right back at it again. He overwhelmed his marker and the Ghana goalkeeper with a bullet header.
Pandemonium ensued in the stands as the camera cut to South Korean fans shedding tears of joy.
But there would soon be tears of a different kind courtesy of Kudus.
A vicious Lee Kang-in freekick saw South Korea come close but Ati Zigi proved equal to the task with a smart stop.
Ten minutes of manic football played out in stoppage time heightened the tension, but Ghana would cling on for dear lives and the win.
There was still time for late drama when referee Anthony Taylor bewilderingly blew the full-time whistle just after the South Koreans had won a corner kick.
As the South Korean team remonstrated, head coach Paulo Bento was given his marching orders for screaming his disapproval.
With their hopes of progressing to the round of 16 dangling by a thread, South Korea will now need to beat Cristiano Ronaldo's Portugal in their last group game on Friday (Dec 2) to stand any chance of doing so.
Bento has insisted throughout the 2022 World Cup that he felt no pressure.
Now perhaps he might.