IN FOCUS: Can Singapore's athletes achieve their sporting dreams via colleges in the US?
The American collegiate route is one which some Singaporean athletes, including former Olympic champion Joseph Schooling, have taken. CNA takes a look at the opportunities and challenges these athletes face.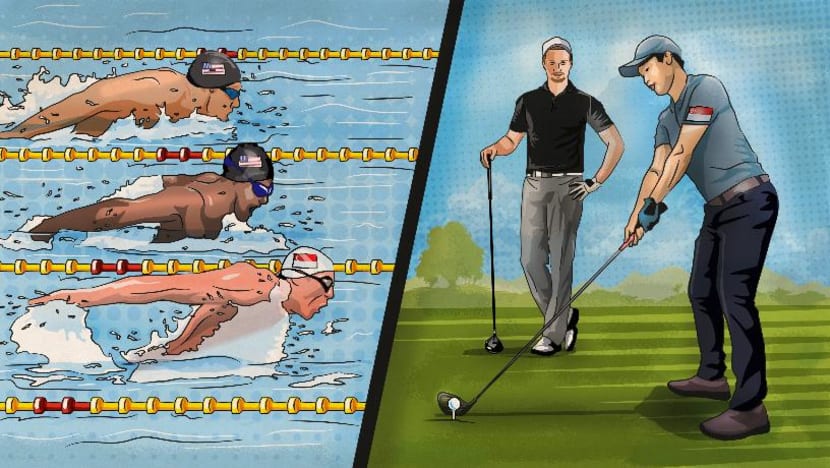 A steady stream of Singaporean student-athletes continue to opt for further education in the US
They say that a good balance of academics and sports as well as a competitive environment are key benefits
But as challenges remain, National Sports Associations say they help to support these individuals during this journey
SINGAPORE: Even as a child, James Leow knew he wanted to be a professional golfer.
"Playing junior golf and all, I've always been very competitive. And I've always wanted the best out of myself, striving to get better and better," said Leow.
And so in 2018, the Singaporean headed to Arizona State University – a school that produced the likes of ex-world No 1 Jon Rahm and six-time Major winner Phil Mickelson.
This would provide him with the experience and the tools he needed, added Leow, who graduated last year and has turned pro.
"The first reason I went there was because I knew most of the pro golfers on the PGA Tour graduated from these colleges," said Leow. "It was a good testament to the high level of golf or elite golf competition that is in the US."
Leow is not alone, as the American collegiate route is one which some Singaporean athletes, including former Olympic champion Joseph Schooling, have taken over the years.
The trend has continued in recent times, with athletes across a range of sports furthering their development as well as their academic education in the US.
There are various reasons why young local athletes opt for the US, but those who CNA spoke to said the college system provides a good sport-academics balance and a strong competitive environment.
"I wanted to continue to study in a uni which ... had a balance between my academics and swimming. If I prioritised those two, I think the only locations I came to were US and Singapore," said swimmer Jonathan Tan, who will enrol at California's Stanford University later this year on a partial scholarship.
"There were a few (schools) that reached out to me, but I came up with my own list ... What I did was during my first year of NS (was that) I emailed the coach and I reached out. Thankfully, he replied and everything just rolled from there."
Similarly, national high jumper Kampton Kam wanted to enrol in a school with a strong academic background and where he could be challenged athletically.
Kam recalled being "really devastated" after not being accepted into the dentistry and medicine courses at local universities. On the advice of others, he decided to look abroad.
"Now, I'm happy where I am and I don't regret it," said Kam, who is pursuing a degree at the University of Pennsylvania's Wharton School.
For college athletes in the US, academic schedules are often incorporated into training schedules. This is the case for tennis player Jerall Yasin, who is on a scholarship at the University of North Dakota.
"Before the semester, we had to meet up with the academic adviser for sports. He knows our practice schedules and stuff so he will help us find the classes to work around our practices," said Yasin.
"The school system in the US not only makes sure that you swim well, they also make sure you study well because they have a cut-off on number of hours you're allowed to train per week during in-season and off-season," added swimmer Christie Chue, who enrolled in Florida International University in 2021. 
"They also have a lot of tutoring and staff members to help you make sure that you're always on track and you're not failing any class. And if you need help, they will set up tutoring for you."
Most professors are also "very supportive" of student-athletes as well, added Chue, who received a scholarship.
"Let's say we have a competition or we have to fly out to another state for a competition. They'll be very understanding and they will either extend our due date of the homework or they will be reasonable … Overall, you really can balance swimming and studies over there; the pressure is not as strong as Singapore."
Richard Gordon, Singapore Sport Institute (SSI)'s senior director and head of high performance and athlete life, said the number of athletes going to the US has been "fairly consistent" over the years.
"The main attraction is to be able to combine their sport to high level and education to a high level. But it depends very much upon the college that you go to," he said.
"(For) many athletes who go into the NCAA (National Collegiate Athletic Association), their primary motivation is around continuation of the sport and education, and combining the two to a high level."
"Those opting for the NCAA system choose schools ranging from performance-based sport programmes with elite aspirations, (while) others stay connected to the sport without elite aspirations," said Singapore Aquatics technical director Sonya Porter.
"In both situations, the NCAA offers a system to combine sports and academics to match an individual's ambitions."
While Singapore has good coaches and develops good swimmers, the difficult part is setting up a system where athletes can get a "high-level education" in college and train with "no problems", said former Singapore swimming head coach Sergio Lopez, now the director of swimming and diving at Virginia Tech.
"It's not only Singapore. I'm from Spain (which) has some pretty good swimming ... In Spain, they have few national centres and ... very good coaches, but it's very hard to combine university and get an education," said Lopez.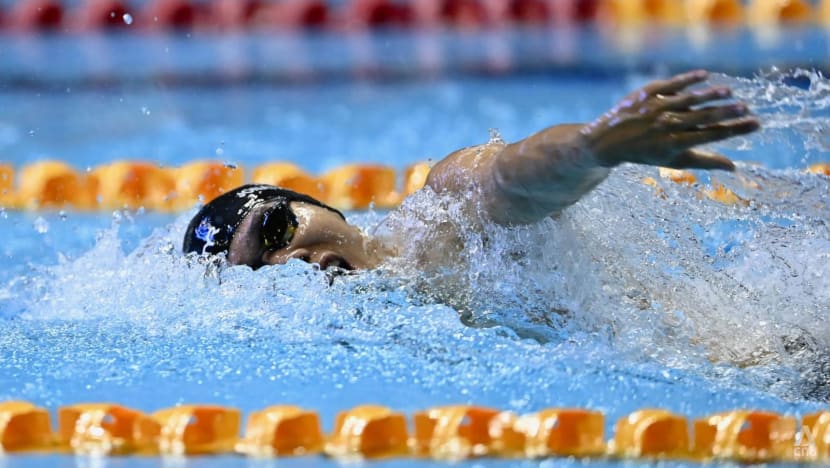 HAVING SOMEBODY TO CHASE
Competition is intense in US college sports. And young Singaporeans believe that being immersed in the NCAA environment can help raise their game.
"In the Ivy League itself, it's competitive and there are people pushing me," said Kam, who holds the Singapore U18, U20, U23 and indoor high jump national records.
"We don't just compete within the Ivy League, we also travel to other schools. For example last year, we went to the Naval Academy, we had a meet with the Navy and a few other schools, and there were at least a couple of people that could jump above 2.05m ... And that was something Singapore didn't have."
At other meets with the "Power Five" schools – schools in the five most prominent and highest-earning athletic conferences in NCAA Division I college football – high jumpers are registering scores of 2.15 to 2.20m, said Kam.
"It's very, very good competition that you have access to on a weekly or monthly basis when the season starts," he added.
At Virginia Tech, Lopez said his team had 12 swimmers at the World Championships and will potentially have 15 at next year's Paris Olympics.
Competition helps to stretch athletes' limits, added swimmer Tan, who met the Olympics "A" cut in the 50m freestyle earlier this year.
"Swimming with people who are much faster than you will always push you more and motivate you to train harder.
"It's good exposure for me because I'm swimming with a lot of good college swimmers, and Singapore doesn't have a lot of breaststrokers," added fellow swimmer Chue.
"For once, I don't feel like I'm alone, I actually have someone that I can chase. So it's a good thing."
For Leow, it was an "eye-opening experience" to understand the level he was at.
"As an athlete, nobody loves to lose or be in the bottom few. In fact for me, I knew what I was committing to – a college programme that is one of the top in the nation – and I knew what I wanted," said Leow, who was ranked as high as 43rd in the world amateur standings.
"Instead of having a negative mindset about my first year – I was struggling and barely making the lineups and all that stuff – it was a motivation of what it takes to be up there with the top-ranked players on my team, as well as compete against fellow top international players."
To be the best in the world, one needs to be surrounded by the best in the world, said Schooling, who graduated from the University of Texas at Austin.
"Being able to go shoulder to shoulder every single day with them gives you that confidence that if this guy is winning a gold medal, he's on the podium, he's breaking world records and I'm hanging with him in practice every single day - that gives you a huge confidence booster," he added.
Realising that they are not necessarily the best athlete should be a "driving force", added Singapore Aquatics' Porter.
"They're not necessarily going to go in as the best athlete where they are in Singapore and that should be a driving force for them," she added. 
"It should hit them in the gut where it becomes that thing to want to get to be the best athlete in that environment,"
Given the level of competition, it is vital that athletes do their own research in selecting a suitable school, said Singapore Golf Association general manager Joshua Ho.
"The selection of the team they go into is very important because you don't want to be going to a system where you cannot make the team at all," said Ho, a former national golfer.
"If you consistently can't make it on the team, you basically don't get the exposure that you intend to go there for. At the same time, you don't want to be by far the best player there because then no one's really pushing you to get better."
For some, the US college system also provides a possible path to a professional career.
Professor Douglas McLeod, who sits on the University of Wisconsin-Madison athletic board, said that "revenue sports" such as American football feed athletes into professional leagues.
"Colleges are the breeding grounds for professional athletes, and the level of competition in college is extremely high. You have to be a top-level athlete," said Prof McLeod. "In terms of the level of play ... it's also correlated with the size of the university and the quality of the university."
College athletes who are top of their class in sports like American football, basketball and baseball are often drafted into the top-tier sports leagues such as the NFL and NBA.
For top collegiate players, there is also a direct pathway into the PGA Tour, as well as through various developmental tours such as the Korn Ferry Tour, PGA Tour Latinoamerica and PGA Tour Canada.
Should he decide to go pro, the US college system is a good "stepping stone", said tennis player Yasin.
"Even if ... while you're still playing and you decide: 'I don't feel like I want to go pro anymore', you still have a degree,'" he said.
"It's kind of hard to say I want to go pro now and actually go pro because I feel like it also depends on how your results are. For example, if in these four years of college, you're losing all the time, there might not be a point to try it. But if I do decent at least, I will for sure try at least a couple of years on the pro circuit."
When it comes to squash, student-athletes are allowed to play on the professional tour, said Singapore Squash general manager Alex Wan.
"Of course, as a student, you will play fewer events. But the advantage is you can play enough events to maintain a certain ranking so that when you graduate you don't have to start from rock bottom," he said.
"Theoretically you can (do the same if you study in Singapore) but it is whether you are able to cope and get the study leave ... The system is very rigorous in the sense that it's hard to take a whole week off lectures to go and play in a competition."
The level of competition and the flexibility of timetables in the college system benefit athletes, added Wan.
"If an athlete is keen to pursue professional squash or sport as a career, I think it's definitely a good thing for them to be there," he said.
However, it remains a challenge to convince promising youngsters to go pro, admitted Wan.
"When these athletes return back to Singapore, we are also seeing a huge attrition rate. Because after you graduate from an Ivy League school, it's very hard to justify economically why one would want to play professional sports."
As such, the Squash Association is starting a pilot scheme to fund players who have that desire.
And for sports without clear professional pathways, this is where SportSG and SSI also provide support via the Sports Excellence Scholarship, said Gordon. There is also the Singapore National Olympic Council's Multi-Million Dollar Awards managed by the Singapore National Olympic Council.
"IT'S A DIFFERENT WORLD"
College sports in the United States is a big deal.
"Athletics is a huge part of universities. It's a major part of the image of the school," said Prof McLeod. "It's a major factor in recruiting students, students want to go to schools that have thriving athletic programs."
And much of the money comes from American football, he added.
"In the US, American football is number one, the most important sport. It is the cash cow that brings all the revenue to collegiate athletic programmes," Prof McLeod said.
At the University of Wisconsin-Madison, one of the "Power Five" schools, 60 to 70 per cent of its athletic budget comes from football revenue including ticket sales, and media contracts by selling broadcast rights, he added.
What is "unique" about the NCAA is the fact that it is well-established and has many universities that offer scholarships, said Gordon.
In comparison, the UK and Australia typically do not provide the same level of scholarships and funding, he added.
At Virginia Tech, another "Power Five" school, athletes have full access to a suite of services including physiotherapists, psychologists, nutritionists and tutors, said Lopez.
Large sums of money are spent on recruiting athletes, with American football matches seeing 70,000 spectators.
"The way everything is organised here, it's kind of like a professional team in most of the countries," said Lopez. "It's a different world."
And with more money has come more access to services for student-athletes over the years said Lopez, a bronze medallist at the 1988 Olympics.
"It has evolved because there is more money involved, because the schools have been spending," he added.
But not all schools have the same level of facilities. 
For Chue, her school's pool is a 45-minute bus ride away from the main campus. Given time constraints, training is sometimes held at a nearby pool instead.
"The downside of that is that in the afternoon, we have to share half of the pool with the public.  And then after three o'clock – all the other high school swim clubs come and train," she added.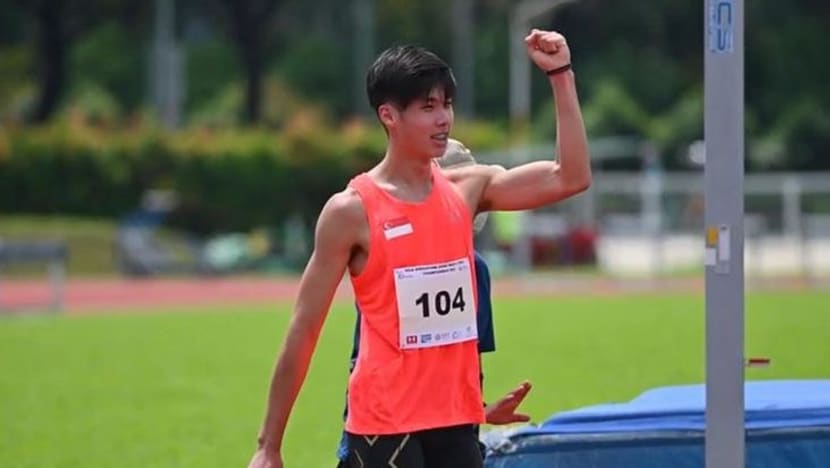 And enrolling at a college or university in the US does not guarantee instant success, said Porter.
The athletes still need to put in the work rather than wait to improve by "osmosis", said Porter, who worked in the NCAA for over two decades.
"We educate our kids (that) even when they go over to college, we're helping them to understand that it is still your responsibility to take full advantage in the environment and put yourself forward, not to stand back and wait to be told what to do," she added.
Singaporean athletes who go to the US will need to speak up about their needs as an athlete, said Porter. 
"When they go into those systems, they have to be extremely independent. If they don't speak up, if they're not the ones guiding their direction forward, they're going to get lost in the mix.
"American kids, they grow up very vocal on who they are, what they want."
Time management is also key, said Porter. For one, there is a cap that the NCAA places on the hours a student-athlete can spend practising during a season and off-season.
"They have to build their study routines around their sport. It's not the other direction. This becomes a little bit of a hard thing initially for them to understand but if they take full advantage of the services and understand that's how I work my day, my timeline ... they'll be fine," she said.
"But they also need to be very clear on why they are there, and what they're trying to achieve there."
KNOWING THE SUPPORT IS THERE
To monitor their athletes' progress and welfare, National Sports Associations (NSAs) in Singapore keep tabs on their athletes in the US. 
"Our modes of communication range based on the athlete but include WhatsApp, email, phone calls, Zoom sessions and on-site visits," said Porter. "Our communication extends to the athletes, their coaches and other support staff through the institutions they are associated with." 
And Singapore Aquatics has multiple touch-points with athletes abroad, said Porter. When it comes to the US, she visits athletes at colleges and high schools several times a year.
What also helps is that Porter has a personal connection with some of these collegiate coaches.
"A lot of the coaches where these athletes are at are peers of mine who I have good relationships with," she said.
"So I'm able to have open and candid conversations with them about how the athletes are doing, their training needs, any issues that they're having around school, anything that is interfering with their ability to do both things, (to) be a good student-athlete."
Singapore Aquatics also tracks the performance levels of these athletes and gets regular reports from the athletes as to how things are going.
"I pretty much check in with these kids on at least a weekly basis, even if it's just a  'hi, how things are going,'" said Porter. "It's important for the athletes to know the support's there."
Similar to Porter, Wan personally knows coaches of the two national players who are in the US – Aaron Liang, who is at Cornell University, and Sneha Sivakumar, who is at Yale.
"It's to a large extent, personal relationships. But I think with how things are going, the college coaches are also understanding why there is a need for this. I think generally if you explain to them why we need this, they are usually quite cooperative," he said.
National squash players are required to sign an athletes' agreement, part of which is for the athletes to report back to the coaching team details of their training, including attendance, said Wan.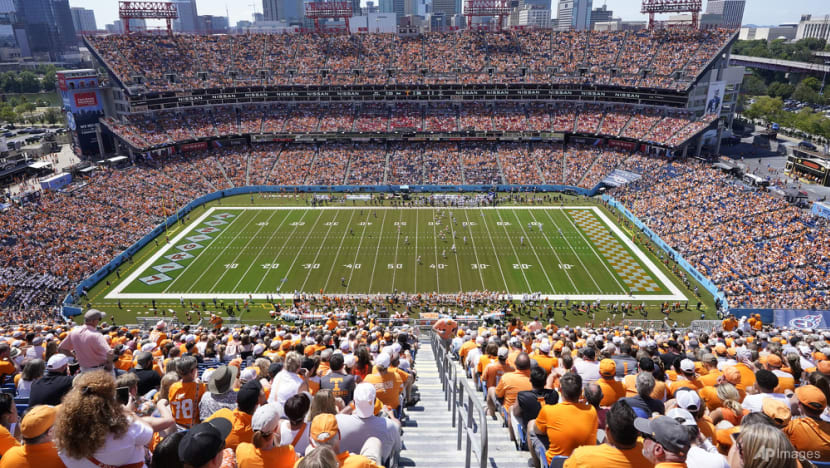 For the Singapore Golf Association's golfers abroad, coaches will arrange Zoom calls to plan their schedules as well as talk to them about their game.
"With the technology now, we use a statistics app. Everyone that plays keys in stats. Based on the stats, the coaches will know roughly how they are playing, the weaknesses, the strength of their game, and then from there can address some of their weaknesses and maybe give them some drills to perform over there," said Ho.
The association also conducts a review every six months with both local and overseas players. Resources such as a psychologist are also available to national athletes, including those based abroad.
SportSG and SSI pay "close attention" to spexScholars in the US and will eventually do the same for those under the new spexPotential programme, said Gordon.
With the help of NSAs, the aim is to fill in the gaps for these athletes, and "tailor" things to fit their needs.
"We can provide additional services to those athletes. So for example, it might be in terms of ... providing equipment that allows them better recovery, that they don't necessarily pay attention to when they're at university. If you're at one of the big universities, the facilities and what is provided is excellent. But it doesn't cover everything," Gordon explained.
"There are things where we can value add. Not every university will provide the same services, and not every university provides an excellent service."
Ultimately, there is a general consensus that athletes who go to the US help to grow the local sporting ecosystem.
"My personal experience is (that) the level of squash (in Singapore) has definitely increased (as a result), said Wan.
"There is that whole comfort level while they are in Singapore, whereas in the US there's a lot more at stake – your place in a team, your financial support from the university. And when you are abroad when you have the Egyptians, the Indians and the Malaysians there fighting (it out). That whole competitive streak and environment influence you to get into it as well."
Generally, golfers who have returned from the US have improved in terms of game management, said Ho. Being exposed to competition there allows them to learn more about themselves and their game, he added.
"It is knowing yourself a lot more because you put yourself in that kind of conditions a lot more often," he said.
And following the success of individuals like Leow, interest in the collegiate route continues to grow, said Ho.
"As the national body, I don't think we prescribe any particular way because we understand every athlete has their own aspirations and there's no right way." 
But given the interest in the collegiate path, the Singapore Golf Association held a session in June this year where college coaches from the US presented and took questions from attendees.
"When we organised the session, we set a context it doesn't mean ... this is the way, but since you all wanted to know more information, and we are not experts in this area, we got the experts here," Ho said.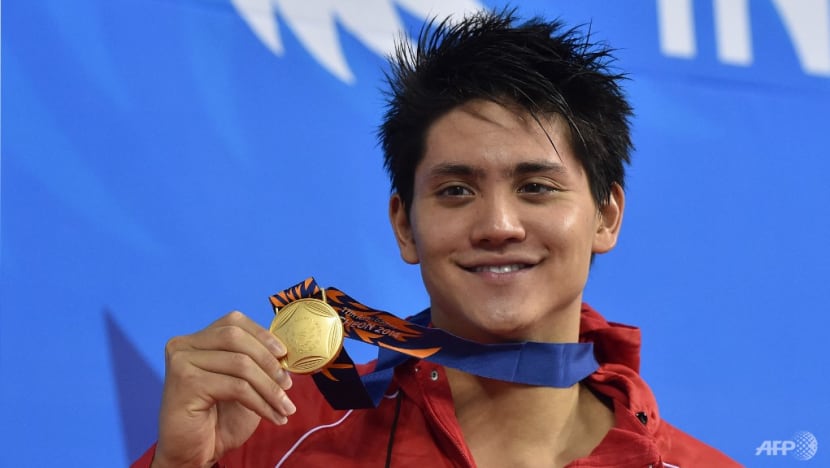 The hope is for Singapore to eventually have a system where higher education and high-level sports can mesh well, said Porter.
When it comes to younger kids, the Singapore Sports School can be a "beacon" for athletes to come to Singapore, she said. For one, this would provide a raised level of competition for local athletes.
"It hasn't been looked upon as being the place to go. But the things that they have in place far exceed any high school opportunity anywhere in the world," said Porter. 
"To have access to those services – people would pay for that. And it can bring such a vibrancy across a lot of different sports."
At the tertiary level, universities are starting to realise that sport can be a "strong and integral piece" of the university experience, said Porter. Singapore Aquatics is also working with these institutions, she added.
"We need a lot of people that get involved in these conversations," she added.
But for now, some young Singaporeans continue to take the well-trodden path to the United States.
It is "one of the best decisions" he has ever made, said Kam, while Chue added that if given the same choice, she would do it all over again.
And as Leow continues his professional career, he looks back on his time in the US fondly despite the pandemic curtailing his time on the golf course.
"I definitely enjoyed and was very grateful for everything I was given, everything that I've achieved or even experienced," he said.
"The experiences that I have attained, I don't think I could have gotten it anywhere else. I'm just really thankful and grateful for it."