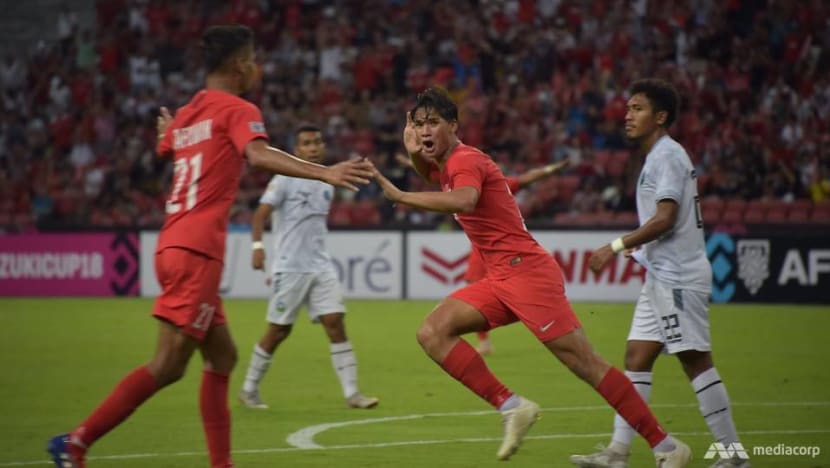 SINGAPORE: Singapore will host the upcoming AFF Suzuki Cup, which is set to take place between Dec 5 and Jan 1, 2022.
Announcing this on Tuesday (Sep 28), the Football Association of Singapore (FAS) said this will be the fifth time that the country is hosting the group stages of the tournament.
Unlike the 2018 tournament which was held on a home-and-away basis, this year's edition will be held in one country due to the COVID-19 pandemic.
Further details on how it will be held amid the pandemic have not been announced.
"Singapore's health and safety protocols, together with world-class infrastructure and logistics, will allow all participating nations to compete with peace of mind," FAS said in a media release.
"Singapore is one of the safest countries in Southeast Asia, with one of the lowest total COVID-19 cases to date and the highest vaccination rates."
The FAS added that Singapore has the necessary facilities, including the National Stadium, to stage the tournament's 26 matches.
Multiple training venues will also be available for use.
Initially set to be held last year, the Suzuki Cup was pushed back to April this year due to the COVID-19 pandemic. It was later rescheduled for a second time.
The Lions will face Thailand, Myanmar, the Philippines and the winner of a qualification round clash – Brunei or Timor-Leste – in Group A of the tournament, after the groups were drawn last Tuesday. 
The draw was conducted virtually for the first time in the tournament's history due to COVID-19 restrictions.
In the last edition of the tournament in 2018, the Lions were knocked out in the group stages. Despite wins over Indonesia and Timor-Leste, Singapore fell to a 1-0 defeat to the Philippines and were beaten 3-0 by Thailand.
The Lions finished third in the group with six points, with the top two nations progressing.
While Singapore has won the regional tournament four times, the last time the Lions emerged victorious was in 2012 under coach Raddy Avramovic.
"This edition of the AFF Suzuki Cup will be a unique one, especially in current times, and we will be ready to welcome our friends from Southeast Asia to our shores," said FAS president Lim Kia Tong.
"We promise to do everything necessary in order to stage a successful tournament where the health and safety of all players and officials will be the top priority and at the same time deliver a football spectacle that will be enjoyed by everyone involved."
Lions head coach Tatsuma Yoshida expressed his hope for the home support to cheer the team on.
"It is my hope that we will be able to have our fans back in the stadium to cheer us on as I am very much looking forward to experiencing that once again."