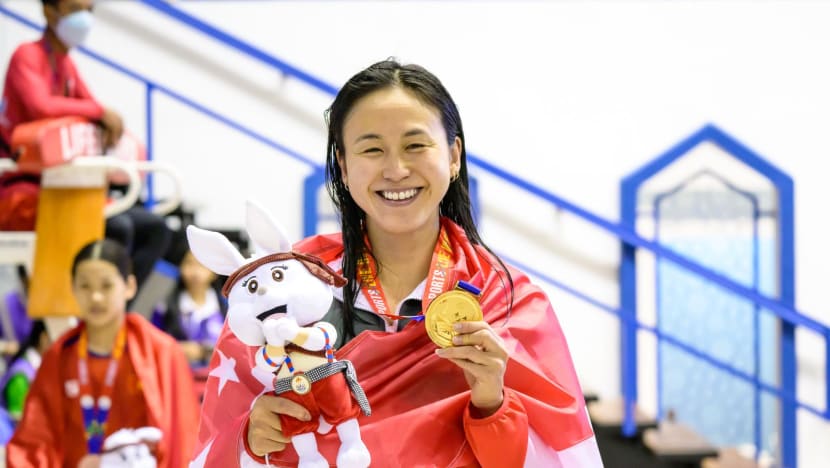 PHNOM PENH: There were times when getting a good night's rest before races was difficult for swimmer Quah Ting Wen. But not at the 32nd SEA Games.
"There'd be nights before my races where I couldn't sleep till 12 or maybe 1, but here, I'm sleeping like a baby even though it's hot and the beds in the village are hard. I'm sleeping well," she told reporters after making it five consecutive golds in the 100m freestyle at the Morodok Techo Aquatic Centre in Phnom Penh, Cambodia, on Monday (May 8).
"I just feel this sense of calm ... peace of mind."
Perhaps, this is her experience talking.  After all, eighteen years after she made her SEA Games debut in the Philippines, Quah is still going strong.
Quah clocked a time of 55.83s to take gold for her 50th Games medal, while Philippines' Jasmine Alkhaldi clinched silver and Nguyen Thuy Hien of Vietnam finished with bronze. The 30-year-old is also the Games record holder in the event.
Not even the multiple power trips on her floor in the athletes' village fazes Quah now.
"Now we're just like: 'It's the SEA Games, you know? This is my ninth one, I've pretty much seen everything," she said.
"This girl has brought so much to Singapore, she is so talented in everything she puts her mind to," said national head coach Gary Tan of Quah.
"Singapore is really blessed to have somebody like her in our team."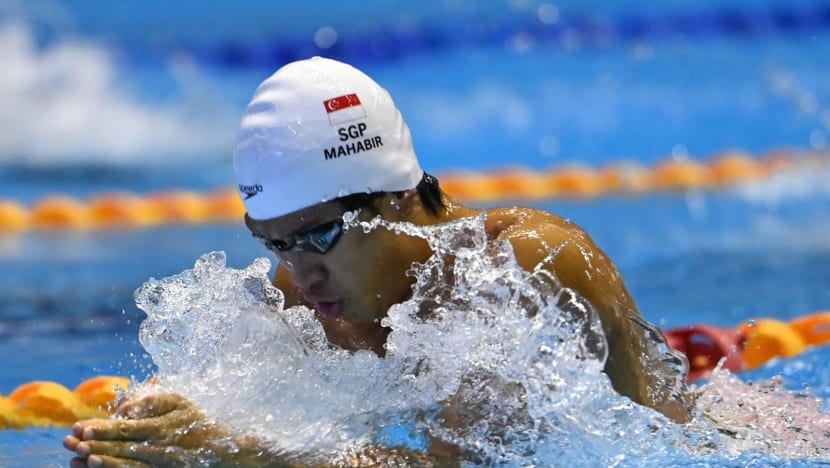 There was a one-two finish for Singapore in the 400m freestyle as Gan Ching Hwee defended her title and clinched her second gold of the Games with a time of 4:15.17, while teammate Ashley Lim took silver with a new personal best time (4:17.16).
The men's 4x100m medley relay team of Teong Tzen Wei, Jonathan Tan, Nicholas Mahabir and Quah Zheng Wen also set a new Games and national record of 3:37.45. The quartet took gold ahead of Thailand and Indonesia.
"It feels really good after last night (finishing second in the 100m breastroke)," said Nicholas. "I'm really glad I managed to do this with the boys, it really means a lot. I really hope I made my family and grandparents proud."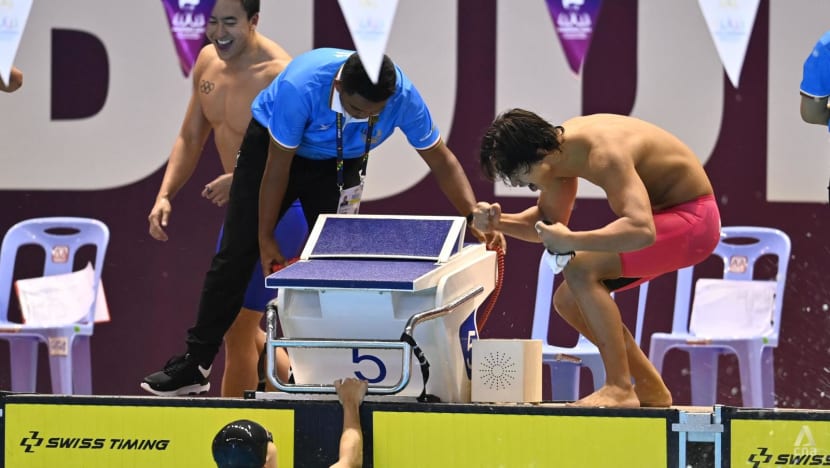 Team Singapore's swim team now have a total of 10 golds after three days of competition. They won 21 golds at the last edition of the Games in Hanoi, Vietnam.
In the day's other events, Ardi Azman set a new personal best in the 400m Individual Medley with a time of 4:30.81. He finished fifth.
Faith Khoo took fourth in the 200m backstroke (2:20.88) while Bonnie Yeo came in sixth (2:23.52). 
There was also a bronze for Glen Lim in the 1500m freestyle.
Catch the 32nd SEA Games Cambodia 2023 live with three dedicated channels on mewatch. Sign in now at www.mewatch.sg/seagames to catch all the action for free, or catch highlights on Mediacorp Entertainment on YouTube.